Merrick Garland as Comey Replacement? Sen. Mike Lee Floats Idea in Damage Control Move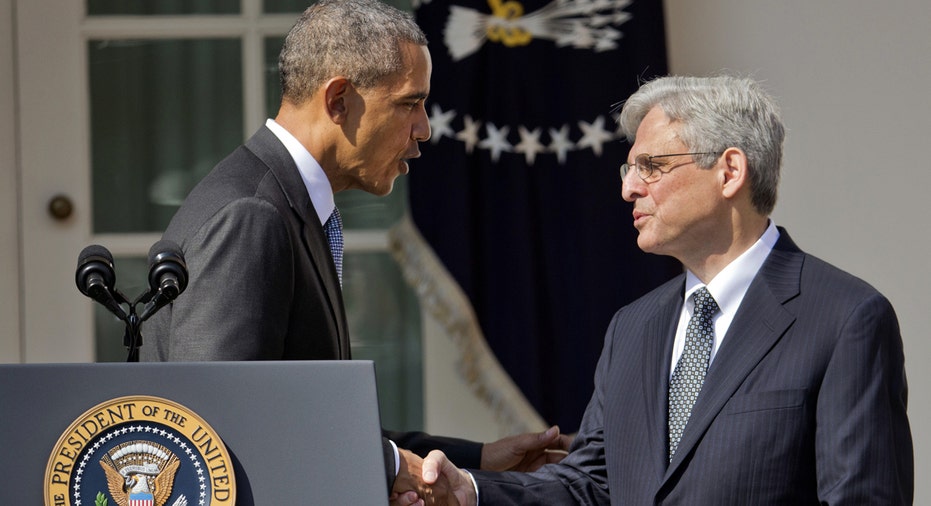 Utah Senator Mike Lee (R-UT) made a formal pitch to senior White House officials, including Vice President Mike Pence,  that the administration should try to appoint Judge Merrick Garland to replace James Comey as FBI chief, FOX Business has learned.
The move suggests that senior GOP officials have become increasingly anxious over the fallout of President Trump's decision to fire the FBI director earlier this week, as the bureau conducts a widening probe of the alleged ties between Trump advisers and Russian intelligence as it attempted to influence the 2016 presidential election.
Lee, a leading conservative Republican and member of the Senate Judiciary Committee, made his pitch Wednesday during a private gathering with senior White House officials, including Pence and White House counsel Don McGahn, at the White House, according to people with direct knowledge of the matter. Lee's suggestion came after a larger meeting between various lawmakers and Trump advisers to discuss tax reform, these people say.
When Lee floated the possibility of trying to appoint Garland as Comey's replacement, the reception was mostly positive, these people say. Garland is currently the chief judge of the U.S. Court of Appeals, and while Republicans in Congress successfully blocked his appointment by President Obama to the Supreme Court during the 2016 presidential campaign, no one can argue with his vast legal knowledge as a judge, a former prosecutor and corporate lawyer.
Indeed, both Pence and McGahn are said to have seen merit in the idea of Garland as FBI chief, while others in the White House said it was a non-starter given Garland's affiliation with the Obama administration. Among those who voiced doubt was White House staff secretary Rob Porter.
White House spokeswoman Lindsay Walters had no comment on the matter. A spokesman for Lee would not comment, but wouldn't deny the substance of the conversations. A spokesman for Pence said: "the Vice President encourages senators to offer names and offer thoughts on certain topics but there would have been no reaction from him other than taking note of their suggestions."
Instead of a special prosecutor, @realDonaldTrump should nominate Merrick Garland to replace James Comey.

— Mike Lee (@SenMikeLee) May 11, 2017
On Thursday, Lee tweeted that Garland should be nominated to replace Comey - instead of appointing a special prosecutor—as many Democrats are suggesting in the wake of the firing of the FBI chief. He did not mention the private meeting or the reactions of Pence and McGahn in the tweet.
In an interview with Fox News' Shannon Bream Thursday, Lee was asked about Comey's replacement, he brought up Garland and said the White House "might see some advantages to it. As you point out this is someone who has a lot of bona fides as a prosecutor, he's a prosecutor's prosecutor, and he's someone who's got likely allies as a potential FBI director nominee in both political parties."
Lee also said he hasn't discussed the idea of becoming FBI chief with Garland.
To be sure, the appointment of Garland as FBI chief appears to be a long shot. Garland is a Democrat and was successfully blocked as the replacement for Supreme Court Justice Antonin Scalia, who died during the 2016 campaign, with Republicans arguing that the new sitting president should fill the vacant seat. Moreover, he has a lifetime position as chief judge of the U.S. Court of Appeals. In effect, he would be giving up a secure job to work for a volatile chief executive in Trump, who could fire him at any moment.
The FBI chief will be selected by Trump and approved by the U.S. Senate and it's unclear how Trump would view Lee's recommendation. Garland's name has not appeared on any short list of possible choices, which include prominent Republicans such as former New York City Mayor Rudy Giuliani, New Jersey Gov. Chris Christie and South Carolina Congressman Trey Goudy.
Still details of the meeting, which were first reported by FOX Business, underscore the angst among Republican's both inside the White House and among prominent members of Congress, over Trump's decision to fire Comey, as well as the general tenor of his administration since taking office in January.
Over the past three months, the Trump Administration has been beset by controversy, much of stemming from the president's own volatile management style and his use of Twitter to attack political opponents. Trump has been incensed about the media coverage of his campaign's alleged ties to Russian intelligence agencies, which law enforcement believes was trying to influence the presidential election and defeat his Democratic opponent, Hillary Clinton, who was seen more hostile to Russian president Vladimir Putin.
Trump meanwhile has claimed he has been the victim of illegal press leaks by law enforcement officials leading the probe and even blamed Obama for wiretapping his phone lines during the campaign. Both Obama and the FBI have denied those claims.
With that, Trump has grown increasingly impatient with Comey, who has publicly confirmed the FBI investigation into the Trump campaign's Russian ties.
Trump made the announcement to fire Comey late Tuesday night and only after consulting his senior staff, which was divided about the timing of the move. In the subsequent days, the White House press team has seemed ill prepared to spin what is obviously a controversial decision given the FBI's Russian probe that has been expanded over the course of the past three months to include Trump's former National Security Adviser Mike Flynn and Russian diplomats, among other matters. Flynn was fired by Trump after he failed to disclose certain conversations with Russian officials. His attorneys have denied wrongdoing.
Amid all of this, Democrats have pounced hard on the Comey firing, comparing it to Richard Nixon's ousting of a special prosecutor during the Watergate scandal in the 1970s, and have called for a special prosecutor to investigate the Trump administration's Russian connections.
Trump meanwhile has said the firing of Comey was merited. In remarks to the press, Trump has said he was weighing the move for months, and finally came to the decision that Comey "was not doing a good job" as FBI chief, primarily for his handling of the Clinton email probe. He also described Comey as a "grand stander" during an interview with NBC's Lester Holt.
During the 2016 presidential campaign, Comey held a now famous press conference where he exonerated Clinton over her use of the private email server to receive classified documents during her tenure as former President Obama's Secretary of State. He would then play an unexpected player role during the final days of the election. About 10 days before voters went to the polls to choose the next president, he announced that he reopened the Clinton email case after finding new information. Then just days later said he would not be recommending charges because the new evidence didn't show that Clinton had conclusively intended to violate the law over the handling of classified information.
But the damage was done; Democrats believed Comey had broken with FBI protocol, which was to refrain from confirming or denying an investigation and his public airing of the inquiry hurt Clinton's chances for winning the presidency. Some Republicans believed Comey had developed enough evidence to recommend charges that Clinton had mishandled classified information, and that Trump should immediately fire him for not following the law.
Trump, meanwhile, announced he had no intention of asking Comey to step down and recently stated he had confidence in the FBI director, making the timing of the firing even more suspect. Some Republican lawmakers say the current controversy created the impression that the president is looking to stall the FBI's Russian probe and could have severe consequences for Republicans during the 2018 mid-term elections.
They say Lee's recommendation to appoint Garland to the FBI post—however remote—is designed to change the Democratic narrative and show Republicans are not looking to stall the Russian probe.
"Even the mention of appointing Merrick Garland as FBI director could be seen as a deft gesture to at least stop Democrats from attacking the administration," said Hank Sheinkopf, a Democratic political consultant, who added that "Trump's ultimate problems will be with the Republicans who have been disrupted by his behavior."