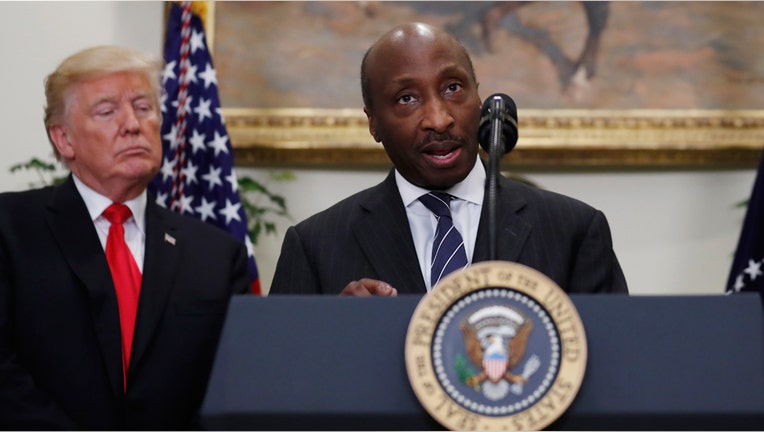 Kenneth Frazier, CEO and Chairman of American pharmaceutical giant Merck (NYSE:MRK), announced on Monday he was leaving President Donald Trump's American Manufacturing Council, becoming the latest corporate executive to abandon a position on a White House council over political events.
Here's a look at the CEOs who have left positions on White House councils, and why, since January.
Kenneth Frazier, Merck
In the wake of what some saw as President Donald Trump's tepid response to the violent and deadly white nationalist protests in Charlottesville, Virginia, Frazier announced on Twitter he would no longer be participating on the White House manufacturing council.
In response to his abdication, Trump fired back at Frazier, suggesting that now he may have more time to work on lowering drug prices.
Now that Ken Frazier of Merck Pharma has resigned from President's Manufacturing Council,he will have more time to LOWER RIPOFF DRUG PRICES!

— Donald J. Trump (@realDonaldTrump) August 14, 2017
Elon Musk, Tesla
In June, Tesla (NASDAQ:TSLA) and SpaceX founder Elon Musk left the president's Strategic and Policy Forum. Musk's decision was made after Trump announced the United States' withdrawal from the Paris Climate Accords. Musk said on Twitter that climate change "is real" and "leaving [the] Paris [agreement] is not good for America or the world."
Musk faced criticism from Trump opponents for his decision to participate in White House roundtables in the first place, but defended his decision to "provide feedback on issues that I think are important for our country and the world."
Bob Iger, Disney
Disney (NYSE:DIS) CEO Bob Iger exited the Strategic Policy Council on the same day as Musk. Iger's decision was made "out of principle" and in response to the Paris Climate Agreement withdrawal.
"Protecting our planet and driving economic growth are critical to our future, and they aren't mutually exclusive," Iger said in a statement in June.
Iger missed a planned meeting of the council in February, when he instead attended a Disney board meeting.
Travis Kalanick, Uber
Former Uber CEO Travis Kalanick left Trump's economic council in early February, following public criticism for his participation on it and issues he and the company had with the White House's travel ban.
Kalanick sent an email to employees in which he said, "The implicit assumption that Uber (or I) was somehow endorsing the administration's agenda has created a perception-reality gap between who people think we are, and who we actually are … There are many ways we will continue to advocate for just change on immigration but staying on the council was going to get in the way of that. The executive order is hurting many people in communities all across America."
Since then, Kalanick has stepped down as CEO of the ride-sharing company, following a myriad of public relations scandals, including sexual harassment and discrimination claims.