Mercer could thwart Hatch's Utah Senate race with GOP establishment under fire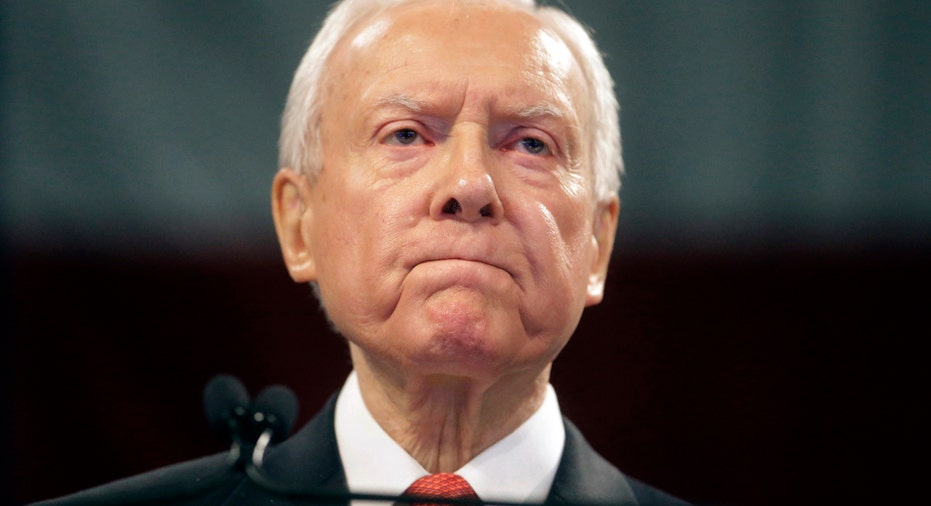 Senator Orrin Hatch (R-UT) may become the next target in the move to unseat the Republican establishment if he intends to run for reelection and he might have to face formidable opposition from a member of the Mercer family.
Boyd Matheson, President of the Sutherland Institute and former chief of staff to Senator Mike Lee (R-UT),  is considering a run for Hatch's Senate seat and may receive the backing of one of the most powerful Republican campaign donors, Rebekah Mercer, FOX Business has learned.
In an interview with Matheson on Friday, the former Lee aide confirmed that not only did he meet with former White House chief strategist Steve Bannon and former Trump campaign adviser David Bossie in Washington D.C. about a possible Senate run, but said he also had a phone conversation with Rebekah Mercer that same week.
"I've known her for a long time through my period in Washington. It was a very similar conversation to my meeting with Bannon and Bossie. What's the lay of the land? What are the policy pieces that fit?" Matheson told FOX Business.
Matheson says he's been friends with Mercer for a number of years going back to the days when he was Lee's chief of staff. He would not go into specifics about their conversation but noted, since he has not officially decided if he would run or not, campaign fundraising was not discussed. However, he did give insight into the types of candidates she could support going into the 2018 midterm elections.
"I'm not going to get into specifics with personal conversations.  She seems to be on the same page as me in thinking the Senate is the problem.  I think she shares the same frustration in terms of the Senate as being the real problem," Matheson said.
Next year's midterm elections are a potentially critical moment for Republican lawmakers who are under pressure by the President and his vocal backers such as Bannon to pass a legislative agenda that includes reforming the nation's tax code and making changes to immigration policies.
Mercer is the daughter of another mega Republican contributor, Robert Mercer, who serves as chief executive officer of Renaissance Technologies and is a financier for Bannon's conservative media platform, Breitbart News. The two Mercers have had a close relationship with Bannon and Trump since the 2016 presidential election and have continued that alliance since the senior adviser to the president was forced out of the administration in August, including recent attempts to cobble together a group of outside candidates to take on Republican congressional leadership, a group they blame for obstructing Trump's agenda.
Matheson could be a next-generation candidate that shares the message of the younger Mercer, if he decides to make a run for Hatch's seat.  Although he hasn't decided what his campaign slogan could be as a candidate, his potential message to voters is clear: Senate leadership has failed and changes need to be made.
"I think we've seen this year a real lack of leadership in the Senate as it relates to every issue that's come up. First health care, now we're on to taxes. I'm just questioning what the agenda is. A lot of people have used that division to hold onto power. This isn't exclusive to Mitch McConnell (R-KY). As long as they can convince that we are too divided to deal with anything, it gives them an excuse to do nothing. That may solve their political problems, and it doesn't solve the American people's problems," Matheson said.
Bannon reiterated his distrust in Republican leadership during a speech to religious conservatives at the Values Voter Summit in Washington on Saturday, promising a "season of war."
"There's a time and season for everything, and right now it's a season of war against a GOP establishment," Bannon said. "It's no longer acceptable to come and pat you on the head and tell you everything is going to be fine just to get those people in office."
Bannon picked up his first anti-establishment victory when he supported and advised Judge Roy Moore, an insurgent Republican, who beat the establishment candidate Luther Strange in the GOP primary to fill the Senate seat previously held by Jeff Sessions, Trump's current attorney general.
Trump on Monday during a cabinet meeting voiced his support for Bannon's push for new leadership, which has included calls for McConnell to step down as Majority Leader of the Senate.
"There are some Republicans that should be ashamed of themselves," Trump said. "So I can understand fully how Steve Bannon feels." At a press conference after meeting with McConnell, Trump said the two are "closer than ever before" despite a bitter public feud with the president criticizing the lawmaker from Kentucky for failing to repeal Obamacare.
The Mercers' relationship with Lee, Matheson's boss from 2012 to 2016, has been strong since he first joined the Senate and has also been a key source of campaign funds throughout his runs for the Senate.
Federal Election Committee records show the Mercers have contributed through political Super PACs linked to Lee's campaigns and not toward Hatch. Combined, the Mercer family gave $15,000 to a Lee-affiliated PAC in 2015 called Lead Encourage Elect PAC and since 2013 have contributed over $30,000 to Lee's direct campaign fund, Friends of Mike Lee Inc.
Lee's spokesman Conn Carroll explained to FOX Business how Mercer has been a critical ally for the conservative lawmaker.
"[Mercer] is very involved with conservative causes and conservative groups. So if there are retreats at Freedom Works or Heritage they usually have dinners and have social hours. They just developed a resourceful relationship that way. The boss gets invited to conservative events. The Mercers have been a fixture at these events and that's how the senator got to know them," Carroll said. He also made it clear that even though Matheson worked for Lee's office, there likely won't be an endorsement.
"We don't get involved in incumbent races, and we don't endorse in Utah races," he added.
A spokesperson for the Mercer Family Foundation, a private grant making foundation run by Rebekah Mercer, did not return calls for comment.
Bossie did not return emails for comment and a spokesman for Bannon did not return calls for comment at the time of publication.
The upcoming battle for Hatch's Senate seat is likely to be a showdown regardless of whether the longtime congressional leader chooses to retire after 40 years of service or compete in the race. Former 2012 Republican candidate for president Mitt Romney is mulling a move for Hatch's seat if he chooses to retire, according to a report in September by Utah Policy.
Matt Whitlock, a spokesman for Hatch, provided a statement on whether he will run again in 2018.
"Senator Hatch has not made a final decision regarding whether to continue serving after 2018, but in the end, Utahns will make that determination, not Washington. Should he decide to run again, he will win," the statement read.
For Matheson, Hatch leaving the Senate is not a deciding factor on  whether or not he will run.
"It absolutely doesn't matter whether Orrin runs or not or whether Mitt Romney runs or not. We have this weird conversation on 'if he runs I will or if he runs I might.' To me it's what's wrong with Washington right now," Matheson said.