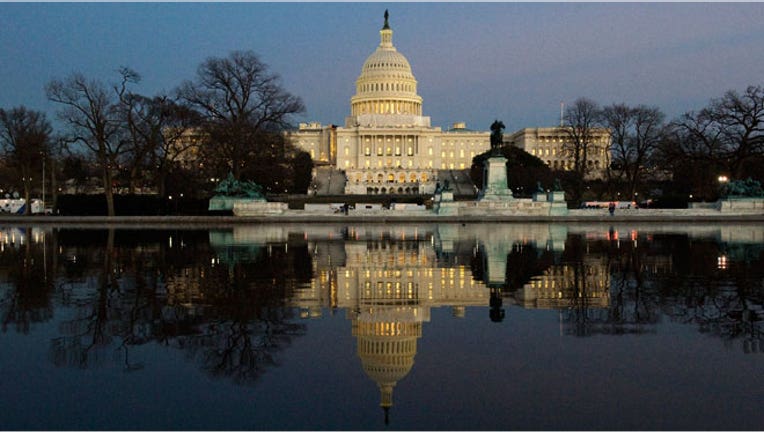 Hours after Congress voted to avert a government shutdown next week, congressional leaders were already staking out positions on what will be this year's most contentious Washington fight. Without an increase, the federal government likely reaches its debt limit this summer.  In an exclusive interview with FOX Business, Senate Minority Lead Mitch McConnell said Republicans will refuse to agree to an increase in the government's borrowing limit without entitlement reforms.
"It's just that we're not going to agree to raise the debt ceiling without doing something about entitlements … this is what brings him to the table," said McConnell of President Obama.  "He is, in effect, being drawn, kicking and screaming to the table, when there's some event that pulls him in. And the event that pulls him into discussion this summer is his request for us to raise the debt ceiling, so we'll be back at it again, trying to get him to join us to fix the entitlements and fix the country."
Earlier Thursday, House Speaker John Boehner reiterated Republicans will only agree to raise the debt ceiling by whatever amount of spending Democrats agree to cut. "Dollar for dollar is the plan, and we've not -- we've not -- we've had some discussions, but not any big discussions at this point," he said at a press conference. Meanwhile, Democrats continue to point out an increase in the debt ceiling simply authorizes Congress to pay for previously approved spending.
"You can have the debate, but there shouldn't be any doubt in anybody's mind as to what the outcome is about the full faith and credit of the United States of America," said House Minority Leader Nancy Pelosi.
An analysis by the Bipartisan Policy Center estimates the federal government would most likely hit its borrowing limit in August, with "a realistic chance" of reaching it even later.