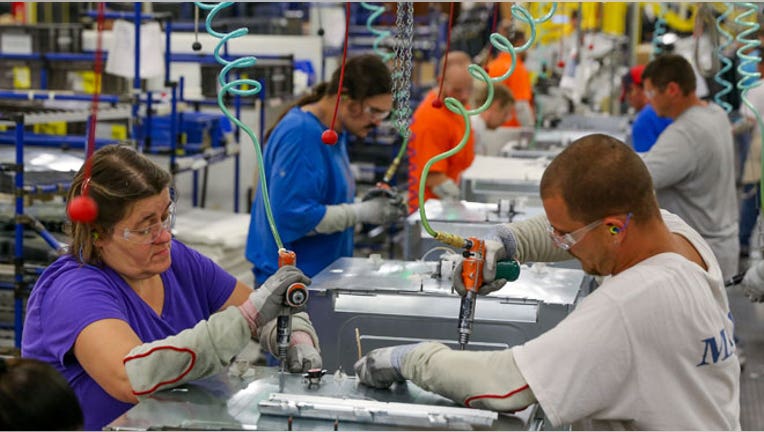 Friday's jobs report will be another important indicator in determining whether the U.S. economy will bounce back in the second quarter from a disappointing first quarter during which economic growth contracted.
Analysts are predicting a gain of 225,000 new jobs last month, a slight increase from the 223,000 jobs created in April. The headline unemployment rate is expected to hold steady at 5.4%, the lowest level in seven years.
A payroll report released Wednesday by Automatic Data Processing (ADP) showed a modest gain of 201,000 jobs in May. The ADP report frequently (but not always) foreshadows the government's report released a few days later.
The Labor Department will release the June jobs report at 8:30 a.m. Friday.
David Kelly, chief global strategist for JPMorgan Funds, believes any number above 200,000 new jobs created is a positive sign for economic momentum going forward in the second quarter.
Last week the government's second gross domestic product (GDP) estimate for the first quarter was revised downward from an earlier estimate to show that the economy actually shrank by 0.7% during the first three months of 2015.
A larger trade deficit and a smaller accumulation of inventories by businesses was blamed for the 1Q contraction. Consumers also spent less than previously believed despite lower gas prices that put more money in consumers' pockets. Consumer spending accounts for about 70% of the U.S. economy.
Now all eyes – investors, economists and analysts -- are on a hoped-for second-quarter rebound.
Kelly said if the government's employment report, as well as other economic indicators released this week, meets expectations, "All of this suggests that the economy could register a rebound to roughly 3.0% growth in the second quarter following its dismal showing in the first."
Of course, all of this leads back to the timing of interest rate hikes, a decision the Federal Reserve is basing meeting-by-meeting on incoming economic data.
The disappointing 1Q GDP report almost certainly eliminated a rate hike at the Fed's June meeting scheduled for June 16 and 17, and many analysts believe liftoff could be delayed past September and toward the end of the year.
Much of that will depend on the performance of the economy during the second quarter.
Also under the microscope on Friday will be wages, which haven't risen as much as the Fed (and American workers) would like, despite average monthly gains of well over 200,000 jobs for more than a year and the significant drop in the unemployment rate in the past 12 months.
Fed Chair Janet Yellen has pointed to excess "slack" in the jobs market, which she defines as too many part-time workers seeking full-time jobs and many workers employed at jobs below their qualifications.
This "slack" has kept a large surplus of workers available for employers to tap into when they need to fill jobs. Because that surplus has remained so large employers haven't had to raise wages to attract the most qualified workers.
Fed officials have expressed optimism that as the job market continues to tighten that labor market slack will disappear and employers will be forced to raise wages. When they do workers will have more disposable income and (theoretically at least) buy more stuff, which will lift demand for goods and raise prices.
When prices rise at a healthy rate – the Fed prefers a 2% annual inflation rate – it suggests the economy is growing at a healthy rate.