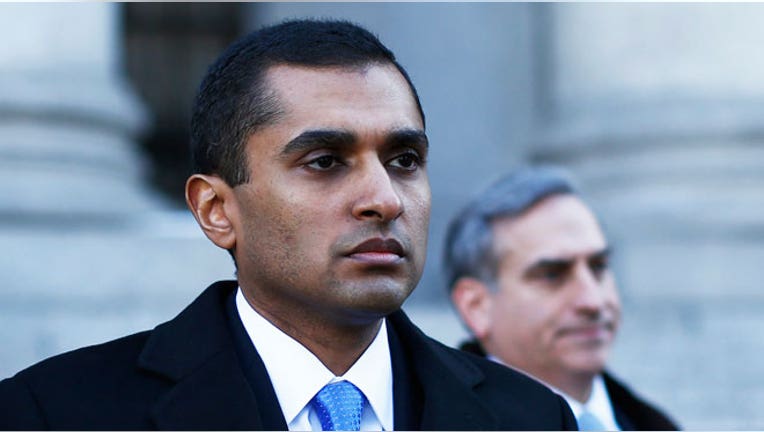 Mathew Martoma, a former portfolio manager at SAC Capital Advisors, was sentenced to nine years in prison Monday for insider trading.
Martoma, one of several former SAC employees to be convicted or plead guilty to insider trading at the once-powerful hedge funded founded by Wall Street titan Steven A. Cohen, was also ordered to pay $9 million in restitution as part of his conviction in January.
A jury found Martoma used inside information gleaned from doctors involved in a clinical trial for an Alzheimer's drug under development by drug makers Elan Corp. and Wyeth, which has since been acquired by Pfizer (NYSE:PFE).
Prosecutors said after Martoma's arrest that in terms of money gained and losses prevented from the illegal trades – an amount estimated at $275 million -- it was the largest insider trading case ever brought to trial.
Martoma's nine-year sentence was just two years shorter than that handed out to Galleon Group founder Raj Rajaratnam, who was convicted in 2012 of also using illegal information to generate profits for his fund.
When Martoma was arrested in November 2012, prosecutors said he had a 20-minute conversation with Cohen after receiving the tip from the doctor. The contents of that conversation are unknown.
Cohen, once one of the most high-profile U.S. hedge fund managers, was not named in the Martoma complaint but is described as "Portfolio Manager A," who was said to have collaborated with Martoma as trades were made using the illegal information.
Martoma refused to cooperate with prosecutors. FOX Business reported that SAC Capital Advisors apparently paid Martoma's legal bills.
Cohen has not been criminally charged in any of the insider trading cases swirling around his hedge fund. The SEC wants to bar him from the securities industry for not properly supervising Martoma and another SAC trader, Michael Steinberg, who was convicted in December of insider trading.
Cohen has repeatedly denied wrongdoing. SAC Capital, adhering to penalties handed down by the Securities and Exchange Commission, now only manages Cohen's personal fortune and the firm has been renamed Point72 Asset Management.