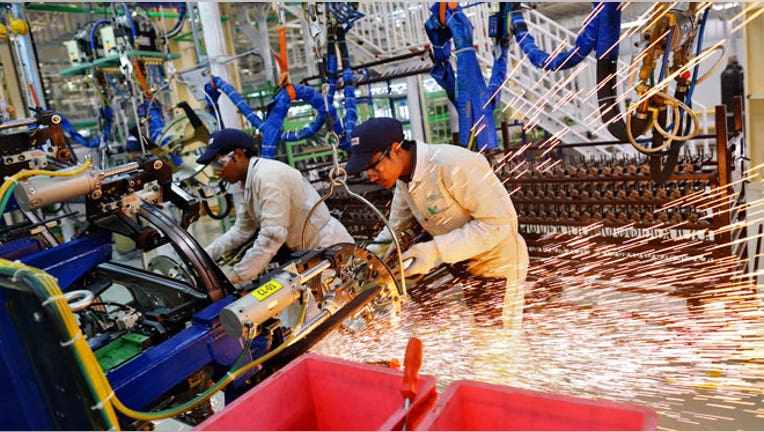 Stubbornly weak wage growth even as the rest of the U.S. economy -- especially the labor market -- appears to be gaining sustained momentum has left economists scratching their heads.
That increasingly-confusing division will once again be front and center Friday when the Labor Department releases its January jobs report.
The forecast is for another strong month of job gains. The consensus estimate, according to Thomsen Reuters, is that the U.S. added 234,000 jobs in January and the unemployment rate will hold steady at 5.6%.
For months the number of jobs created and the headline unemployment rate have increasingly taken a back seat to average hourly wage growth as the key economic indicator watched by economists when monthly labor numbers are released. That won't change on Friday.
David Kelly, chief global strategist at J.P. Morgan Funds, is predicting "another strong payroll gain along with a decline in the unemployment rate" for Friday's report. But the real focus will be on wages. "Of greatest interest will be average hourly earnings, whose weakness, in the face of so much strength elsewhere, is currently the biggest anomaly in the U.S. economic picture," Kelly said.
Labor Markets on a Roll
U.S. labor markets have been on something of a roll recently. The economy added 252,000 jobs in December, the eleventh consecutive month in which the U.S. added more than 200,000 jobs. And more than 3 million Americans found jobs in 2014, the most since 1999.
Yet despite the robust gains in jobs and the corresponding decline in the headline unemployment rate, Americans haven't seen their wages rise accordingly. In fact, average hourly wages fell by 0.2%, or five cents, to $24.57 in December after rising by six cents in November. Wages are expected to have risen a tepid 0.3% in January, and the average hourly work week is expected to remain unchanged at 34.6 hours.
According to the Labor Department, in the past 12 months average hourly earnings have risen by just 1.7%, or well below the 3%-3.5% growth range set by economists as a threshold that would help push prices higher and lift inflation toward the Federal Reserve's 2% target rate.
Simple economics -- supply and demand -- suggest that if the job market tightens by virtue of strong monthly gains and a falling unemployment rate, then workers' wages should rise because employers will have to compete with one another to find qualified workers.
But that hasn't been the case.
One of the reasons cited for the lack of wage growth despite the tightening job market is the degree of so-called 'labor market slack' that emerged in the wake of the 2008 financial crisis, which threw an estimated 8.8 million Americans out of work.
While the U.S. has numerically regained all of those jobs, the quality and description of those positions has in many cases changed dramatically. Many full-time employees who lost their jobs during the financial crisis have indeed returned to work but at part-time or temporary jobs that pay lower salaries, offer less hours and don't provide benefits.
Slack Keeps Wages Low
The slack keeps wages low because it creates a huge supply of workers who would gladly leave their low-wage, part-time or temporary jobs for a high paying fulltime position with benefits. The latter are the ones that move wages higher.
If employers know they can always dip into that large pool of part-time and temporary workers to fill their openings they have no incentive to raise wages in order to attract qualified employees.
Federal Reserve Chair Janet Yellen has repeatedly pointed to this slack as a reason why the U.S. central banks is taking a cautious approach toward returning U.S. monetary policy to normal by raising interest rates. Although recent Fed statements have suggested this slack is finally dissipating.
Yellen and her like-minded Fed colleagues have said they won't raise interest rates from their current near-zero range until inflation reaches that 2% target rate. That won't happen until wages start moving higher.
Most analysts are predicting that the sustained momentum in labor markets will force that slack to tighten throughout the first half of 2015. If that occurs, it will drive wages and prices higher by the middle of the year, maintaining the Fed's long-held timeline for raising rates in mid-2015.