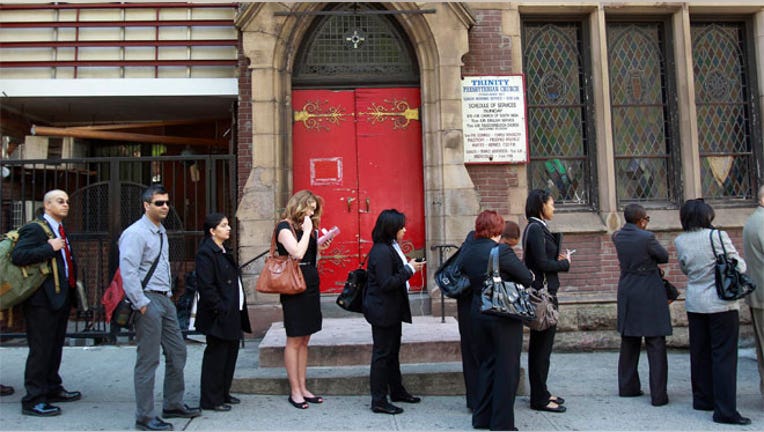 Everyone is hoping that the shockingly disappointing December jobs report was an anomaly caused primarily by bad weather. I am, too, but I'm not entirely convinced the lousy numbers can be shrugged off on the polar vortex.
The U.S. added a meager 74,000 jobs last month despite December typically seeing a surge in hiring in seasonal retail sales for the holiday shopping season.
Something an analyst told me a few days ahead of the release of the monthly labor numbers -- when everyone still believed the U.S. had likely added 200,000 or more jobs last month -- has gotten stuck in my head.
We were talking about the economic prospects for 2014 and the analyst said he believed stock market investors were in for a bumpy ride. He noted that stocks soared to record highs last year not necessarily because strong corporate revenue growth had pushed companies' profits higher. Instead, stocks jumped thanks to the Federal Reserve's easy-money policies and profits rose due to cost-cutting measures that in many cases meant large numbers of layoffs.
A few days later retail giant Macy's (NYSE:M) announced it was slashing 2,500 U.S. jobs in an effort to save $100 million a year. Macy's stock leaped the next day. That's great for investors but not so much for those facing layoffs.
Then banking giants Bank of America (NYSE:BAC), JPMorgan Chase (NYSE:JPM) and Wells Fargo (NYSE:WFC), all reported quarterly profits that beat Wall Street's expectations this week. All three banks slashed payrolls last year: BofA announced plans in October to cut more than 4,000 jobs; JPM reduced its workforce by 7,557 last year (with plans to cut thousands more in 2014) and Wells Fargo shed 6,200 jobs.
Troubling Labor Market Trends
These huge job cuts aren't solely about boosting profits and stock prices. In Macy's case, it's about the shifting habits of shoppers, who increasingly would rather shop online than schlep out to the department store. That irreversible trend doesn't bode well for big retailers, just ask the shareholders and employees of struggling electronics retailer Best Buy (NYSE:BBY).
At BofA, JPM and Wells Fargo, the job cuts are coming mainly from the mortgage origination units, a direct result of a slowdown in the home lending and refinancing sector.
Home financing, and consequently the broader housing sector, could also see headwinds in 2014 as the Fed moves forward with its policy of scaling back the stimulus programs initiated in the wake of the financial crisis.
Mortgage rates have risen more than a full point to about 4.5% from 3.3% last spring, just about the time Fed Chief Ben Bernanke began strongly hinting that the Fed would begin tapering its bond purchase program known as quantitative easing before the end of the year.
In December, Bernanke kept his promise, announcing that the Fed would reduce its bond purchases by $10 billion each month starting in January with an eye toward ending the programs by the end of 2014. That will undoubtedly push mortgage rates higher.
Meanwhile, federal, state and local governments continue to scale back. The Labor Department reported last week that public U.S. payrolls were trimmed by 13,000 in December, part of a years-long trend, especially since state, county and municipal budgets have tightened since the 2008 financial crisis. Research by the Economic Policy Institute shows that since the end of the 2009 recession total public employment has significantly declined while private job growth has recovered, albeit in fits and starts.
All these structural flaws in the labor markets and I haven't even mentioned the labor-force participation rate, which is at its lowest level in 35 years.
Cutting off Unemployment Benefits Might Not Help
As has been widely reported, the headline unemployment rate fell in December to 6.7% from 7% a month earlier, despite the paltry number of jobs created. The reason the rate fell, as has been the case throughout much of the recovery, was because hundreds of thousands of Americans (347,000 in December) left the workforce, many out of frustration that they can't find a job.
When people stop looking for work altogether they are no longer counted by the government as part of the overall workforce, which reduces the number of unemployed and lowers the unemployment rate -- for all the wrong reasons.
Ironically -- or perhaps cruelly -- a proposal to extend emergency unemployment benefits for 1.3 million out-of-work Americans is currently stalled in Congress, even as the ranks of the long-term unemployed are approaching unprecedented levels. According to the Economic Policy Institute, the share of the workforce that is long-term unemployed (out of work for more than six months) is "nearly twice as high today as it was in any other period when we allowed an extended benefits program to expire following earlier recessions."
Some will argue that cutting off their benefits will force these people to go out and get a job. Or it may force them out of their home and into the street.