Looking for Big Night in New York: Clinton, Trump Seek Wins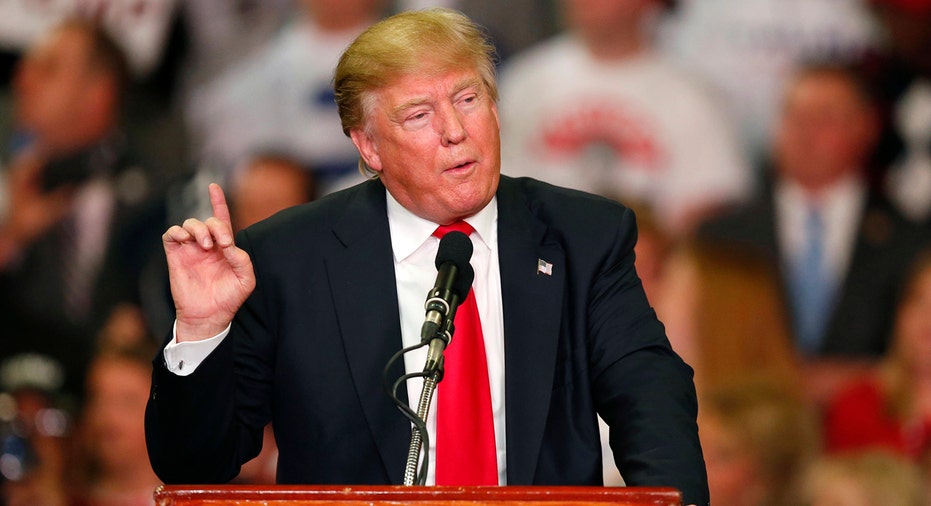 NEW YORK (AP) — Hillary Clinton looked to her adopted home state of New York for a convincing primary victory Tuesday to strengthen her claim to the Democratic presidential nomination, while Republican Donald Trump hoped a big win would steady his campaign after setbacks and internal turmoil.
The fight for New York's delegate haul has consumed the presidential contenders for two weeks, an eternity in the fast-moving White House race. Candidates blanketed every corner of New York, bidding for votes from Manhattan and the surrounding boroughs to the working class cities and rural enclaves that dot the rest of the state.
Trump's standing in New York has never been in doubt, and the main question facing the billionaire businessman was whether he could sweep most or even all of the 95 Republican delegates up for grabs. Trump needed a strong showing to keep alive his chances of clinching the GOP nomination before the party's July convention — and to quiet critics who say the long primary season has exposed big deficiencies in his campaign effort.
Having spent months relying on a slim staff, Trump has started hiring more seasoned campaign veterans. He acknowledges that bringing new people into his orbit may cause some strife, but says the moves were necessary at this stage of the race.
"When you bring other people in, I could see some people their feelings get a little bit hurt," Trump said Tuesday on Fox News. "But frankly, you know, we're in a position where we'd like to see if we can close it out."
Trump's main rival, Texas Sen. Ted Cruz, is trying to stay close enough in the delegate count to push the GOP race to a contested convention. Cruz's campaign feels confident that it's mastered the complicated process of lining up individual delegates who could shift their support to the Texas senator after a first round of convention balloting.
But Cruz, who infamously panned Trump's "New York values" earlier in the primary, was bracing for a tough showing in Tuesday's voting. He left the state long before polls closed and was spending the day in Pennsylvania, which votes next week.
Ohio Gov. John Kasich, the only other Republican left in the race, was seeking to add to his scant delegate total and keep up his bid to play a long-shot spoiler at the convention. Kasich has refused to end his campaign despite winning only his home state.
Trump's political strength, though he boasts of drawing new members to the party, has left some Republicans concerned that his nomination could splinter the GOP. Among Republican voters in New York, nearly 6 in 10 said the nominating contest is dividing the party, according to exit polls.
Among Democrats, the race between Clinton and Vermont Sen. Bernie Sanders turned more tense in New York. They sharply questioned each other's qualifications for the presidency, then sparred in a debate over her ties to Wall Street and his position on the gun makers.
Sanders faces difficult mathematical odds in overtaking Clinton in the delegate count, odds that will get even longer if he can't pull off an upset victory in New York. On Monday, Clinton campaign manager Robby Mook said Sanders faces a "close to impossible path to the nomination" and warned that he risks damaging the party's eventual pick if he keeps up his tough attacks.
While Sanders' supporters in New York are not excited about the prospect of Clinton being elected, 7 in 10 said they would probably or definitely vote for her in the general election, according to exit polls. The surveys were conducted by Edison Research for The Associated Press and television networks.
Sanders decamped for Pennsylvania Tuesday, moving on from what was a near-certain loss to Clinton in New York.
"Virtually the entire New York Democratic establishment is standing with her," he said. "You know what, we're going to do just fine tonight in New York."
Clinton, meanwhile, spent her final hours of campaigning in New York trying to drive up turnout among women and minorities, her most ardent supporters. She and her husband, former President Bill Clinton, cast their votes in their adopted home town of Chappaqua.
"I love New York, and this has been a joy during the last two weeks to be here," she said.
Sanders has stayed stubbornly close, rattling off a string of wins in recent primaries and caucuses. But he needs to win 68 percent of the remaining delegates to clinch the Democratic nomination.
Clinton has 1,758 delegates to Sanders' 1,076. Those totals include both pledged delegates from primaries and caucuses and superdelegates, the party insiders who can back the candidate of their choice regardless of how their state votes. It takes 2,383 to win the Democratic nomination.
Trump leads the GOP race with 756 delegates, ahead of Cruz with 559 and Kasich with 144. Securing the GOP nomination requires 1,237.