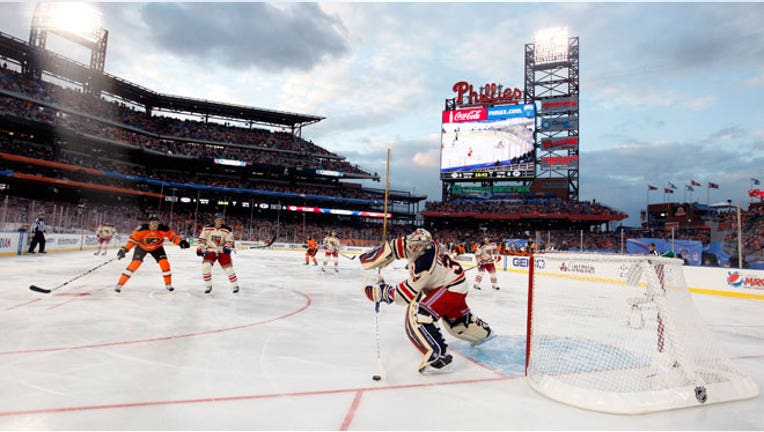 The National Hockey League lockout is over, and after 113 days of labor disputes, the NHL and the NHLPA reached a long-term agreement guaranteeing labor peace for 10 years with an eighth-year opt out clause.
The deal ended several months of negotiations between NHL players and owners over contract limits, revenue share, salary caps and salary floors.
But the excitement of the long-awaited agreement extends beyond NHL players and coaches; hotels, bars and restaurants in close proximity to NHL rinks are just as anxious for business to return.
At least 480 games, the Winter Classic and the All-Star game were canceled due to the lockout.  The Winter Classic was scheduled to be played January 1 between the Toronto Maple Leafs and the Detroit Red Wings in Ann Arbor, Michigan. The National Hockey League lost millions of dollars in revenue after canceling a game expected to attract a record crowd of nearly 115,000 fans.
Los Gatos Brewing Co., meanwhile, is a half a mile from San Jose's HP Pavilion, home to the San Jose Sharks. The Sharks have sold out 110 games in a row at HP Pavilion in San Jose.
"We're super stoked the lockout is over and the Sharks will begin playing games soon," said Liberty Miller, manager of Los Gatos Brewing Co.  "When the Sharks play, it brings customers to our restaurant. Without the games, we saw a significant decline in business. We usually hire more people during the NHL season but the lockout this year didn't allow us to do that. Rather it forced us to cut some employee's hours."
Each canceled NHL game meany less revenue to local businesses, and depending on the size of the market, certain cities suffered more than others.
The St. Louis Budget Director's office estimates the city of St. Louis lost more than $1.3 million in revenue due to the shortened season. Each home game is estimated to bring in $65,000.
Pennsylvania Senator Bob Casey warned of the losses small businesses experienced in Philadelphia and Pittsburgh. In a letter to the U.S. Small Business Administration, Sen. Casey referred to the tourism bureau VisitPittsburgh's study citing the city of Pittsburgh generates approximately $2.1 million worth of revenue from each home game with nearly half of the revenue going to small businesses.
Sen. Casey also noted Select Greater Philadelphia's estimates that Philadelphia is losing about $1 million in revenue for every canceled home game.
The lengthy lockout prompted the Small Business Administration to reach out to local businesses and offer counseling services to those hurt by the strike.
And the threat of another canceled season left some fans with bitter feelings toward the league; forcing NHL teams to do everything they can to lure fans back to the rink. The Tampa Bay Lightening offered 200 season tickets for $200 each on Wednesday in an effort to boost excitement from fans.
NHL players and owners, as well as local hotels, bars and restaurants, are not the only ones to benefit from a new collective bargaining agreement. Investors nationwide may have an opportunity to make money on the new deal. Shares of Madison Square Garden (NYSE:MSG), the owner of the New York Rangers, hit an all-time high earlier this week following Sunday's announcement.
"It's a good opportunity to buy Madison Square Garden's stock," said Richard Tullo, Albert Fried Director of Research.
Despite the fact that the lockout wiped out millions of dollars in revenue, some say the league won't suffer too much because the top revenue generating games will still be played, so there's not too much to worry about.
"The NHL saved the most valuable part of the season, the playoffs," said Joel Maxcy, Temple University Sports Economist. "I doubt there will be much of a hangover effect. Similar to the NBA last year and to the NHL lockout in 2004-2005, the league will bounce back and a lot of short-term losses will even out."
Under the new collective bargaining agreement, player contracts are capped at seven years with an eight-year exception for players resigning with their own teams, revenue share will be split 50-50 between owners and players and a $64.3 million salary cap ceiling and a $44 million floor will take effect next season.
Training camps began Sunday, setting the stage for a shortened 48-game season. Opening day is scheduled for January 19.