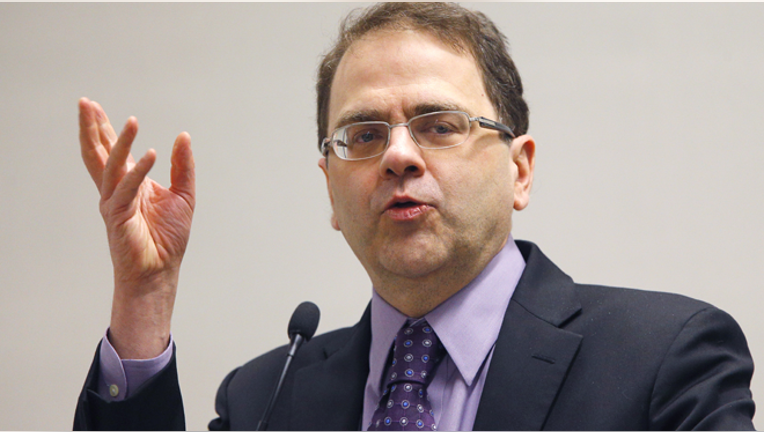 A Federal Reserve policy maker who disagreed with the central bank's tweaked forward guidance released earlier this week said Friday he dissented with his colleagues because low inflation remains a long-term threat to the ongoing economic recovery.
Minnesota Federal Reserve President Narayana Kocherlakota said in a statement he believes the Fed should communicate its intent to keep interest rates at their zero range for as long as the Fed's one to two-year outlook indicates inflation will remain below the Fed's 2% target rate.
Kocherlakota's views on inflation are even more dovish than his influential dovish colleagues Fed Chair Janet Yellen and Vice Chair Stanley Fischer, whose views generally hold sway over the rest of the policy-setting Federal Open Markets Committee.
In addition, Kocherlakota said in his statement that if the Fed's inflation outlook is wrong and inflation continues to run below the Fed's target rate, the central bank should be prepared to use additional stimulus tools – possibly another round of quantitative easing -- to help prop up the economy.
"I would have preferred for the FOMC to communicate that it will keep the target range for the fed funds rate unchanged as long as the one-to-two-year-ahead outlook for the inflation rate remains below its target of 2 percent," Kocherlakota said. "The FOMC should also make clear that, if this forward guidance were to prove inadequate, it would be willing to use additional tools, such as asset purchases, to bring inflation back to its target."
On Wednesday, the Fed released a newly-tweaked statement saying it "can be patient" in terms of the timing of interest rate hikes. The Fed also declined to remove the phrase "a considerable time," which has been used to describe how long rates will remain low beyond the end of the Fed's bond-purchasing program, which was phased out in October.
Markets have interpreted the intentionally-vague tweak as dovish, emphasizing once again that the Fed is in no hurry to raise interest rates. Meanwhile, in comments during a press conference Wednesday, Yellen, without setting a timetable, reiterated the Fed's position that rates will likely start moving higher in 2015.
Yellen and the Fed statement essentially shrugged off as temporary a recent plunge in the price of oil that has contributed to downward pressure on inflation.
Kocherlakota, citing the damage long-term low inflation has inflicted on the economies of Japan and Europe, would prefer that the Fed be more specific. Moreover, he is concerned that by removing Fed stimulus the central bank will put additional downward pressure on inflation.
"In my assessment, the FOMC's failure to respond to weak inflation runs the risk of creating a harmful downward slide in inflation and longer-term inflation expectations of the kind that we have seen in Japan and Europe," he said. "I see this risk to the credibility of the inflation target as unacceptable, given how hard it would be for the FOMC to respond successfully if this eventuality did indeed materialize."