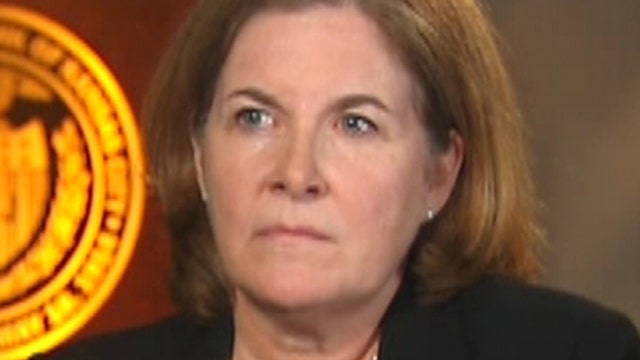 Another top Federal Reserve official signaled Tuesday the central bank should start winding down one of its major economic stimulus programs.
In her first television interview since her appointment in 2011, Esther George, president of the Federal Reserve Bank of Kansas City, told Fox Business that she favors scaling back the Fed's "quantitative easing" bond buying program "faster and sooner," in part because of improving monthly jobs numbers.
Since the 2008 financial crisis, the Fed has purchased more than $2.5 trillion in bonds to help push down interest rates on auto loans, mortgages and business loans. The purchases, currently $85 billion a month, have raised its bond holdings to an unprecedented $3.4 trillion.
"I think it is time to begin to adjust those purchases," George said. "The labor market has shown now, for the last six months, pretty steady gains of close to 200,000 per month. That is a good indicator that there has been sustained improvement here and that I think it would be appropriate, given the size of our balance sheet, given the level of accommodation, that we begin to make adjustments that reflect that improvement as we go forward."
In remarks to an agriculture conference after her interview, George said the Fed could start tapering bond purchases at its policy meeting in September, with the goal of ending all bond purchases in the first half of 2014.
"As the economy has continued to recover, even though that's been slow, we have seen positive trends, both in the labor market and housing and other things," George said in the interview. "The discussion about how much longer -- when will the outlook for the labor market be sufficient -- to allow the committee to begin to make adjustments. We've come to that point."
In a press conference last month, Fed chairman Ben Bernanke said the Fed could start to reduce QE bond purchases later this year if the economy continued to grow and add jobs at the pace of the Fed's forecasts.
According to minutes of the Fed's June policy meeting, about half of Fed governors and regional bank presidents -- there are 19 in total -- said they favored ending quantitative easing (QE) by the end of 2013.
George declined to say if she was one of those. But she said, "I'm open to engaging that with my colleagues about the right pace. But I think sooner is appropriate -- to begin now, because we have a long way to go if we're going to do this in a gradual and a systematic say ... to begin to normalize monetary policy ... The important thing is to start the process."
George said that the central bank's official policy statements, not its minutes, were the "important signal" on QE and other plans.
Last week, the president of the Fed bank of Philadelphia, Charles Plosser, a QE critic, said the FOMC should start tapering bond purchases in September and end them altogether by year-end.
At the Fed's policy-making body, the 12-member Federal Open Market Committee, George and other regional bank presidents rotate on and off the panel as voting members. George rotated on in January.
She has criticized QE, saying it could promote asset bubbles and higher inflation, though she said Tuesday that inflation expectations right now "seem to be in a good place." She has dissented at every FOMC meeting so far this year; its next meeting is at the end of July.
Still, George echoed comments of Bernanke and other Fed officials about the need to base decisions about QE on incoming data on the economy and job creation.
"The (FOMC) will be meeting again in a couple of weeks to talk about the data we've seen, to talk about the next steps to policy," George said. "And so that is a decision that is made collectively by the committee.  And you can expect that as we talk about it, there will be diversity of views at that table. But the outcomes, I think, will continue to be data driven, continue to be supported by what we see unfolding in the economy."
Since Bernanke mentioned the idea of tapering bond purchases in May, longer-term interest rates have risen sharply, though they remain historically low. Unlike some Fed colleagues, George declined to describe the increases as an "overreaction" to new comments on possible QE tapering.
"I think it's to be expected that when the tone of policy changes, there is an adjustment process.  And the markets reacted," George said. "Those rates have settled down a little bit...I think that was a necessary communication.  And I think as we go forward, the markets now will have different expectations."
With Bernanke and other Fed officials speaking almost daily about the future of QE -- and investors reacting to every comment, creating volatile stock and bond markets  -- George added, "Communication around these issues, I think, are going to be challenging, because these are unconventional policies.  Our experience with this, the market's experience with these is new territory. So as the communication unfolds and we seek to continue to clarify ... I think the message is clear, which is the economy continues to recover. We are seeing improvement in the labor markets.  And given the very extraordinary and aggressive nature of monetary policy, now is a good time to talk about how the future might unfold...to prepare the markets."