Kanye West-Trump Meeting Sparks Talk of Inauguration Performance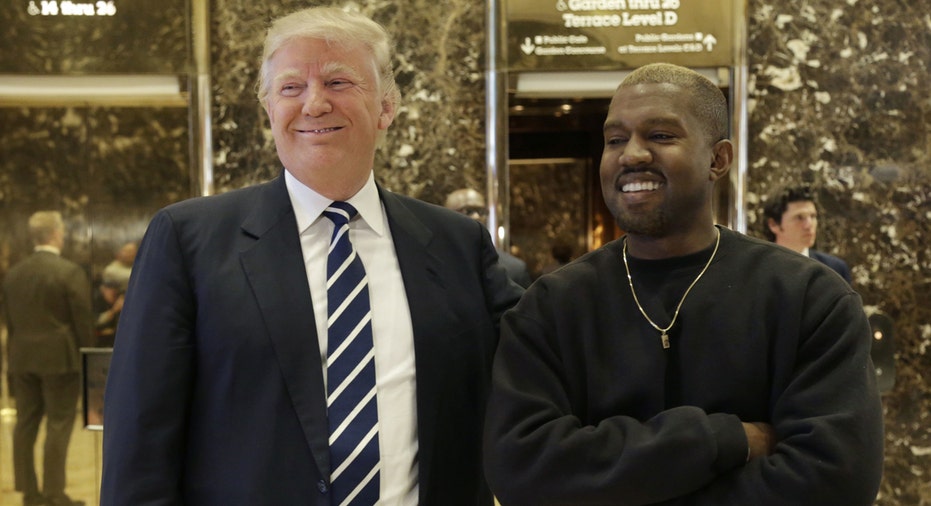 Rapper Kanye West turned up at Trump Tower on Tuesday for a meeting with Republican President-elect Donald Trump, firing up social media and fueling speculation West may have discussed performing at Trump's inauguration.
West, 39, and Trump posed for photographers in the lobby of Trump Tower after meeting privately upstairs. It was the first major outing by West since he was released on Nov. 30 after a week in a Los Angeles psychiatric hospital with an unexplained condition, and quickly became the top trending topic on Twitter.
Asked about the purpose of the 15-minute meeting, Trump told reporters: "Friends, just friends. He's a good man. Long time. Friends for a long time."
Trump added that the two had talked about "Life. We discussed life."
West, looking solemn and sporting a new blond hairdo, gave no explanation for their meeting, saying only, "I'm just here to take a picture right now," and giving the media a thumbs up sign. He was without his reality television star wife Kim Kardashian.
West made headlines in November when he was booed at his San Jose, California, concert for declaring his support for Trump, although he also said he had not voted in the Nov. 8 presidential election. The "Jesus Walks" rapper also had declared he planned to run for U.S. president in 2020.
Tuesday's visit came as Trump's team was planning details of his Jan. 20 inauguration and sparked speculation that the two men may have discussed a role for West.
Many of America's biggest music stars, including Beyonce, Katy Perry and Bruce Springsteen backed Democrat Hillary Clinton in the election and no celebrities have yet been announced as taking part in the inauguration, although country singer Garth Brooks is in discussions to perform.
"Will Kanye perform at Trump's presidential inauguration"? celebrity commentator Lailah Lynn asked on Twitter.
"Is Kanye West gunning to perform at the inauguration?" the New York Post wondered in an online report.
Others speculated that West, who also has a popular fashion line, may have discussed designing for soon-to-be first lady Melania Trump.
West was hospitalized last month after a series of rants about politics and the music industry and after he abruptly canceled the remainder of his U.S. tour.
No official explanation has been given about his condition, which was initially attributed to exhaustion. (Reporting by Gina Cherelus in New York and Susan Heavey in Washington; Writing by Doina Chiacu and Jill Serjeant; Editing by Jeffrey Benkoe)