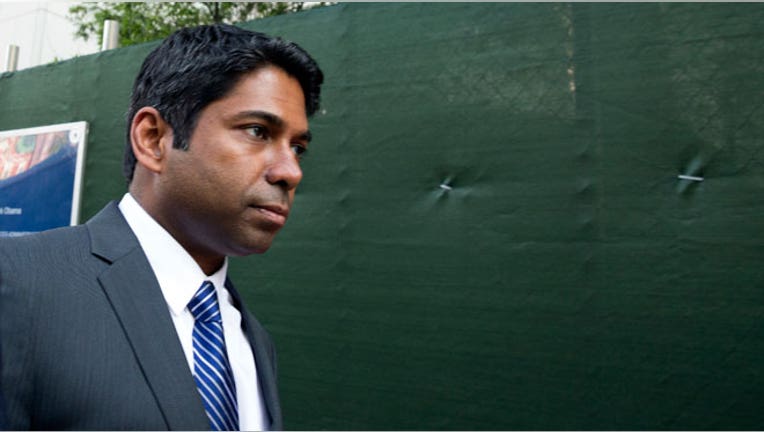 The younger brother of jailed hedge fund manager Raj Rajaratnam was acquitted on Tuesday by a federal jury of participating in his brother's lucrative insider trading schemes.
Rengan Rajaratnam was found not guilty after less than four hours of deliberations following a trial that lasted more than three weeks.
It was the first defeat for U.S. prosecutors in New York in a nearly decade-long purge of insider trading on Wall Street during which the government has secured 85 guilty pleas or convictions of people charged during the investigation.
"While we are disappointed with the verdict on the sole count that the jury was permitted to consider, we respect the jury trial system whatever the outcome, and we thank the jury for their service," U.S. Attorney for the Southern District of New York Preet Bharara said in a statement.
Last week, U.S. District Judge Naomi Buchwald threw out two securities-fraud counts against the younger Rajaratnam because in her view, there wasn't enough evidence to support the charges.
A jury of eight women and four men acquitted Rajaratnam, 43, on the single remaining charge of conspiracy that the judge allowed to move forward.
Prosecutors' investigation into Galleon Group, the hedge fund founded by Raj Rajaratnam, had yielded two high-profile convictions; the first of the elder Rajaratnam and a second of former Goldman Sachs director Rajat Gupta.
Raj Rajaratnam was convicted in 2011 and is now serving an 11-year sentence in federal prison. Gupta, who was convicted in 2012 of feeding inside information to Rajaratnam from his perch as a Goldman director, recently lost an effort to stay out of jail while he appeals his case.