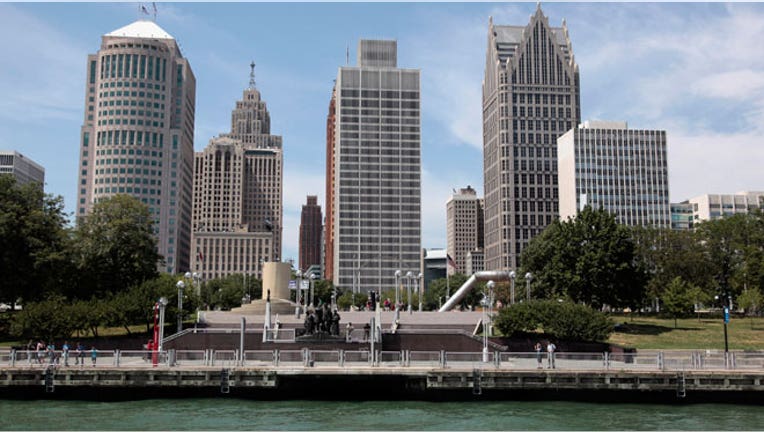 A federal bankruptcy judge on Tuesday ruled that Detroit could move ahead with the largest municipal bankruptcy in U.S. history, providing the city with protection from its creditors and allowing Detroit to begin preparing a plan for restructuring an estimated $18 billion in debts.
U.S. Bankruptcy Judge Steven Rhodes issued his ruling after hearing about 10 days of testimony spread out over several weeks.
"This opportunity gives us a chance to move forward," Detroit Mayor Dave Bing said at a press conference following the ruling.
Michigan officials, led by Detroit's state-appointed emergency manager Kevyn Orr and Governor Rick Snyder, have argued that bankruptcy protection is needed in order to stabilize the city's finances while a restructuring plan is developed.
Orr has said providing funding for maintaining essential city services – public safety and infrastructure maintenance -- is his top priority. Paying off creditors comes next. According to some reports, about 40% of the city's streetlights do not work and thousands of abandoned building scar the city's landscape.
At a press conference Orr said the ruling will allow Detroit to "move forward" by freeing up money to pay bills that help it run, rather than paying down its "crushing debt burden," which Orr said amounted to about 40 cents on every dollar spent by the city.
"We have to relieve the city of that burden," Orr said, "that would be the clean slate."
Public employee unions, bond holders and other creditors oppose bankruptcy protection, fearing the pension cuts and losses on investments that are likely to be a critical part of any restructuring plan.
Had the judge ruled against bankruptcy, municipal unions could have revived lawsuits against the city seeking to block pension cuts and bond holders could have initiated lawsuits seeking to seize city property.
Still, appeals to Rhodes' decision could delay implementation of the city's restructuring plan. One of Detroit's largest public employee unions – AFSCME -- immediately announced it had filed an appeal of the ruling.
James Spiotto, a Chicago-based bankruptcy attorney and an expert in Chapter 9 filings, described the judge's ruling as "practical wisdom."
"Clearly, asking a municipality to pay more than it can doesn't accomplish anything," Spiotta said.
The key to securing a prosperous future for Detroit, according to Spiotta, will be developing a restructuring plan that allows the city to reinvest in itself – in public safety, infrastructure and education, things that will attract businesses and people back to Detroit and start replenishing the city's tax coffers.
Pensioners, bond holders and other creditors should recognize that without that kind of investment Detroit will never return to financial stability and never be in a position to pay down its massive debts, said Spiotta, a partner at Chapman and Cutler LLP.
In July, Detroit became the largest U.S. municipality to file for a Chapter 9 bankruptcy, citing more than $18 billion in debts it cannot pay.
Decades of economic decline have taken their toll on Detroit, once proudly known as Motor City, epicenter of the U.S. automobile industry. As the city itself has lost businesses and entire industries, residents have fled to the surrounding suburbs, draining the city of much-needed tax revenues.
Detroit's population, which peaked at 1.8 million in 1950, has fallen to 700,000.  The city's population has fallen by nearly 30% since 2000.
In order to meet federal eligibility requirements, Detroit had to prove that it is insolvent, that it was authorized to file for bankruptcy and that it negotiated with creditors in good faith or that negotiations were impractical.
During testimony leading up to the judge's ruling, lawyers representing Detroit's municipal unions and retirees argued against bankruptcy, claiming the city didn't meet the necessary requirements. Instead, they said Orr and Snyder failed to negotiate in good faith and argued that Michigan's constitution prohibits altering municipal contract agreements such as pension benefits.
Before filing for bankruptcy, Orr proposed canceling $3.5 billion in future obligations to the city's pension system and $1.4 billion in unsecured bonds Detroit issued in 2005 and 2006 to patch its depleted retirement system.
Orr offered to replace those debts with a $2 billion note paying 1.5% interest, which would give bondholders, the pension system and other unsecured creditors just pennies on the dollar.
After Detroit filed for bankruptcy, Rhodes ordered the city and its creditors -- including unions, bondholders and retiree groups -- into confidential mediation sessions overseen by the chief judge of the U.S. District Court in Detroit, Gerald Rosen.