Jobless Claims Notch Biggest Drop in Two Months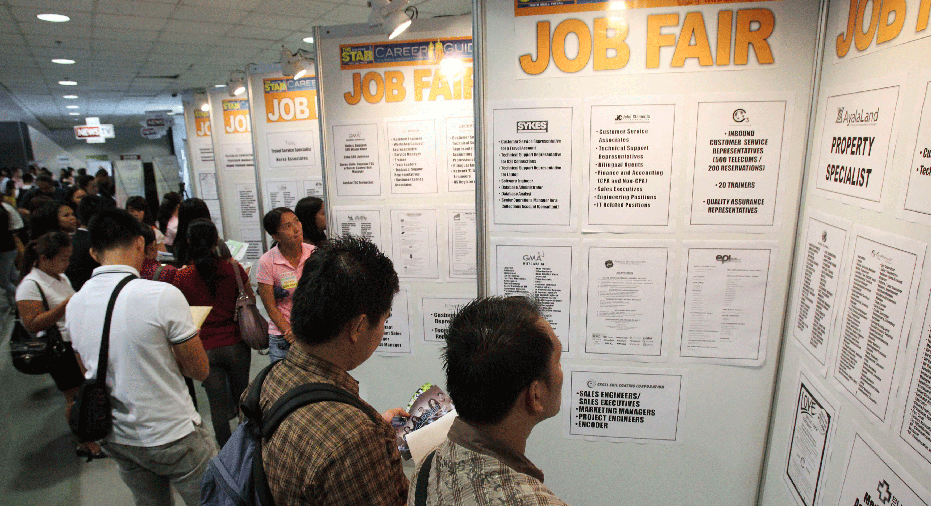 The number of Americans filing new claims for unemployment benefits last week fell by the most in two months, government data showed on Thursday, a hopeful sign for the struggling labor market.
Initial claims for state unemployment benefits dropped 14,000 to a seasonally adjusted 374,000, the Labor Department said. The prior week's figure was revised up to 388,000 from the previously reported 386,000.
Economists polled by Reuters had forecast claims falling to 385,000 last week. The four-week moving average for new claims, a better measure of labor market trends, fell 1,500 to 385,750.
The initial claims data has no bearing on Friday's employment report, which is expected to show employers added 90,000 to their payrolls in June, according to a Reuters survey, after increasing them by 69,000 in May.
The unemployment rate is seen steady at 8.2 percent after rising in May for the first time since August.
Job growth has weakened in recent months amid a cloud of uncertainty, spawned by the European debt crisis and fears of tax increases at home next year.
The struggling labor market prompted the Federal Reserve last month to ease monetary policy further by extending a program to re-weight bonds it already holds toward longer maturities to hold down borrowing costs.
New applications for unemployment benefits remain in a tight range, and the four-week average is still elevated, suggesting any improvement in the jobs market will only be gradual.
A Labor Department official said there was nothing unusual in the state-level data and only Alaska had been estimated.
The number of people still receiving benefits under regular state programs after an initial week of aid climbed 4,000 to 3.31 million in the week ended June 23.
The number of people on extended benefits fell 12,113 to 47,425 in the week ended June 16, the latest week for which data is available, as more states lost eligibility for extended benefits for the long-term unemployed.
Now only four states offer extended benefits.
The extended benefits data covered the week of the household survey from which the unemployment rate is drawn.
Economists expect that as more people fall off the unemployment benefit rolls, the jobless rate will decline as people are forced to take up jobs they would not normally have considered or drop out of the labor force.
A total of 5.87 million people were claiming unemployment benefits during the week ending June 16, under all programs, down 20,439 from the previous week.