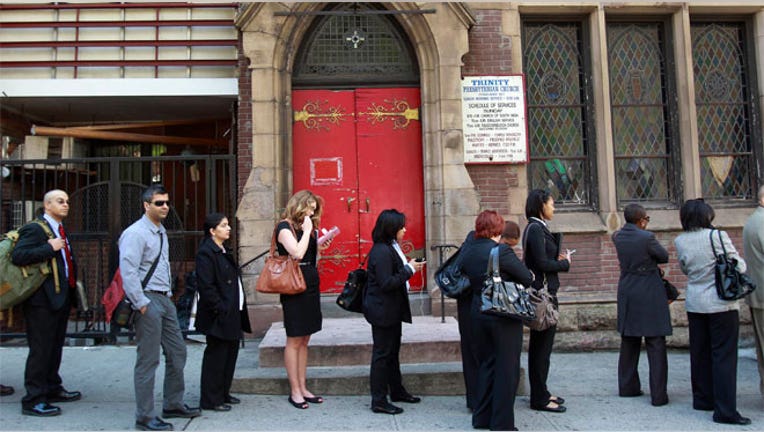 The U.S. added just 88,000 jobs last month, a clear sign that the much-needed momentum sought by policy makers is yet to gain traction.
It was the slowest rate of job growth in nine-months.
The headline unemployment rate fell one-tenth of a percentage point to 7.6% as a half-million people stopped looking for work altogether and are no longer counted by the government as part of the labor force.
"The rate of unemployment in the US fell to 7.6% in March, dropping for the second successive month to its lowest since December 2008. Non-farm payrolls numbers were a massive disappointment, however, rising by just 88,000 against analysts' expectations of a 200,000 rise, according to Reuters poll," said Chris Williamson, chief economist at London-based research firm Markit.
"Private sector payrolls rose by only 95,000 rather than an expected 209,000. Disappointingly, the drop in the unemployment rate could also be largely attributed to people dropping out of the workforce, rather than employment gains," Williamson added
The disappointing report means that once again the Federal Reserve is unlikely to consider tightening fiscal policy. That means interest rates will remain at historically low levels and the Fed will continue its bond buying purchases for the foreseeable future.
The stock markets haven't been affected recently by economic news, seemingly surging to new records every day despite mixed data on housing, labor and retail. But the Dow Jones industrial average was down more than 150 points in early trading Friday following the release of the much-worse-than expected labor numbers.
In February, the economy gained a surprising 236,000 jobs and the unemployment rate fell to 7.7% from 7.9%, the lowest rate in four years.
Analysts had been predicting a gain of 200,000 in March but that wasn't the case at all.
The numbers come as sequestration started to kick in in Washington, the automatic spending cuts slashing budgets across the board and scaling back federal purchasing and payrolls. The mandated cuts probably had an impact on U.S. hiring as might have higher payroll taxes that have cut most consumers' take home income by 2%.
Government payrolls fell by 7,000 in March.
Analysts had to look deep into the numbers to find specific causes for the disappointing report.
"In today's report, the weakness is largely attributable to double digit gains in service sector jobs.  In order for a meaningful number of jobs to be added in any given month, the service sector has to be adding jobs in the triple digits.  Obviously that was not the case in March," said Dan Greenhaus, chief global strategist at BTIG LLC in New York.
The decline in the labor force pushed the share of the population that is either employed or looking for work to 63.3%, its lowest since 1979.
Greenhaus added that "weakness in this report is not limited to simply the job additions.  Average hourly earnings, which appeared to be gaining steam of late, were flat in the month while manufacturing hours worked actually declined."
Federal Reserve Chairman Ben Bernanke has pledged not to start raising interest rates until the unemployment rate falls to 6.5% or inflation rises to 2.5%. Both of those thresholds seem a long way off.
Bernanke has essentially tied fiscal policy to the labor markets, and the disappointing March numbers will certainly provide justification for continuing the Fed's loose fiscal policies despite concerns that those policies will lead to runaway inflation at some future point.