Jeff Sessions attacks MS-13 from inside El Salvador amid tensions at home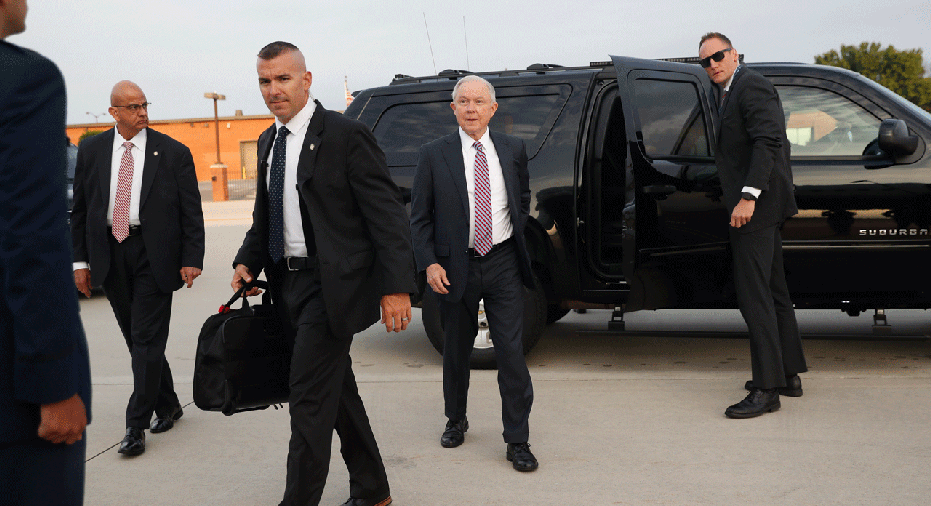 Amid blossoming tensions with President Donald Trump in D.C., Attorney General Jeff Sessions flew to El Salvador on Thursday to further the administration's fight against the violent street gang MS-13.
Sessions boarded a plane Thursday morning with several aides and leaders of the Justice Department's criminal division but did not take questions from the news media traveling with him.
Forging ahead with the tough-on-crime agenda that once endeared him to Trump, Sessions plans to meet his Salvadoran counterpart, Attorney General Douglas Melendez, before convening with other law enforcement officials on what his program calls a transnational anti-gang task force. He will tour a detention center and meet former members of MS-13, also known as Mara Salvatrucha, which Sessions has called a top threat to public safety in the U.S.
MS-13, a group that was started by Central American immigrants in Los Angeles in the 1980s, is known for its ruthless and violent tactics – notably using machetes to hack victims. Most of the founding members were from El Salvador and fled to the U.S. during the country's civil war that lasted 12 years, from 1980-92. Since then the gang's membership has ballooned to at least 10,000 members in the United States and more than 30,000 worldwide, according to the FBI and Treasury Department.
MS-13 is on one of its most deadly tears through Long Island, New York since it took root there 20-30 years ago, linked to at least eleven murders in the region since mid-2016. Recently, the gang is believed to be connected to four brutal killings in Central Islip, N.Y. in April.
Law enforcement officials believe some of the recent violence has been directed by members of the gang imprisoned in El Salvador.
Both Trump and Sessions have blamed Obama-era border policies for allowing the gang's ranks to flourish in the U.S., though the Obama administration took unprecedented steps to target the gang's finances. Federal prosecutors have gone after MS-13 before but say they've recently seen a resurgence.
Trump praised Sessions when he announced his mission to eradicate the gang in April. But the attorney general has since fallen out of favor with his onetime political ally.
In day after day of public humiliation, Trump said he rued his decision to choose Sessions for his Cabinet and left the former Alabama senator's prospects dangling. Trump's intensifying criticism has fueled speculation that the attorney general may step down even if the president stops short of firing him. But Sessions is showing no outward signs that he is planning to quit, and on Wednesday, White House press secretary Sarah Sanders said that Trump "wants him to lead the department."
"Look, you can be disappointed in someone and still want them to continue to do their job," she said.
Thursday's trip was planned before Trump's broadsides against his attorney general, and it remains to be seen whether his work in El Salvador will help mend their fractured relationship. Their shared view, rare among the political class, that illegal immigration was the nation's most vexing problem was what united Sessions and Trump.
The Associated Press contributed to this report.