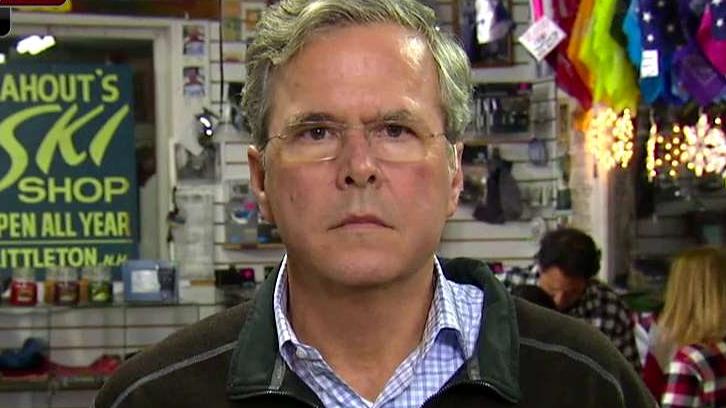 Republican presidential candidate Jeb Bush joined FOX Business Network's Jo Ling Kent on "Risk & Reward" Tuesday to talk about his tax plan and the 2016 presidential race.
Oh his tax plan, Bush said, "it simplifies the code to three rates; it lowers the maximum rate to 28%, that creates a corporate tax rate of 20%, eliminates all of the loopholes and deductions and simplifies the code, it would create an explosion of investment and create high-wage jobs…"
Bush also addressed fellow Republican Donald Trump's language on the campaign trail.
"I don't think you can insult your way to the presidency – I know that for a fact, every time he does that he makes it harder for the likely, eventual nominee to win, and that's my goal, it's not to be the big personality on the stage, to insult people, disparage people, tell people with disabilities, make fun of them. I mean come on, we're running for the presidency of the United States. We need a serious candidate to take on Hillary Clinton, not someone who is viewing this as a reality TV show."
Bush discussed why his record as governor of Florida stands out compared to his opponents such as Gov. Chris Christie.
"I was only talking about my record as governor where we cut taxes totaling $19 billion, the government workforce was reduced by 11% but we lead the nation in job growth, income grew in the state by 4.4%. We were one of two states to go to triple-A bond rating, the reserves in the state went from $1 billion to $9 billion. It's because I was a conservative reform-minded governor."