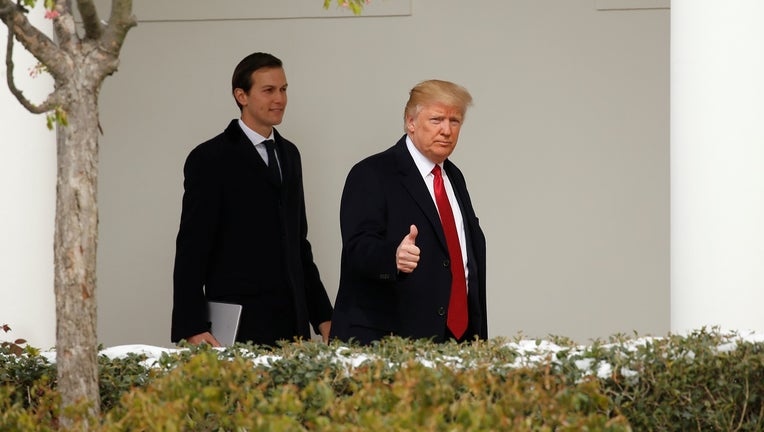 It turns out Jared Kushner's role as senior adviser to President Donald Trump hit a snag.
White House sources confirmed to FOX Business that Kushner recused himself from working on the controversial EB-5 immigration program at the start of the administration amid potential concern that his involvement would have been perceived as a conflict of interest due to his White House role.
However, despite that recusal, his name was mentioned when his sister, Nicole Kushner Meyer, used the immigration law during a sales pitch in Beijing where she urged Chinese billionaires to invest in the luxury apartment building One Journal Square in Jersey City, NJ. In return, investors would be granted a chance to live in the United States and a fast track to permanent residency. She mentioned her brother, the former chief executive officer of Kushner Companies, within her presentation, as a way, some have said, to lure investors.
More From FOXBusiness.com...
EB-5, the much-criticized visa program, allows foreigners to win fast-track immigration in return for investing $500,000 in U.S. properties.
President Trump extended the program only a day before Meyer's investor pitch as part of a massive federal spending bill, but there's no sign that the president did so in order to help the Kushners.
Kushner Companies insisted the mention of Trump's son-in law during the presentation was not an attempt to reel in investors and issued this mea culpa: "Kushner Companies apologizes if that mention of her brother was in any way interpreted as an attempt to lure investors. That was not Ms. Meyer's intention," a Kushner Companies spokesperson said in a statement to FOX Business.
Kushner's personal attorney Blake Roberts of WilmerHale LLP, said in a statement to FOX Business that his client divested himself from Kushner Companies and the One Journal Square project while also acknowledging "he will recuse from particular matters concerning the EB-5 visa program."
While Trump's senior adviser recused himself from being involved with the EB-5 program in January, well before his sister's China visit, it may also have something to do with another project he was working on throughout the campaign, which involved the same program he's hurrying to distance himself from.
In 2014, Kushner Companies, under the leadership of Jared Kushner, teamed up with The Trump Organization, then led by Donald Trump, and KABR Group of New Jersey to work on their first big project known as Trump Bay Street, a 50-story luxury rental apartment building in Jersey City.
The project itself was worth about $200 million but sources close to the development say Kushner Properties and KABR Group raised $50 million in funds through the EB-5 program. At the time, The Trump Organization was only involved with licensing the building, sources tell FOX Business.
The timing of Trump Bay Street's completion may also suggest why the White House was so eager to have Kushner recuse himself from working on the EB-5 program. The project was officially completed in November 2016, the same month Donald Trump beat Hillary Clinton to become the 45th President of the United States and only two months before Jared Kushner resigned from being the CEO of his family's real estate company to become Trump's most trusted adviser.
Richard Painter, former chief White House ethics lawyer under President George W. Bush, agreed that Kushner should have recused himself from working on the EB-5 program. "It makes total sense that he had to recuse himself because he legally could not discuss it and it just wouldn't look good for the administration if Trump's senior adviser, not to mention his son-in-law, was in on conversations about a program that his company used to invest in properties."