Japan's PM Abe to Meet Trump Next Week, Pitch Importance of Alliance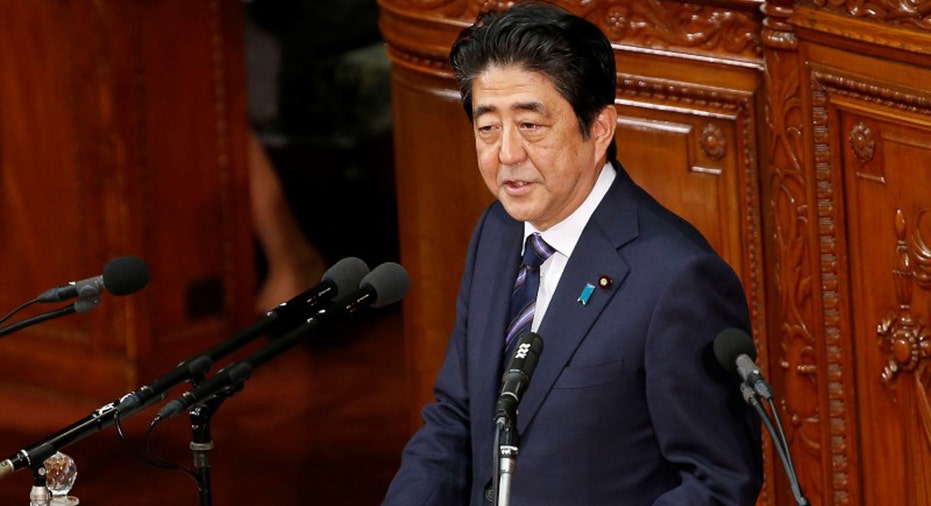 Japanese Prime Minister Shinzo Abe will seek to establish good personal ties and pitch the importance of the bilateral security alliance when he meets U.S. President-elect Donald Trump in New York next week, officials said on Thursday.
A Japanese government official said the pair had already talked by telephone and confirmed close cooperation, stressing the importance of the Japan-U.S. alliance in the Asia-Pacific.
Abe will meet Trump in New York next Thursday before going to the Asia-Pacific Economic Cooperation summit in Peru.
"Trump may take longer than usual to build his administration as he searches for people to fill key policy positions," Tetsuya Otsuru, a senior Japanese Foreign Ministry official, said in a speech in Tokyo. "We want to safeguard our alliance with the United States during the transition."
Trump's unexpected victory has fanned Japan's anxiety about Washington's commitment to security arrangements in the face of a rising China and a volatile North Korea.
His "America First" rhetoric and calls for Japan and South Korea to pay more of the cost for U.S. troops in the region or face their possible withdrawal have worried officials.
Trump's transition team did not respond to requests for comment, but an adviser to the president-elect, who did not want to be identified by name, played down concerns about any changes in approach to alliances in Asia.
"I think what we are going to see is a very mainstream Republican administration," he said, adding that sharing the costs of sustaining combined defense was a matter for negotiation, as it always had been.
Trump's election win has also dashed hopes for U.S. approval of a 12-nation pan-Pacific trade pact that was a linchpin of Washington's "pivot" to the region.
During his campaign, Trump took a protectionist stance on trade and labeled the TPP a "disaster." There is now little chance of it coming up for vote in Washington before his inauguration in January.
In an opinion piece published on Monday, Trump advisers Peter Navarro and Alexander Gray reiterated his opposition to major trade deals.
"Trump will never again sacrifice the U.S. economy on the altar of foreign policy by entering into bad trade deals like the North American Free Trade Agreement, allowing China into the World Trade Organization, and passing the proposed TPP," they wrote. "These deals only weaken our manufacturing base and ability to defend ourselves and our allies."
'DECIDEDLY UNREASSURING'
Jeffrey Kingston, director of Asian studies at Temple University's Japan campus, said Trump as a candidate had been "decidedly unreassuring" on Abe's trade and security concerns.
"Abe will politely try to explain why the alliance is so important and that Trump needs to retreat from some of his assertive rhetoric," Kingston said.
Japanese companies play a key role in the U.S. economy, employing more than 800,000 American workers. They contributed $78 billion to U.S. exports in 2014, according to the U.S. Embassy in Tokyo.
Japanese officials said they had already been in touch with Trump's advisers but acknowledged they had a better understanding of the policies of defeated Democratic rival, Hillary Clinton.
"We are certainly concerned about the comments he has made to date about the alliance and the U.S. role in the Pacific," said a Japanese government source. "I hope our team starts working as soon as possible to rectify his perceptions."
Abe was quick to offer Trump congratulations, praising his "extraordinary talents" as a businessman.
"I very much look forward to closely cooperating with you to further strengthen the bond of the Japan-U.S. alliance," Abe said in a statement after Trump's win was confirmed.
Abe and U.S. President Barack Obama never really appeared to click personally. A ruling Liberal Democratic Party lawmaker said he hoped Abe and Trump could develop the close personal "Ron-Yasu" ties seen between then-President Ronald Reagan and former Japanese Prime Minister Yasuhiro Nakasone in the 1980s.
"Trump is a practical businessman and he thinks in terms of profit and loss," Masashi Adachi, head of the ruling Liberal Democratic Party's foreign policy panel, told Reuters.
"If we explain that the U.S.-Japan alliance is in U.S. interests, he will understand its importance on balance."
(Additional reporting by Kaori Kaneko, Nobuhiro Kubo and Tim Kelly in Tokyo, and David Brunnstrom in Washington; Editing by Joseph Radford and Peter Cooney)