Ivanka Trump says administration will ease burden of child care costs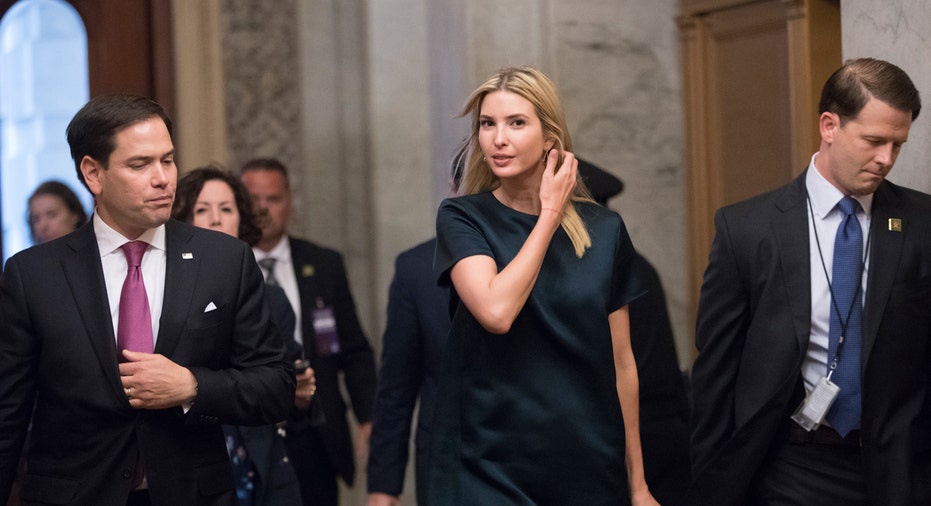 I​n her first official visit to Capitol Hill to discuss tax reform, Ivanka Trump ​called child care "a major expense for American working families" and promised her father's administration would find solutions.
​Trump shared that message via Twitter ahead of a meeting with legislators:
Childcare is a major expense for American working families. This Admin. is focused on creating policy solutions to enable them to thrive!

— Ivanka Trump (@IvankaTrump) June 20, 2017
The senior adviser and daughter of President Donald Trump has been an outspoken advocate for paid family leave and helped draft the federal paid family leave program.
The meeting on Capitol Hill was led by ​Sen. Marco ​Rubio (R-Fla.)​and included Sen. Deb Fischer (R-Neb.), Sen. Joni Ernst (R-Iowa), Sen. Mike Lee (R-Utah) and other lawmakers.
The President's daughter tweeted of the administration's focus on policy solutions for working families.
In February, Ivanka Trump met with lawmakers writing the tax plan to include tax cuts for child care expenses. Trump is a mother of three children and has called for six weeks of mandatory paid leave for parents. President Trump has also advocated for making child ​care more affordable for working parents.
Ivanka Trump has stressed that paid parental leave and support for child care costs are priorities of the administration, but she has signaled flexibility on the approach. Advancing parental leave in the Republican-controlled Congress is considered highly unlikely, but winning some family-oriented tax changes are possible.
Rubio and Lee have proposed enhancing the child tax credit, which currently provides a tax credit of up to $1,000 for qualifying families. Fischer has proposed a tax credit for businesses that offer paid family leave.
The Associated Press contributed to this report.