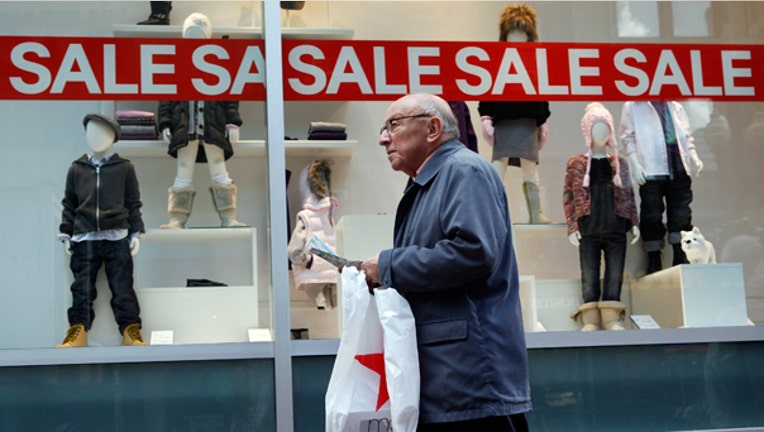 With economic turmoil once again erupting in Europe, debt headaches in the U.S. and consumer confidence falling a worse-than-expected amount on Tuesday, a recent wave of bleak economic news has some fearful of a weakening recovery.
The worrisome reports come on top of much colder-than-usual temperatures in the Northeast and severe snow storms in the Midwest that have been blamed for slow retail sales over the last few months, triggering a recent wave of lowered full-year outlooks.
"The weather hasn't been doing retailers any favors," said Jessica Bornn, senior merchants and luxury specialist for Merchant Forecast. "When coupled with increased payroll taxes, it's a perfect storm."
While sunnier days may be ahead for some industries as the temperature improves, fueling sales of anything from flip flops to grills and pool supplies, there are concerns that underlying economic fundamentals indicate a much bleaker spending environment that could persist for years.
"I think the weather is a mask," said Thomas Blischok, chief retail strategist at Booz, a global consulting firm. "Without question the weather has been problematic across the country but the fact that incomes are not rising, the cloud of economic instability continues to be critical in the eyes of the shopper."
The Confidence Board's U.S. consumer confidence index tumbled to 59.7 in March from the downwardly revised February print of 68, short of economists' estimates of 68.
Russell Price, senior economist at Ameriprise Financial, said the decline is likely a short-lived reflection of concerns about the sequester, which has triggered $85 billion in across-the-board federal spending cuts, as well as the two-percentage-point payroll tax increase that has shaved billions from economic spending.
The slow season has retailers worried, with several including DSW (NYSE:DSW), Children's Place (NYSE:PLCE) and American Eagle (NYSE:AEO), cutting their current-quarter and full-year outlooks in the most recent earnings season, citing anything from softening demand and cooler-than-usual temperatures to economic woes.
Children's Place on Tuesday, for example, blamed "unfavorable weather" and the weak macroeconomic environment on softer consumer spending and projected a first-quarter EPS that at its high point is still 49 cents below Wall Street expectations.
"Retailers are beginning to panic," Bornn said. "They are overloaded with spring inventory that just isn't selling."
It has prompted sharp sales and promotions across the retail sector, from Express (NYSE:EXPR) offering a deal on dresses this past weekend ahead of the often-dressy Easter holiday to Gap's (NYSE:GAP) Banana Republic and Ann Taylor (NYSE:ANN) chopping as much as 40% from total bills.
Department stores like Macy's and J.C. Penney (NYSE:JCP) are perhaps most sensitive to these late seasonal swings because they tend to get merchandise into stores earlier than niche brands. Penney late last month said it would resume offering promotions this spring after its failed "no sales" promise in 2012 eroded its profit margins.
"The question is how long can they offer store-wide promotions without their margins starting to get hit," Bornn said.
With the spring shopping season quickly meshing with the summer season, retailers with stagnant merchandise and rapidly building inventories are finding themselves in a conundrum. They must decide whether to keep offering promotions, ship clothes to warmer-weather stores, pack them up for use later on clearance, or simply take a loss.
As retailers take it day-by-day with a careful eye on the future, there are two strikingly diverse, yet equally feasible, possible outcomes.
Price said he sees the disappointing decline in consumer confidence as more of a short-term problem that will dissipate as the weather improves. After all, other economic trends that serve as an underlying barometer of the economy, such as durable goods and housing starts, have been improving, offering further encouragement of a rebounding housing market and broader recovery.
"I'm optimistic," he said. "I don't expect we'll get to a robust rate of economic growth anytime soon but fundamentals support the idea that consumers are going to further their spending."
Bornn agrees, noting that there is pent-up demand just waiting to be unleashed.
"This happens every year when you see a slow start to spring," she said. "People are ready to buy spring clothes, but until they believe it's actually begun they just don't."
Blischok isn't buying it, arguing that the mixed economic news is creating even more uncertainty and confusion among consumers and will force retailers to maintain their "deal mania" for quite some time.
"Economic uncertainty is really a harbinger of pause before purchase," he said. "I would expect this deal driven mentality to continue for at least a couple more years."
One potential buoy is if consumers continue to trade-down, meaning they swap potentially more expensive or luxury retailers for off-price stores or brands that better fit into their budget. A teenager, for example, may switch to Aeropostale (NYSE:AEO) from Abercrombie (NYSE:ANF), while a department store shopper may switch to Kohl's (NYSE:KSS) from Macy's (NYSE:M).
That way, at least, they are still shopping, albeit more budget consciously.
"Obviously there will be some slowdown because of the payroll tax but there's always a trade down," Bornn said.