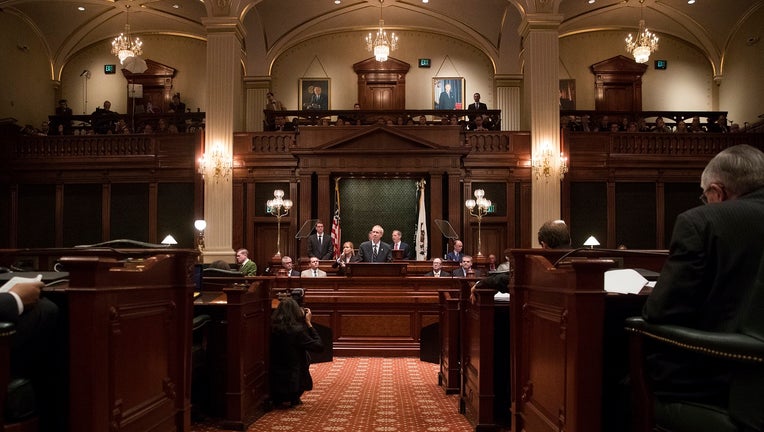 Lack of a new education funding formula prevented Illinois on Thursday from sending hundreds of millions of dollars to 852 public school districts, punching a hole in their budgets just weeks before classes start.
Governor Bruce Rauner's use of a veto this month to rewrite a funding formula bill stopped the twice-monthly August-to-June flow of state aid to schools totaling $6.7 billion in fiscal 2018.
"The fact that these payments are not being made threatens the opening of schools in some districts, is causing cuts to be made to educational services to children and unfortunately is a reflection of the political gridlock and dysfunction in our state," said Roger Eddy, executive director of the Illinois Association of School Boards.
An impasse between the Republican governor and Democrats who control the legislature left Illinois without a complete budget for an unprecedented two fiscal years. Lawmakers enacted a fiscal 2018 budget in July over Rauner's vetoes.
The initial fiscal 2018 state-aid payment schools were scheduled to receive on Thursday was the first Illinois ever missed, according to state Comptroller Susana Mendoza. To ease the blow, her office distributed $429 million in grants that schools were owed in March for transportation and other costs.
The comptroller's office said schools received about $244 million twice a month in state aid in fiscal 2017, which ended June 30. It was unclear how much the initial fiscal 2018 payment would be because of the lack of a funding formula.
The school grants had been delayed as Illinois' unpaid bill backlog ballooned to over $15 billion.
Rauner has called for quick action by the General Assembly to accept his changes to the bill, which was passed in May without a veto-proof majority, or to send him separate legislation reflecting what he wants so school operations will not be threatened.
The Senate is scheduled to take up school funding on Sunday, while the House returns to session on Wednesday. Failure by the two chambers to muster a required three-fifths majority vote to override or accept changes Rauner made to the bill would kill the measure.
Eddy said without state aid, some districts may be able to keep their doors open only for weeks, while others will be forced to tap reserves or borrowing to keep operating.
The cash-strapped Chicago Public Schools, the main target of Rauner's veto action, will start classes in September and will remain open for the school year, Mayor Rahm Emanuel said on Wednesday.
Fitch Ratings warned last week that some districts, including junk-rated CPS, could face credit downgrades in the event of an extended school funding impasse.
(Reporting By Karen Pierog; Editing by Dan Grebler)