Hyundai Motor working on dedicated platform for electric vehicles: executive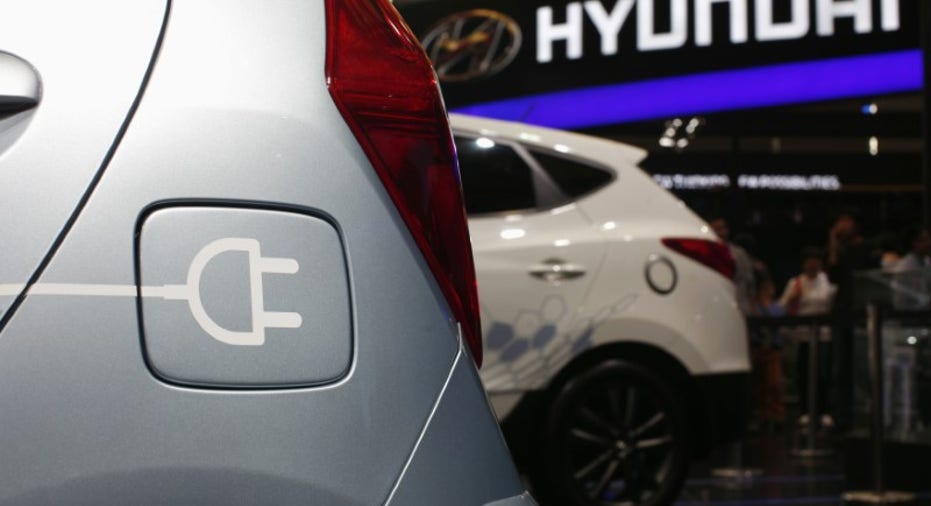 YONGIN, South Korea (Reuters) - South Korea's Hyundai Motor Co <005380.KS> is developing its first dedicated architecture for electric vehicles, an executive told Reuters, preparing a major push into the growing segment by offering multiple models with longer driving ranges.
While the platform will not be completed soon, Hyundai Motor and affiliate Kia Motors Corp <000270.KS> plan to roll out small electric sport utility vehicles based on an existing platform, said Lee Ki-sang, a senior vice president at Hyundai Motor.
The subcompact or compact models would have a range of more than 300 km (186 miles) per charge, and would be "more competitive" than rival offerings, Lee, who leads Hyundai-Kia's green cars operations, said in an interview on the eve of an auto show that kicked off in Seoul on Thursday.
He said he expected electric vehicles to account for about 10 percent of total global vehicle sales by 2025, from some 1 percent now.
Hyundai Motor, which has long championed fuel-cell vehicles, has been under pressure to compete more vigorously in the battery electric market stimulated by Tesla Inc .
The envisioned electric car platform will allow the automaker to install a battery pack in the vehicle floor to accommodate more battery capacity and to maximize interior and cabin space, Lee said.
"The electric vehicle platform will require high up-front investments, but we are doing this to prepare for the future," he said at Hyundai-Kia's green car research center in the city of Yongin, outside Seoul.
Hyundai will launch an electric SUV, followed by a sibling model by Kia Motors next year, he said, citing strong demand for SUVs.
Hyundai Motor's IONIQ hybrid sedan fell short of its sales target, while Kia's Niro hybrid SUV exceeded its forecast last year.
Lee said Kia Motors was also working on its first fuel cell vehicle, following Hyundai Motor's lead in the segment.
(Reporting by Hyunjoo Jin; Editing by Stephen Coates)