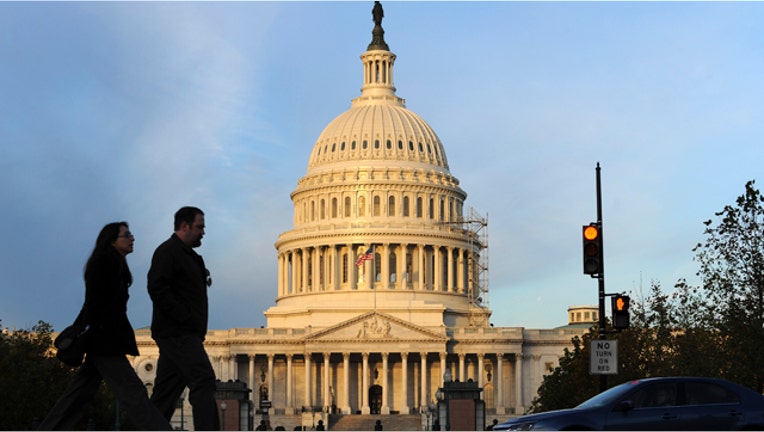 Fewer than 48 hours to go before the Oct. 17 deadline to increase the nation's borrowing limit, neither the House and Senate, nor Republicans and Democrats, can coalesce behind one proposal aimed at staving off potential default.
Early Tuesday, the House said it would move its own version of a bill which includes repealing an exemption of the Affordable Care Act for member of Congress, the president and vice president, and the cabinet.  The proposal also provides a two-year suspension of the medical device tax, a pillar in President Barack Obama's health-care law, income verification, a continuing resolution aimed at funding the government through January 15, and a provision to extend the debt limit until February 7, killing Treasury's ability to enact extraordinary measures in the future.
However, not long after the House released details of its framework, the White House issued a statement denouncing the Republican-majority's outline.
"The President has said repeatedly that Members of Congress don't get to demand ransom for fulfilling their basic responsibilities to pass a budget and pay the nation's bills.  Unfortunately, the latest proposal from House Republicans does just that in a partisan attempt to appease a small group of Tea Party Republicans who forced the government shutdown in the first place," the statement said.
Following that, House Speaker John Boehner held a brief press conference with members of his party in which he signaled he might not have the votes to pass the legislation today, but pledged to move forward with something.
"No decisions about what exactly we will do, but we will continue to work with members on both sides to ensure no default," Boehner said. "We're talking with our members on both sides of the aisle to try to find a way to move forward, today."
Now it looks as though, according to Republican aides, the House will not have the votes necessary to pass its proposed plan.
President Obama is scheduled to meet with House Democratic leadership at 3:15 p.m. ET to discuss a way forward on a debt ceiling measure.
A Way Forward in the Senate?
Meanwhile, a meeting among Senate Minority Leader Mitch McConnell and Republican rank-and file set for  11 a.m. ET was delayed until after a policy lunch later in the day. Sources at the Capitol said it's likely due to a lack of support for the deal. Those sources also said given the tight timeline, it's possible the framework outlined Monday afternoon among Senate leaders might not get votes necessary to pass before Thursday, leaving the Senate with a House-proposed take-it-or-leave-it deal – assuming the House is able to muster votes to pass its own plan Tuesday.
The framework for the Senate proposal, which came after a last-minute postponement of a scheduled meeting among the four Congressional leaders and the president, includes several provisions that could garner support from either side of the aisle.
The framework suspends the debt ceiling until February 15 and funds the government through January 15. A senior Democratic aide told FOX News Monday the medical device tax Republicans have been keen on repealing in past negotiations, is out at the insistence of Senate Majority Leader Harry Reid and the president. In its place, the source said, is a one-year delay of income verification.
Lawmakers also planned to include a one-year delay in the transitional reinsurance tax included in the Affordable Care Act, President Barack Obama's key piece of legislation. However, Capitol Hill sources now say that plan is likely dead. Beginning in the new year, through 2016, employers of self-funded health plans, and insurance companies offering insured health plan products, are subjected to an annual fee of about $63 per person aimed at funding reinsurance payments to insurers covering high-risk patients in the individual market.
The worry isn't only on whether the plan can please the Republican minority in the Senate, which is still a challenge, but if it can make it through the House with a seal of approval before Thursday.
And even winning approval in the Senate isn't a slam-dunk at this point, either. Just one Senator can halt the bill in its tracks completely if he or she disapproves of the measure. Some speculate whether Senator Ted Cruz will attempt a filibuster against the measure, which could lock up the floor for hours, preventing final action on the measure. The other possibility is one member objecting to "unanimous consent" passage to expedite the approval process on a bill – if that happens, it could also stop the Senate action dead in its tracks. If either of those things happen, the Senate would then be required to clear a number of parliamentary hurdles, which could ultimately propel discussion and any chance of approval into the weekend.
What Exactly Happens on the 17th?
The October 17 deadline is the Treasury Department's self-imposed, drop-dead date for running out of "extraordinary measures" it has used for the past several weeks to allow the government to continue to pay its bills. However, as Treasury Secretary Jack Lew has reiterated time and again, on Thursday, those measures will be exhausted, and Treasury will have only $30 billion cash on-hand to allocate to its obligations. At that point, Lew warns failure to pay any legally obligated bill on time – not just debt payments – will result in a higher risk for default, and consequently a potential downgrade from ratings services like Standard and Poor's, Moody's, and Fitch.
In 2011, when the threat of default was present and Congress was up against a very similar deadline with the debt ceiling, the Dow plummeted 600 points in just one session on the heels of a credit downgrade from S&P from a platinum 'AAA' to 'AA+'.
Analysts worry a similar event could happen if S&P or other ratings services decide to downgrade its outlook on U.S. debt before or after the mid-week deadline approaches.
How is Wall Street Reacting?
Despite the looming, and increasingly likely, threat of missing Thursday's deadline, Wall Street remains optimistic. U.S. equity markets were flat to slightly lower in afternoon trading.
Societe General's Alvin Tan said the focus Tuesday remains largely on the Senate, and the outlook seems positive.
"The calculation is that a Senate fiscal deal that passes with strong support by Senate Republicans would permit the House Republican leadership to put the bill to a vote in the House of Representatives, where it would be passed by solid Democratic support with some Republican assistance," he wrote in a note to clients Tuesday.
Similarly, Nomura U.S. chief economist Lewis Alexander noted Tuesday the talks among Senate leaders Reid and Minority Leader Mitch McConnell were cordial and interpreted as positive at the end of the day, but said that House Speaker John Boehner was not included in the talks does not bode well for the passage of any legislation in the House. Additionally, he said the short-term nature of the bill and the possibility for more fiscal uncertainty as a headwind for growth outlook are also major concerns coming out of Monday's discussions into Tuesday.
Barclays remains optimistic about some kind of grand solution to the problem. In a note to clients Tuesday, Barry Knapp, head of U.S. equity strategy at the bank said the sand hasn't run out yet.
"We expect an increase in the debt ceiling and a continuing resolution combined with a House/Senate conference (don't call it a super committee) that is long enough to give the FOMC a reason to pass on restarting the reduction of asset purchases in October, thereby reducing the probability of December  taper," he wrote.
But not everyone on the Street believes s policymakers can put differences and desires aside ahead of Thursday's deadline. In a note to clients Monday, Goldman Sachs said if the House is eventually forced to take up and pass a Senate measure,  it's unlikely they'll be left holding an empty bag when time runs out – so they'll pass it. But that's not the be-all, end-all. The bank still ssees another possible outcome growing increasingly likely.
"There is still a chance Congress will manage to get the debt limit raised by October 17, but a resolution later this week or even this coming weekend also appears possible…Congress needs to raise the debt limit by October 17 to avoid disruptions, but missing the deadline by a few days would probably be manageable," the bank noted.
Potomac Research Group's chief economist, Greg Valliere said the October 17 deadline is looking increasingly likely to slip, and even if a deal is done in time, the nation still faces another fiscal crisis in the not-so-distant future.
"The pivotal event in the next 48 hours will be in the House, where Boehner faces the biggest decision of his career.  But even if a deal is done by late this week, another shutdown crisis will loom on Jan. 15, with a new debt ceiling deadline on Feb. 7," he said.