Hard-Hit States Suffer Fuel Shortages, Power Outages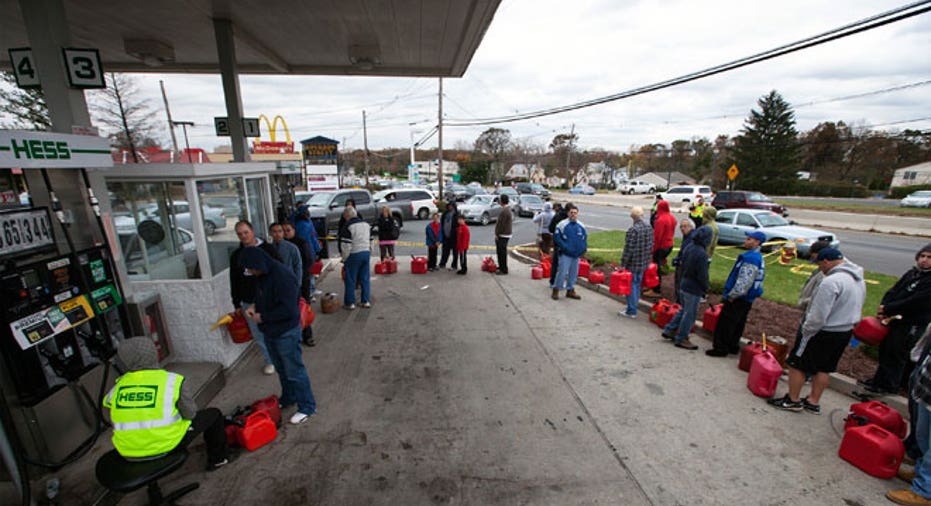 New Yorkers awoke to the rumble of subway trains for the first time in four days on Thursday in one sign of recovery from Sandy's devastating blow. But elsewhere in the storm-struck Northeast, gasoline shortages persisted and emergency teams struggled to reach the worst hit areas and restore power to millions of people.
At least 76 people in North America died in superstorm Sandy, which rampaged through the U.S. Northeast on Monday night, and officials said the count could still rise as rescuers searched house-to-house through coastal towns.
After a three-day hiatus, President Barack Obama was to return to the campaign trail, boosted in his re-election bid by a resounding endorsement of his leadership from the Republican governor of New Jersey.
The Democratic incumbent, tied in polls with Mitt Romney ahead of Tuesday's election, begins a two-day trip to the swing states of Colorado, Ohio and Nevada while his Republican challenger travels to Virginia.
Obama viewed flooded and sand-swept neighborhoods of New Jersey on a helicopter tour of the state with Republican Governor Chris Christie on Wednesday.
"The entire country's been watching. Everyone knows how hard Jersey has been hit," Obama told residents at an evacuation shelter in the town of Brigantine.
In New York, limited train service returned on some train and subway lines, but more than half of the gas stations in the city and neighboring New Jersey remained shut due to power outages and depleted fuel supplies. Even before dawn, long lines formed at gas stations that were expected to open.
Sandy started as a late-season hurricane in the Caribbean, where it killed 69 people, before smashing ashore in the United States with 80 mph winds. It stretched from the Carolinas to Connecticut and was the largest storm by area to hit the United States in decades.
Towns along the New Jersey shore took much of the brunt. Homes were flooded, boardwalks were washed away and gas mains ruptured.
The extent of destruction in the New York City borough of Staten Island became clearer on Thursday, where whole houses were picked up off their foundations. Some 34 people were killed in New York City, a police spokesman said on Thursday, 15 of them in Staten Island, nine in Queens, seven in Brooklyn and three in Manhattan.
Matthew Gessler of Brooklyn went to Breezy Point, a New York neighborhood where fire destroyed 111 homes, to inspect damage to his mother's house.
"Where the fire happened, you could honestly take that picture and say it was somewhere in the Middle East, like in Afghanistan, and no one would doubt you at all," Gessler said.
'NORMAL'
In Jersey City, across the Hudson River from New York, drivers negotiated intersections without the aid of traffic lights. Shops were shuttered and lines formed outside pharmacies while people piled sodden mattresses and furniture along the side of the roads. The city has issued a curfew on people and businesses as well as a driving ban from 7 p.m. to 7 a.m.
New Yorkers faced an easier commute than Wednesday as the subway system resumed limited operations. But four of the seven subway tunnels under the East River remained flooded and there was no service in Manhattan below 34th Street, where the power is still out.
Subway rides were free as authorities encouraged commuters to use mass transit rather than drive. Mayor Michael Bloomberg and state Governor Andrew Cuomo said private cars must carry at least three people in order to enter New York, after the city was clogged by traffic on Wednesday.
The New York Stock Exchange, running on generator power after the first weather-related two-day closure since an 1888 blizzard, reopened on Wednesday [ID:nL1E8LVEVR]. S&P 500 index futures were down slightly before the market opened on Thursday.
MARATHON BACK ON TRACK
LaGuardia airport in New York was scheduled to reopen on Thursday with limited service. John F. Kennedy and Newark, New Jersey, airports reopened with limited service on Wednesday.
Preparations went ahead for the New York Marathon on Sunday, but Thursday's National Basketball Association season-opening game between the New York Knicks and Brooklyn Nets was postponed.
Sandy was likely to rank as one of the costliest storms in U.S. history. One disaster-modeling firm said Sandy may have caused up to $15 billion in insured losses.
About 6 million homes and businesses in 15 U.S. states were without power on Wednesday, down from a high of nearly 8.5 million, which surpassed the record 8.4 million customers who went dark from last year's Hurricane Irene.
On Wednesday, Christie issued an executive order moving Halloween celebrations in New Jersey to Monday and Wednesday's Halloween parade through New York's Greenwich Village was postponed as well.