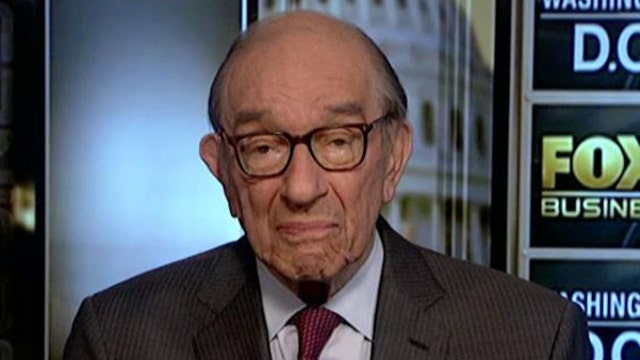 In an interview on FOX Business Network's The Intelligence Report with Trish Regan, former Federal Reserve Chairman Alan Greenspan said the U.S. economy is being held back.
"I would say it's extraordinarily sluggish, it's fundamentally being suppressed by a very low rate of increase in productivity, in fact, close to zero, and you can't get more than a 2% growth rate out of those numbers."
Despite cheap borrowing costs, Greenspan said there is not enough capital investment to boost growth which is fueling an entitlement problem.
"Entitlements have been growing under the administrations of Republicans and Democrats close to 10% a year for a half century," he said. "We're finally at a point where it is, essentially, crowding out."
The entitlement situation comes as Fed Chair Janet Yellen prepares to raise interest rates. Greenspan noted the pace of those interest rate increases could have major implications for both stocks and bonds.
"Well, I think the best way of looking at this is to recognize that the price earnings ratio is really statistically made up of two forces," Greenspan said. "One is the equity premium which, actually, is a little out of line now, but not been materially so. Plus, the level of riskless interest rates. It's there that the basic problem arises, because, for whatever reason, whether it's the Fed moving or the market moving itself, bond prices fall, you begin to get very significant downward pressure on stock prices. And there's where the real problem lies as far as equities are concerned, is that it cannot be dissociated from the fact that interest rates are historically too low and will have to move higher eventually."
Greenspan also weighed in on the concerns billionaire Carl Icahn raised during a recent appearance on The Intelligence Report, when he warned that low interest rates were fueling a bubble in the financial markets. Greenspan shares some of those concerns.
"Remember what a bubble is in a bond market," Greenspan said. "We tend to think of stock market bubbles as very substantial price earnings ratios. Well, if you turn the bond market around and you look at the price of bonds relative to the interest received by those bonds, that looks very much like the usual spread which would concern us if it were equities, and we should be concerned."