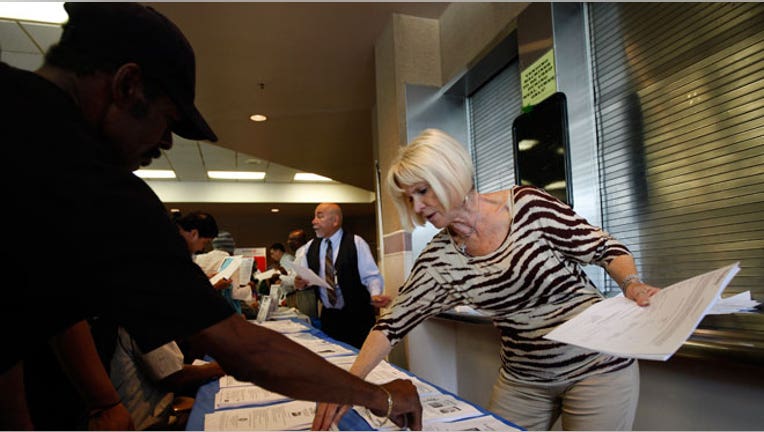 U.S. job growth likely slowed in October as a partial shutdown of the government delayed hiring and forced some workers to stay home, undermining the economy's fourth-quarter growth prospects.
Employers are expected to have added a modest 125,000 new jobs to their payrolls last month, according to a Reuters survey of economists, down from a gain of 148,000 in September.
While the hit from the 16-day federal government shutdown will be temporary, it will undercut a labor market that was already struggling. Job gains slowed to an average of 143,000 per month in the third quarter after increasing by a fairly brisk 182,000 in the April-June period.
As a result of the shutdown, the unemployment rate is forecast to climb to 7.3 percent from September's nearly five-year low of 7.2 percent.
Economists said the risk the government could default on its debt as lawmakers locked horns over the budget was another factor that may have created uncertainty that dampened hiring.
"Businesses are unlikely to have moved ahead with hiring plans given that the U.S. government was potentially on the brink of a default and the government shutdown," said Laura Rosner, an economist at BNP Paribas in New York.
Economists estimate the shutdown reduced payrolls by as much as 50,000 jobs last month. The Labor Department will release the closely watched report on Friday at 8:30 a.m. (1330 GMT).
The slowdown in hiring is likely to be concentrated in the private sector, where government contractors and others whose jobs depend indirectly on government funding were temporarily laid off.
In contrast, little impact is expected on government payrolls because the hundreds of thousands of federal workers furloughed received retroactive pay.
Some economists, however, think the consensus forecast might overestimate the actual private-sector damage. The Institute for Supply Management said on Tuesday that its gauge of the services sector survey increased in October, with services industry employment rising to a near-six-month high.
"There was a little bit too much hype surrounding the calculation of the damage the shutdown would do to the economy," said Adolfo Laurenti, deputy chief economist at Mesirow Financial in Chicago.
"The economy was weakening before the shutdown, so the shutdown may not have helped in that respect. (But) if we look at the services ISM, chances are we are not going to get the sharp slowdown that many are expecting."
SLOWER FOURTH-QUARTER GROWTH EYED
Still, even a payrolls count that beats market forecasts is unlikely to change expectations of slower economic growth in the fourth quarter, given that consumer spending slackened and business inventories rose in the July-September period.
Economists estimate the shutdown will shave as much as 0.6 percentage point off annualized fourth-quarter gross domestic product, through reduced government output and damage to both consumer and business confidence.
With fourth-quarter growth now expected to be below 2 percent, it is unlikely the Federal Reserve will curtail its bond-buying program before March of next year, even if October payrolls were to surprise on the upside, economists said.
"The Fed will wait for more data to assess the economy's resilience," said Michelle Girard, chief economist at RBS in Stamford, Connecticut.
While furloughed government workers probably had little direct impact on payrolls, they are expected to have pushed up the unemployment rate as they were without jobs during the Labor Department's survey period.
A reversal in state and local government employment after a burst of hiring will likely be one factor weighing on payrolls. State and local governments added a total of 67,000 jobs between August and September, the bulk of them in education - gains economists said were due to difficulties adjusting the data for seasonal fluctuations at the start of the new school year.
On the other hand, economists said surprise weakness in the leisure and hospitality industry, which lost the most jobs since late 2009 in September, likely reversed last month.
Retail employment will be watched closely after job growth slowed markedly in September from the solid gains seen for much of this year. The construction industry probably shed jobs after adding a solid 20,000 new positions in September.
Manufacturing employment also probably slipped.
While the work week is seen steady at 34.5 hours, the risk is high that it could have dipped because of furloughs among government contractors and other nonfederal workers affected by the shutdown. Hourly earnings are seen edging up 0.2 percent, in line with the recent trend.