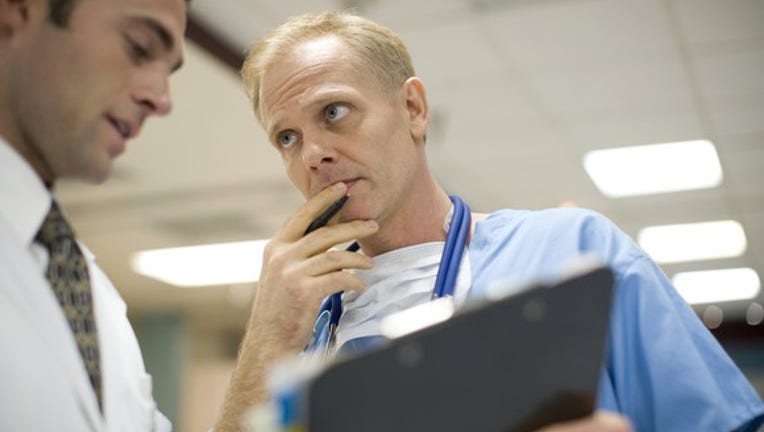 President Donald Trump on Tuesday backed House Republicans' proposal to repeal and replace the Affordable Care Act, but emerging conservative opposition threatened to derail the contentious plan.
Mr. Trump embraced the House GOP proposal, unveiled Monday evening, though he left open the possibility that it could require changes. "Our wonderful new healthcare bill is now out for review and negotiation," he said in a tweet Tuesday morning. Health and Human Services Secretary Tom Price also sent a letter Tuesday endorsing the legislation.
But conservatives and centrists raised concerns about the bill, which can afford few defections in Congress to gain passage. Republicans can't lose more than two GOP votes in the Senate and 22 in the House, assuming no Democrats support it.
Under the plan unveiled by two House committees Monday night, Republicans would repeal much of the 2010 health law and replace it with a system centered on refundable tax credits tied to an individual's age and income. The tax credits, which would supplant the ACA's subsidies, are aimed at helping Americans buy insurance if they don't get coverage at work.
The House GOP plan would also immediately end the requirement that most Americans have health coverage or pay a penalty, as well as a mandate that larger employers provide health insurance to workers. It would repeal most of the health law's taxes starting in 2018 and freeze funding in 2020 for the 31 states that expanded Medicaid under the law.
Some Republicans criticized the GOP proposal as hewing too closely to the ACA, often called Obamacare, by creating a new safety-net program through the refundable tax credits, rather than relying more heavily on market competition to lower insurance prices.
The existing tax credits under the Affordable Care Act are paid to insurance companies to lower the cost of health insurance premiums. People qualify for them based on income. The Republicans' proposed refundable tax credits would be extended even to taxpayers who don't owe net income taxes, and are based on age and income.
Rep. Justin Amash (R., Mich.) labeled the new plan "Obamacare 2.0" in a tweet. FreedomWorks, a conservative group, called it "Obamacare Lite," saying Tuesday that the tax credits would amount to a "new entitlement."
The chairmen of the two committees that drafted the bill defended it Wednesday. The House Ways and Means and Energy and Commerce committees are expected to begin debating the measures in committee on Wednesday.
"We're going to help low and middle-income Americans access affordable, quality health care with a monthly tax credit that's immediately available," House Ways and Means Chairman Kevin Brady (R., Texas) told reporters Tuesday.
Other Republicans had preferred to rely on tax deductions, which lower taxable income and are more valuable to people in higher tax brackets.
House Republicans unveiled the bill without an estimate from the nonpartisan Congressional Budget Office of how much it would cost or how many people would potentially lose coverage under it. That drew criticism from both Democrats and some Republicans, who said they would be uncomfortable supporting a bill without knowing all its effects.
"You want to know it's fiscally responsible, right? You want to know the taxpayer can't get hosed without gimmicks, right?" said Sen. Bill Cassidy (R., La.), who added he also wanted to know how much coverage the bill would provide.
Democrats said their analysis showed it was clear that the GOP plan means far fewer people would receive insurance than under the Affordable Care Act.
"After seven years of campaign promises, congressional Republicans still do not have a plan to replace the Affordable Care Act. Instead, they've released two bills that will lead to higher costs, lower-quality care and lost coverage for millions of Americans," said Rep. John Yarmuth of Kentucky, the top Democrat on the House Budget Committee. "That is why House Republicans are trying to rush the bills to the floor with as little debate as possible and with no analysis from the nonpartisan Congressional Budget Office."
The bills must have a cost estimate by the time they arrive at the Budget Committee, expected next week. That committee will combine the separate bills from the two House panels so that they can take advantage of a special process tied to the budget known as reconciliation.
Using that shortcut enables legislation to pass the Senate with just a simple vote, rather than the 60 votes most bills need to pass the chamber, where Republicans hold 52 seats.
GOP leaders now face the task of persuading reluctant Republicans that this legislation is their best shot at fulfilling their constant campaign pledge to repeal and replace the 2010 health law.
The bill is "supported by the one person who can actually sign a bill into law: the president of the United States," Senate Majority Leader Mitch McConnell (R., Ky.) said on the Senate floor Tuesday morning.
Centrist Senate Republicans have raised concerns over the bill's overhaul of Medicaid, the federal-state insurance program for the poor. The bill maintains the ACA's Medicaid expansion through the end of 2019. After that, funding would begin to be reduced in an attempt to make up for the revenue lost by repealing the taxes contained in the existing health law.
Beginning in January 2020, the federal government would transition into a system in which a set amount of Medicaid funding would be sent to states each year. The move is expected to save the federal government significant money over time but could result in fewer people having insurance coverage.
Several other provisions in the bill quickly became contentious. One would end a special executive-compensation limit that the 2010 law applied to health insurers. That prevented companies from deducting more than $500,000 in pay to executives. Other companies face a $1 million limit, but that cap doesn't apply to performance-based compensation.
Scrutiny also focused on the fact that although individuals would no longer have to pay a penalty if they lack health coverage, insurers could impose a 30% price increase on people who go uninsured for more than two months and then buy coverage.
(Natalie Andrews contributed to this article.)