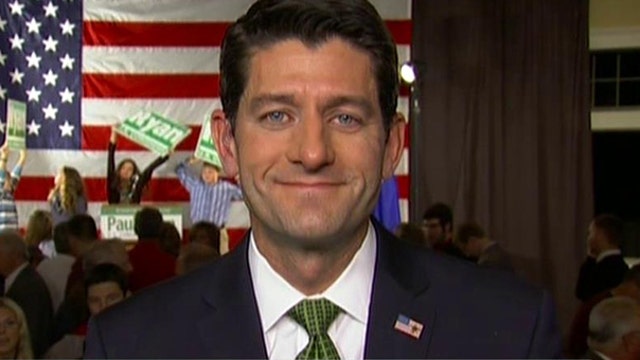 In a historic rebuke of Democratic incumbents, Republican challengers are projected to have picked up seven Senate seats in Tuesday's elections, decidedly shifting the balance of power in Congress to the GOP.
Republicans are poised to replace Democrats in North Carolina, Iowa, Montana, Colorado, Arkansas, South Dakota and West Virgina, according to Fox News projections.
Polls suggested Republicans could gain control of the Senate by winning six elections to gain a majority of 51 seats. The seventh seat adds emphasis to the GOP victories. And there could be another, depending on the outcome of a runoff in Louisiana next month.
Since the GOP was widely expected to maintain its majority in the House of Representatives – and did -- the shift in the Senate will leave President Barack Obama -- and all of his highest priorities -- isolated by a Congress ruled by Republicans in both chambers.
The question is whether a Republican-controlled Congress facing off against a second-term Democratic president will break the political gridlock that has all but stalled important policy decisions in Washington for years, leaving much of the electorate deeply frustrated, cynical and increasingly disillusioned.
Peter Cardillo, chief market economist at Rockwell Global Capital Management, said a Republican victory could lead to less gridlock and more pro-business legislation. Specifically, Cardillo said corporate tax reform and immigration legislation would likely move to the top of a GOP priority list, as Democratic efforts to raise the minimum wage get shelved.
"These are all things that could benefit labor markets," Cardillo said.
Some influential voices on Wall Street are skeptical, however, that a shift in the balance of power in Congress will have much immediate impact on breaking through the longstanding political logjam.
"Whatever the outcome of Tuesday's election, no progress is likely to be made on the key issues of corporate tax reform, immigration reform or entitlement reform before the 2016 presidential election," David Kelly, chief global strategist at J.P. Morgan Funds, said.
"This is quite important in the medium term for U.S. investors since, without real efforts to increase both labor and capital supply, the U.S. economy is likely to run into a significant capacity constraint in the next two years, leading to higher inflation and interest rates," Kelly added.
Meanwhile, in New Hampshire, Fox News is projecting that Democratic Senator Jeanne Shaheen will beat Republican challenger Scott Brown in one of the more closely-watched races of this election.
And in Louisiana, in another race that could determine the strength of the GOP's Senate majority, Fox News is projecting that the Senate race will go to a runoff on December 6. Based on exit polling, Fox projects that three-term Democratic Senator Mary Landrieu and Republican challenger Bill Cassidy will both fail to exceed 50% of the vote tonight, so neither can claim an outright win in Louisiana's so-called "jungle primary."
Here's a roundup of the Senate flips from Democrat to Republican:
In North Carolina, Fox projects that Thom Tillis, a Republican member of the state legislature, will oust U.S. Senator Kay Hagan, a first-term Democrat, in a closely fought race that saw spending top $100 million.
In Iowa Fox News has projected that Republican Joni Ernst will beat Democrat Bruce Braley, which officially gave Republicans control of the U.S. Senate and dealt a major blow to President Obama's agenda in the final two years of his term.
In Montana Fox News is projecting that Republican Steve Daines will defeat Democrat Amanda Curtis, flipping control of the Senate seat to the Republican Party for the first time since 1913.
In Colorado, Republican congressman Cory Gardner will oust first-term Democratic Senator Mark Udall in one of the most closely watched contests in this election cycle.
In Arkansas, Republican Congressman and Iraq war veteran Tom Cotton will unseat two-term Democratic Senator Mark Pryor;
In South Dakota Republican Mike Rounds is projected to beat Democrat Rick Weiland and Independent Larry Pressler to replace retiring Democratic Senator Tim Johnson.
Those turnovers are in addition to an earlier pick up in West Virginia, where Republican Shelley Moore Capito defeated her Democratic opponent for seat held by Democrats for nearly three decades.
Candidates and those with a vested interest in the results have spent $4 billion seeking votes, a record for a mid-term election.
A 'Win-Win' Situation for Stock Markets
A call for raising the minimum wage, one supported by President Obama and many Democrats, is another hot button issue that has yet to be resolved.
In the short-term, continued gridlock could actually benefit investors because stock markets have been moving higher in recent years despite Washington dysfunction. Maintaining the status quo of a dysfunctional Congress would mean the markets would continue to respond solely to economic data and Federal Reserve policy rather than politically-driven legislation.
"It's a win-win situation for the stock markets," Cardillo said.
Republicans have not controlled the Senate since 2006, ahead of President Obama's election two years later. Control of the Senate may not be determined for months, however, if individual candidates in Louisiana and Georgia fail to collect more than 50% of the vote, forcing runoffs in December and January, respectively.
According to the latest polls, Democratic incumbents are battling to retain their seats in Alaska, Arkansas, Louisiana and North Carolina, states in which Republican presidential candidate Mitt Romney defeated Obama in the 2012 election. Given Obama's plummeting approval ratings, voters in those states could play a key role in shifting the balance of power in Congress.
Other incumbent Senators facing tough re-election bids are Colorado Democrat Mark Udall, and Republicans Pat Roberts of Kansas and Mitch McConnell of Kentucky, who would replace Nevada Democrat Harry Reid as Senate Majority leader if the GOP gains control of Congress' upper house. McConnell won his election against Democratic challenger Alison Lundergan Grimes.
The only question related to House races was whether, and by how much, Republicans would increase their majority. All 435 seats were at play and a gain of 13 additional seats would leave the GOP with its largest majority since 1946.
Weak Economic Recovery Could Boost GOP
With the president's approval rating hovering at around 40%, many Democratic candidates chose to distance themselves from Obama's six-year legacy, in particular Obama's signature piece of legislation the Affordable Care Act, which sought to reform the nation's health care system but has come under harsh criticism from opponents of all political persuasions.
In addition, many voters are likely to hold the president and his party responsible for an economy that hasn't recovered as quickly as many would have preferred. While the headline unemployment rate has fallen sharply in the past few years, wages have been stagnant and many Americans have been forced to accept temporary jobs or part-time positions. Significant numbers of Americans have also dropped out of the workforce altogether out of frustration in finding a good paying job with benefits. The labor force participation rate, a key economic indicator for the health of U.S. labor markets, is at its lowest level since the 1970s.
Elsewhere across the country, 36 states will elect governors in races that could potentially impact the 2016 Presidential election, notably in Wisconsin where incumbent Republican Gov. Scott Walker defeated his Democratic opponent.
In Rhode Island, Fox News is projecting that state Treasurer Gina Raimondo, a Democrat, will beat Cranston Mayor Allan Fung, a Republican, to replace retiring Democratic Governor Lincoln Chaffee, a former GOP Senator.
In those 36 gubernatorial contests an unusual number of incumbents appeared to be struggling heading into the election. While Obama raised millions of dollars for Democratic candidates over the past two years, many candidates chose not to be photographed with the president for fear of alienating voters who have grown disillusioned with the president.
In Alaska, Oregon and Washington, D.C., voters will decide whether to join Colorado and Washington state by legalizing recreational use of marijuana.
Education is at the forefront of a ballot in Missouri that would tie teacher's jobs and salaries to student performance, curb tenure and limit contracts to three years.