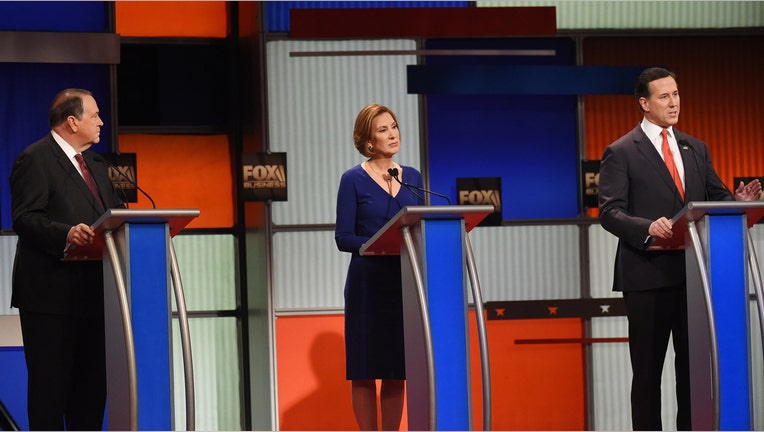 The three candidates participating in the FOX Business Network's early Republican presidential debate in Charleston, S.C., painted a far darker picture of the U.S. economy than President Barack Obama did earlier this week.
Former Arkansas Governor Mike Huckabee, former Hewlett-Packard (NYSE:HPQ) CEO Carly Fiorina and form Pennsylvania Senator Rick Santorum said average Americans might not agree with the president's depiction of the economy during Tuesday night's State of the Union address.
On Tuesday night, the president defended his administration's economic policies. "The United States of America, right now, has the strongest, most durable economy in the world," he said. Anyone who claims otherwise, he said, is "peddling fiction."
Huckabee, Fiorina and Santorum participated in a 6 p.m. debate because their recent poll numbers precluded them from participating in a 9 p.m. debate that includes candidates who are polling higher among primary voters.
Huckabee told of an Arkansas woman he knows who is working two jobs and endures 15-hour work days to make ends meet.
"That's what it takes to make it work, and she's not alone," Huckabee said.
Americans are all facing years of wage stagnation, Huckabee said, and if they work extra hours for extra cash, much of that money goes to the government in taxes.
"Our politicians haven't created the kind of economic growth" that would allow Social Security to continue paying out generous benefits to retired Americans, Huckabee added in response to another question.
Fiorina said as president she would return power to the people, by ending "crony capitalism." Democratic primary candidate and former Secretary of State Hillary Clinton has enriched herself from the inside, according to Fiorina, while current GOP front runner businessman Donald Trump "rakes in billions buying people like Hillary Clinton."
And as average Americans are forced to work longer hours for less pay, "all the while the rich get richer," she said.
In response to a question about how she will address the economically-strapped middle class, Fiorina said tax reform is the key. She said she would reform the U.S. tax code down to a 3-page document to benefit small businesses, which generate most of the jobs in the U.S., especially among middle class workers.
Santorum said as president, he would focus on bringing back good-paying manufacturing jobs, which he described as "the most important jobs, the ones that fill the middle."
"If you're really going to create wealth and opportunity you need good jobs," Santorum said.
"Nobody's focused on the people who are struggling the most today," he added.