GOP Contenders Spotlight Jobs, National Security in FOX Business Debate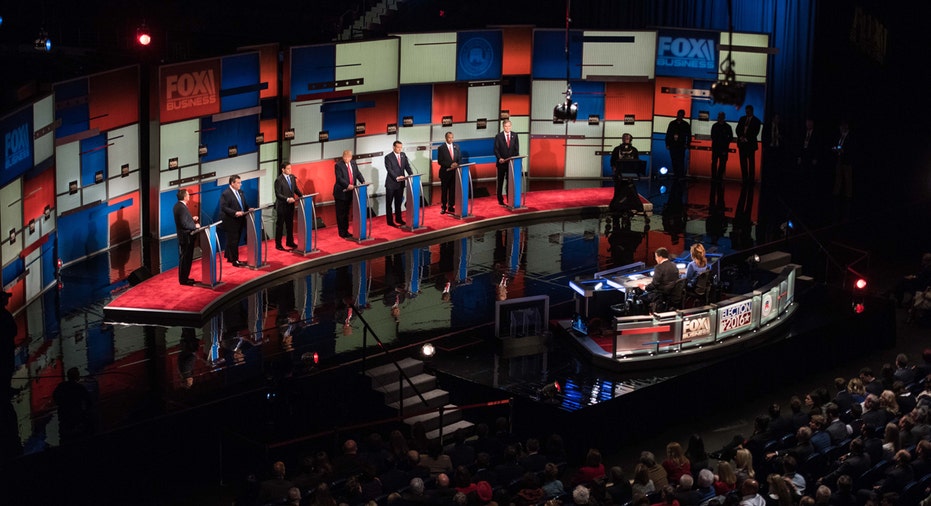 Republican presidential contenders made their pitches on economic and national security issues in the FOX Business Network's GOP Debate on Thursday.
Ohio Gov. John Kasich, touting his tenure as Chairman of the House Budget Committee, proposed freezing federal regulations for one year and cutting individual and corporate taxes to spur growth, in addition to balancing the budget. Sen. Ted Cruz of Texas noted that the labor participation rate is at its lowest point since the 1970s, while median wages have stagnated.
"The Obama-Clinton economy has left behind the working men and women of this country," Cruz said. "The reason all of us are here is we believe we should be fighting for the working men and women of this country, and not Washington, D.C."
Donald Trump explained his support for a tariff on Chinese-made goods. "It's not fair trade," he said in reference to China's own tax on goods shipped to the country. Kasich also argued that Chinese policies are costing American jobs.
Florida Sen. Marco Rubio disagreed on the tariff, saying consumers would bear the cost of a tariff on Chinese products. Instead, Rubio focused on tax reform, replacing the Affordable Care Act and rolling back regulations.
Click here for full coverage of the FOX Business Network's GOP debates
Trump also hit currency devaluation in China and Japan. "We can't let them get away with it," he said. The real-estate mogul recalled that friends are ordering tractors from Komatsu, a Japanese company, rather than buying equipment made by Illinois-based Caterpillar (NYSE:CAT).
On taxes, Cruz and Rubio engaged in a debate on Cruz's proposals, which call for a 16% flat tax for business that would replace the current corporate tax structure and eliminate other taxes, including the payroll tax. Individuals would be taxed at a flat 10%, and Cruz believes the policy would pave the way toward abolishing the IRS.
The two senators have squabbled over how the plan should be characterized. Rubio has attacked the plan as a value-added tax, a form of consumption tax that is used by European countries. Rubio continued to critique Cruz's tax plan during the debate because employees would be paid less and consumers would pay more on merchandise, he said.
"The difference is, you don't see it on the bill and that's why Ronald Reagan said it was a blindfold," Rubio added.
Trump called corporate tax inversions one of the biggest problems facing the country. The acquisition strategy, which companies use to move their tax home to a nation with lower corporate rates, is threatening to take more jobs out of the U.S., he said. New Jersey Gov. Chris Christie said the $2 trillion that U.S. firms have overseas should be repatriated and taxed at 8.75%. As president, he would use the funds to pay for infrastructure improvements. Christie also supports a 25% corporate tax, down from the current 35%. Trump is eyeing a lower rate at 10%.
Fighting Terror in Focus
National security was in focus as well. When asked about America's role in the world, Christie said the military should be used when "absolutely necessary," adding that the U.S. is not the world's policeman.
"Tuesday night, I watched story time with Barack Obama. And I've got to tell you, it sounded like everything in the world was going amazing," Christie quipped. "We need to rebuild our military, and this president has let it diminish to a point where tin-pot dictators like the mullahs in Iran are taking our Navy ships."
Cruz began the main debate with his assessment of the standoff with Iran, which detained 10 U.S. sailors after a navigation error caused two Navy boats to stray into Iranian waters on Tuesday. The sailors were released on Wednesday morning.
"I give you my word, if I am elected president, no serviceman or servicewoman will be forced to be on their knees, and any nation that captures our fighting men will feel the full force and fury of the United States of America," Cruz said.
Trump, the current leader in a Fox News national poll, continued to back his plan to temporarily bar Muslims from entering the U.S. Likewise, former Florida Gov. Jeb Bush continued to target Trump on the issue. Kasich reiterated his support for pausing America's refugee program for Syrians.
When asked about strategies to defeat ISIS, Dr. Ben Carson said the U.S. should target its source of cash: oil.
"You know, some of these engagement rules that the administration has—'We're not going to bomb a tanker that's coming out of there because there might be a person in it"—give me a break,'" Carson said.
Candidates Target Obama, Clinton
Christie lobbed sharp criticism at President Barack Obama and Democratic candidate Hillary Clinton throughout the debate. He said Clinton would oversee a "third term of Barack Obama's leadership," and during a discussion about gun rights, Christie said President Obama's recent executive actions to expand background checks are unconstitutional.
"Mr. President, we're not against you. We're against your policies," Christie said. "The American people have rejected your agenda and now you're trying to go around it. That's not right. It's not constitutional, and we are going to kick your rear end out of the White House come this fall."
Bush also attacked Clinton, whose lead among Democrats has declined in recent polls.
"If [Clinton] gets elected, her first 100 days, instead of setting an agenda, she might be going back and forth between the White House and the courthouse," Bush added, a reference to a federal investigation over Clinton's use of a personal email account as Secretary of State.
Trump Battles Cruz Over Birth
Trump was asked about his recent questions over Cruz's eligibility to become president. Sen. Cruz suggested that Trump was raising the issue because of the Texas senator's rise in the polls, especially in Iowa.
"You know, back in September, my friend Donald said that he had his lawyers look at this from every which way, and there was no issue there," said Cruz, who was born in Canada to an American mother. "Now, since September, the Constitution hasn't changed. But the poll numbers have."
"If for some reason he beats the rest of the field, I already know the Democrats are going to be bringing a suit," Trump responded.
As the back-and-forth wore on, Marco Rubio tried to lighten the mood. "I'd hate to interrupt this episode of Court TV," he said to preference his ensuing remarks.