Global stocks edge higher after US home sales data boost sentiment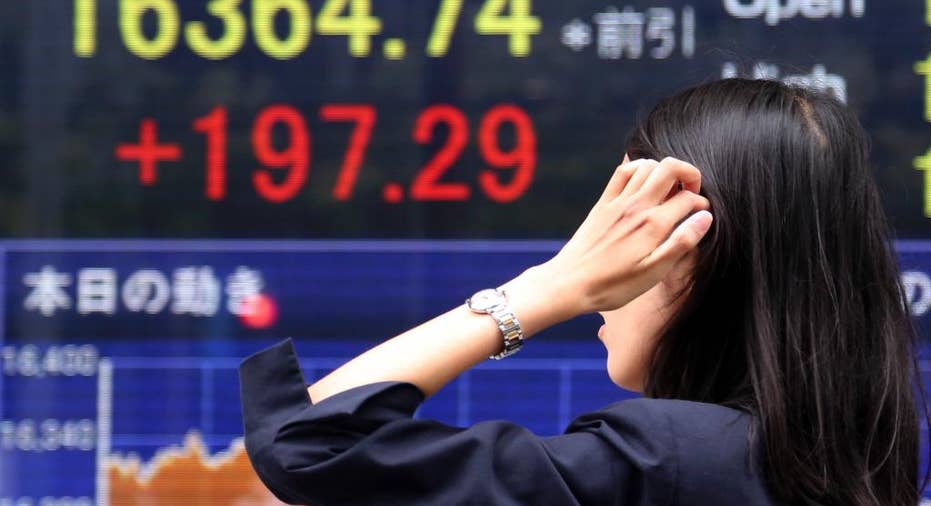 Global stocks markets were mostly higher Thursday after a surge in new home sales in the U.S. bolstered sentiment. But gains were limited by worries about Europe's stagnant economy and violence in Iraq and Syria.
KEEPING SCORE: European markets opened moderately higher with Germany's DAX adding 0.5 percent to 9,705.50 and France's CAC 40 up 0.3 percent to 4,425.78. Britain's FTSE 100 edged up 0.1 percent to 6,712.43. U.S. stocks appeared set for a lukewarm day with S&P 500 and Dow Jones futures flat.
COMING CUES: Three reports due later in the day may trigger moves in stock markets. The U.S. Labor Department is to release its weekly jobless claims report and the Commerce Department is to report on durable goods. Also, Swedish fashion retailer H&M releases third-quarter results.
ASIA'S DAY: Japan outperformed the region with the Nikkei 225 up 1.3 percent to 16,374.14 after the dollar rose above 109 yen overnight, a fresh six-year high. In mainland China, the Shanghai Composite rose 0.1 percent to 2,345.10. Australia's S&P/ASX 200 added 0.1 percent to 5,382.20. Most markets in Southeast Asia rose. South Korea's Kospi drifted 0.1 percent lower to 2,034.11 and Hong Kong's Hang Seng dropped 0.6 percent to 23,768.13.
HOUSING JUMP: The U.S. Commerce Department said new home sales climbed 18 percent in August to an annual rate of 504,000 homes, beating the 430,000 expected by economists. It was the fastest clip since May 2008 and a sign that the real estate market might improve after the recovery from the Great Recession stalled during the past year because of sluggish wage growth and rising prices.
ANALYST TAKE: The unexpected increase in U.S. home sales may "indicate that young people are perhaps now starting to feel economically secure enough to buy their own homes," Chang Wei Liang of Mizuho Bank said in a commentary. "Continuation of this strength would provide further concrete evidence that even the labor market for young people is already near normality."
HYUNDAI STRIKE: More than two third of workers at Hyundai Motor Co. went on to strike this week to protest the company's $10 billion land deal to build new headquarters. Shares of Hyundai Motor fell 1.3 percent to the lowest level in more than one year. The workers are walking out for a total of 12 hours this week, adding pressure to the company to accept new terms for wages and benefits.
SLOW EUROPE: On Wednesday, data showed that business confidence in Germany, Europe's largest economy, dropped for the fifth straight month. The Ifo institute said its confidence index dropped to 104.7 points for September from 106.3 last month as the mood among executives darkened regarding both the current situation and the outlook for the next six months. The fall was bigger than anticipated.
ENERGY: Benchmark U.S. crude oil edged down 23 cents to $92.56 a barrel on the New York Mercantile Exchange. On Wednesday, the contract rose $1.24 to $92.80 after the government reported a larger-than-expected decline in oil stocks.
CURRENCIES: The euro dropped to $1.2725 from $1.2777 late Wednesday. The dollar rose 109.24 yen from 109.19 yen.