Germany denies preparing Deutsche Bank rescue plan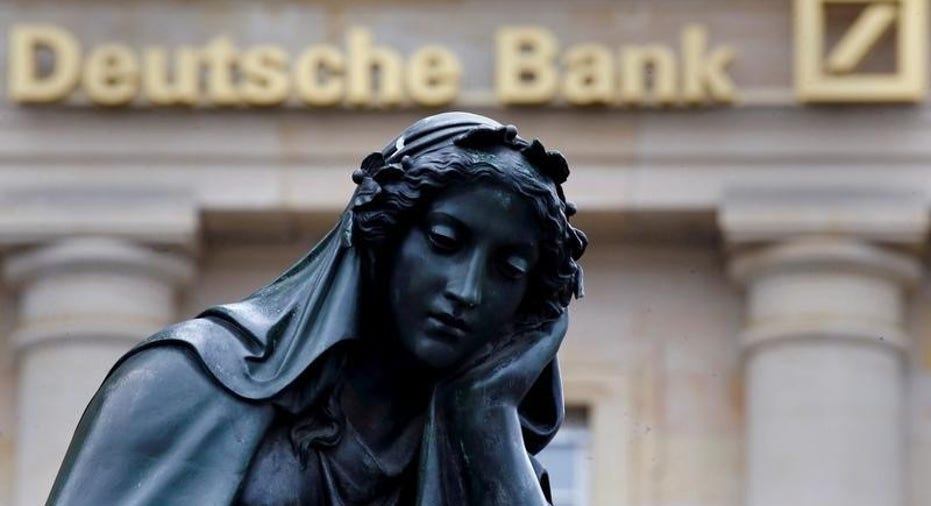 The German government denied it was working on a rescue of Deutsche Bank as Germany's biggest lender boosted its balance sheet by selling its British insurance business on Wednesday.
Deutsche is facing a $14 billion fine from the U.S. Department of Justice and concerns over its funding pushed its shares to a record low on Tuesday and heightened concerns about the health of the financial sector in Europe's largest economy.
The finance ministry dismissed a newspaper report that a rescue plan was being prepared in case Deutsche was unable to raise capital to pay for costly litigation.
Weekly Die Zeit had reported that the German government and financial authorities were working on possible steps to enable Deutsche to sell assets to other lenders at prices that would ease the strain on the lender.
The German government would even offer to take a direct stake of 25 percent in an extreme emergency, the paper said without saying where it got its information.
The government was still hoping Deutsche would not need state support and only scenarios for a potential rescue were being discussed so far, Die Zeit added.
"This report is wrong. The German government is not preparing any rescue plan, there is no reason to speculate on such plans," the finance ministry said in a statement.
Two sources close to the matter also said that German financial regulator Bafin was not working on an emergency plan.
Deutsche Bank shares, which have lost around half their value this year, were up 1.9 percent by 1045 GMT.
A Deutsche Bank spokesman referred to an interview Chief Executive John Cryan gave German daily Bild on Wednesday and denied the report.
"At no point did I ask the chancellor for support. Neither did I suggest anything like that," the Briton told Bild in response to a report that said he had asked Angela Merkel for her backing with a $14 billion U.S. demand to settle claims it missold mortgage-backed securities.
BANKS SUFFER
Squeezed by the European Central Bank's low interest rates, German banks have been seeking ways to boost revenue by passing on costs to corporate customers and increasing fees for retail depositors, but profit margins remain thin in one of Europe's most competitive banking markets.
Banks such as Deutsche are also counting the cost of litigation dating back to their expansion before the financial crisis in 2007-2009.
Since the financial crisis, banks are required to have plans showing how they could recover from a major market shock. Regulators also draw up plans for each lender on how it would be smoothly closed down in the event of impending failure.
Deutsche Bank is in the midst of a deep overhaul that includes slashing jobs from a workforce of around 100,000, revamping information technology and shrinking non-core assets.
Commerzbank, Germany's second largest lender and in which the government holds a stake of more than 15 percent, is expected to cut around 9,000 jobs in coming years.
In contrast to some European peers, Deutsche is sticking with its strategic focus on investment banking, where its global reach has earned it the International Monetary Fund's label of being the riskiest of all banks.
Bank of England Deputy Governor Minouche Shafik dismissed comparisons with the collapse of Lehman Brothers at the height of the financial crisis in 2008.
"Many banks are struggling with reforming and transforming their business models," she said in London. "I think the area that is less profitable right now is the investment banking side."
BRITISH SALE
Deutsche Bank said it had sold its British insurance business Abbey Life to Phoenix in a $1.2 billion deal. The deal comes after the divestment of other non-core units such as its stake in Chinese lender Huaxia <600015.SS>. 600015.SS>
Although the sale will result in a pre-tax loss of 800 million euros ($895 mln), mainly from writedowns for Deutsche Bank, it will lift the German lender's capital ratio by 10 basis points.
The lender's litany of legal troubles have spurred worries it may need to raise capital to staunch the damage.
Analysts at Goldman Sachs on Wednesday estimated that the U.S. mortgages case will cost Deutsche Bank $2.8-8.1 billion. Other analysts have said that any price tag above $5 billion will likely necessitate a capital increase.
Its overall legal provisions stood at 5.5 billion euros at the end of June. However, three other large legal headaches also remain, alleged manipulation of foreign exchange rates, an investigation into suspicious equities trades in Russia and allegations of money laundering.
On Tuesday, Andreas Dombret, the Bundesbank board member in charge of supervision said that support for Europe's oversized banking sector must stop, comparing banks to dinosaurs facing a threat of extinction.
"Political support for the banking sector must finally come to an end - something that unfortunately I've only seen to a limited extent," he had said.
(Additional reporting by Matthias Sobolewski, Jonathan Gould, Noor Zainab Hussain and Anjuli Davies~; Editing by Keith Weir)