Geithner Meets With Congressional Leaders on 'Cliff'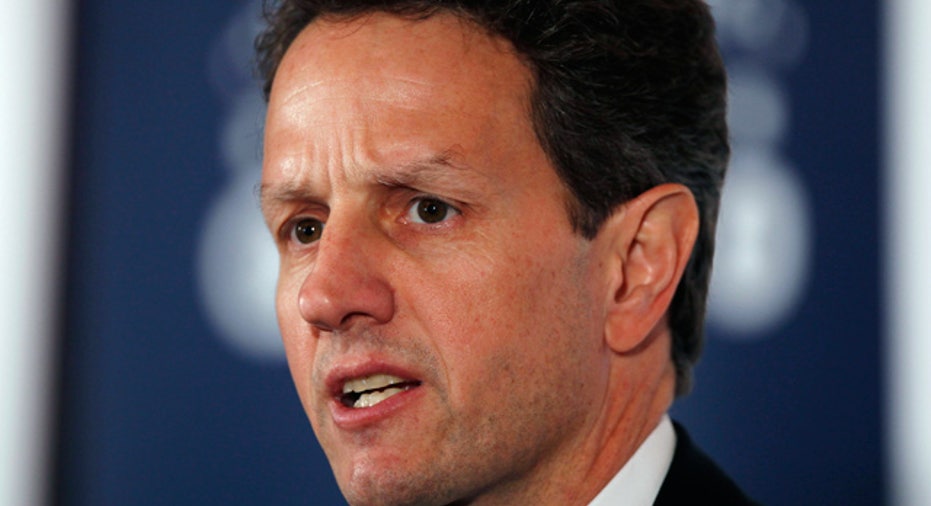 U.S. Treasury Secretary Timothy Geithner, President Barack Obama's chief negotiator in talks to avert the "fiscal cliff," began a round of meetings with congressional leaders from both parties on Thursday amid signs the market-rattling uncertainty about the outcome could go down to the wire.
Geithner, accompanied by Obama's top legislative aide, Ron Nabors, met privately with Senate Democratic Leader Harry Reid before heading across the Capitol for a session with Republican leaders of the House of Representatives.
That meeting was scheduled to include House Speaker John Boehner, Leader Eric Cantor, Budget Committee Chairman Paul Ryan - fresh off his Republican vice-presidential campaign - and the chairman of the House's tax writing Ways and Means Committee, Dave Camp.
The administration officials scheduled lunch with Republican Senate Minority Leader Mitch McConnell followed by a meeting with House Minority Leader Nancy Pelosi.
"The big meeting is Geithner's meeting with Boehner. That is what today is about," a top Democratic congressional aide said, adding Democrats and the White House were "on the same page."
The fiscal cliff's approximately $600 billion in tax hikes and spending cuts that would begin in 2013 would push the U.S. economy back into recession, according to the nonpartisan Congressional Budget Office.
The immediate issue is whether the tax cuts that originated in the administration of President George W. Bush should be extended beyond Dec. 31 for all taxpayers including the wealthy, as Republicans want, or just for taxpayers with income under $250,000, as Obama and his fellow Democrats want.
"It is not going to happen soon," Republican Senator John Barrasso of Wyoming, the Senate's fourth-ranking Republican, said on Fox Business News on Wednesday of an agreement to avoid the tax hikes and spending cuts that will be triggered on Jan. 1 without an act of Congress.
Despite a few cracks in Republican ranks, most notably from Republican Representative Tom Cole of Oklahoma, neither side has budged significantly from its position, leaving the markets and political analysts alike to grasp at wording nuances.
"I think unfortunately it seems pretty clear that the market is trading very much off the reading of the tea leaves on how these fiscal cliff negotiations are going," said Eric Kuby, chief investment officer at North Star Investment Management Corp. in Chicago. "I think we're hostage to this for the rest of the year."
The post-election lame-duck session of Congress has made clear that until the two sides get over the immediate tax issue, they will not be able to move forward on the serious discussions they desire on longer-term deficit reduction and tax reform.
Keeping the nation in suspense down to a white-knuckled deadline has become the rule rather than the exception for Congress in recent years.
Whether the risk has been a government shutdown or, as in the events that led to the fiscal cliff, default for failure to raise the U.S. government's borrowing power, Republicans and Democrats have needed the pressure of time and possible disaster to bring them together.