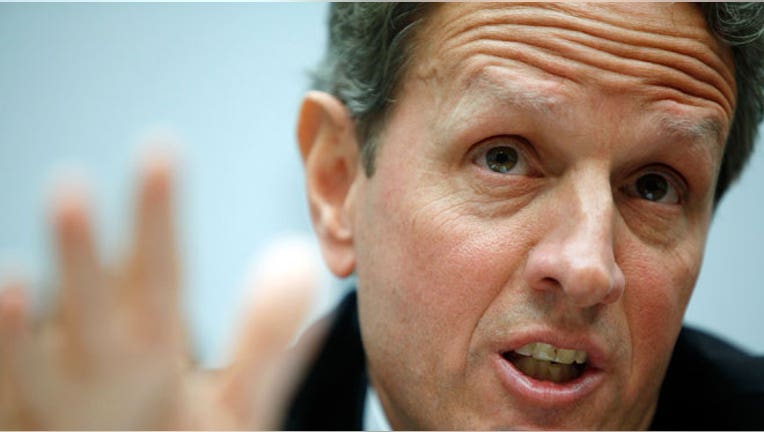 It's emblematic of the economic and political turbulence of the past four years that just about any compliment or criticism of Timothy Geithner's tenure as Treasury Secretary is essentially accurate.
His contributions during the worst of the financial crisis in late 2008 and early 2009 helped solidify a global banking system seemingly on the verge of collapse. True.
He was too close to the bankers and financiers who caused the crisis in the first place, advocating a controversial bailout of insurance giant AIG (NYSE:AIG), and his policies ultimately allowed too-big-to-fail banks such as Goldman Sachs (NYSE:GS) and J.P. Morgan Chase (NYSE:JPM) to get bigger. True.
The stress tests Geithner imposed on the biggest U.S. banks in 2009 were a rousing success, boosting confidence in the battered U.S. financial system and forcing some banks to raise needed capital. True.
His housing policies were almost disingenuously grandiose, promising to help millions of struggling homeowners avoid foreclosure primarily by reworking mortgages. The programs barely reached a fraction of those for whom they were intended. True.
His first two years in office -- 2009 and 2010 -- were as eventful, impactful and historic as those of any of his predecessors dating back to Alexander Hamilton. True.
He stayed too long (longer than even he wanted to) and wasn't much help as the domestic policy making process ground to a halt in 2011 and 2012 under the weight of relentless partisan bickering. True.
And then there's the 2,300-page Dodd-Frank banking reform bill passed in response to the financial crisis. Much like Geithner's tumultuous four-year tenure, there's something in Dodd-Frank for everybody, supporters and critics alike.
Geithner Provided "Continuity" From Bush to Obama
One thing most people agree on is that Geithner was the right guy for the job in late 2008 when Barack Obama was elected president.
At the time the world's economy was teetering on the brink of collapse with global credit drying up and some of the world's largest financial institutions facing bankruptcies that threatened a domino effect of financial devastation.
When Geithner officially took office in late January 2009, U.S. stock markets had fallen about 50% from their recent highs recorded just two years earlier, unemployment was taking off as employers shed nearly 600,000 jobs that month alone and the U.S. housing market was in freefall.
What the newly inaugurated president needed was a guy steeped in financial crisis management – Timothy Geithner.
"He was in the right place at the right time," said Tony Fratto, a long-time Washington, D.C., fixture who worked in the Treasury Department under President George W. Bush.
"Geithner will certainly be viewed as someone who provided excellent service for his president at a very difficult time."
Amid the economic chaos of those months what Obama really needed was "continuity," and Geithner provided that, said Fratto.
As the financial crisis picked up steam in 2007 and 2008, Geithner, while president of the New York Federal Reserve Bank, "had played such a huge role at the end of Bush Administration" that he moved naturally into the role of top financial crisis manager for Obama in early 2009, Fratto explained.
He got off to a rocky start as the top man in Treasury. An early administration rescue plan announced by Geithner was criticized at the time for lacking specifics yet nevertheless carrying a $1 trillion price tag. The proposal underwhelmed markets and stocks sold off hugely following the announcement.
Buried within the plan, however, was Geithner's first call for the bank stress tests.
"The stress tests were definitely his idea," said Edwin Truman, a senior fellow at the Peterson Institute for International Economics who has known Geithner for 20 years. "It's something I know he thought about before he came into office."
Bank Stress Tests Were a Success
Truman said he believes Geithner faced opposition to the stress tests from within the Obama administration by staffers who might have preferred more a radical approach such as nationalization of some banks. But Geithner stuck to his guns.
In hindsight, the tests were a big success. "The stress tests forced the institutions to recognize their deficiencies," said Truman, a former Treasury official in the Clinton administration.
What's more, rather than frighten investors and consumers by revealing the fragile state of the banks and the extent of their toxic holdings, the tests provided an element of transparency many critics felt had been missing from the banking sector.
"It helped to clear the air," said Truman.
"That was a big-bet public policy thing," added Fratto. "He could have been wrong and it would have been very embarrassing. But he was right and it forced the Europeans to be more rigorous in their review of their banks."
Opinions differ as to how Geithner was received by European leaders who were grappling with their own fiscal difficulties, notably a debt crisis that threatened the solvency of a handful of countries and could have pulled the plug on the single currency euro.
His supporters note that Geithner was familiar with most of the big players such as European Central Bank President Mario Draghi and Draghi's predecessor, Jean-Claude Trichet, from Geithner's years at the International Monetary Fund in the early 2000s. But it's unclear how seriously those leaders took   Geithner's advice.
"Geithner didn't carry much weight in Europe. They treated him like a kid in short pants," said Bill            O'Grady, chief market strategist at Confluence Investment Management in St. Louis. "He said, 'You need a lender of last resort' and they ignored him."
O'Grady said Geithner "lacked the gravitas of a Robert Rubin or a Larry Summers" (previous Treasury Secretaries).
Truman said Europe proved a more difficult landscape for Geithner to promote his policies because "the   U.S. didn't have a lot of leverage there."
Still, "they pressed hard throughout the process for coherent change and progress and in my view they did a good job. Privately they did a lot of hectoring, but publicly they were supportive," Truman said.
Might Have Stayed Too Long
Then there was Dodd-Frank. Even Dodd-Frank's biggest supporters acknowledge the many failings of the massive bill, notably that the legislation was signed into law before much of the specifics were codified (or even clarified), leaving lots of room for lobbyists to water down reforms they didn't like.
"Dodd Frank is not at all popular on Wall Street and because that's his bill that will impact his reputation on Wall Street," said Fratto, a Republican and no fan himself of the banking reform bill. But for the most part Geithner got the bill he wanted, according to Fratto, which is a testament to Geithner's ability to shape policy despite a very difficult political environment.
Finally, a measure of Geithner's success as Treasury Secretary and a top Cabinet member might be taken from the fact that Obama requested that he stay on long after Geithner had made it clear he was ready to step down, reportedly in mid-2011, just ahead of the first Congressional debt crisis battle.
It's certainly debatable whether Geithner has had much impact on Congressional leaders as they hammer one another over higher taxes on the wealthy versus spending cuts to entitlement programs, but Obama has repeatedly pushed Geithner into the negotiations as his point man, a clear indication of his confidence in Geithner's abilities.
"Of course (his tenure) is open for criticism, but among people who worked with him Geithner will certainly be viewed as someone who provided excellent service for his president at a very difficult time," said Fratto.