G-20 leaders reach deal on trade, struggle on climate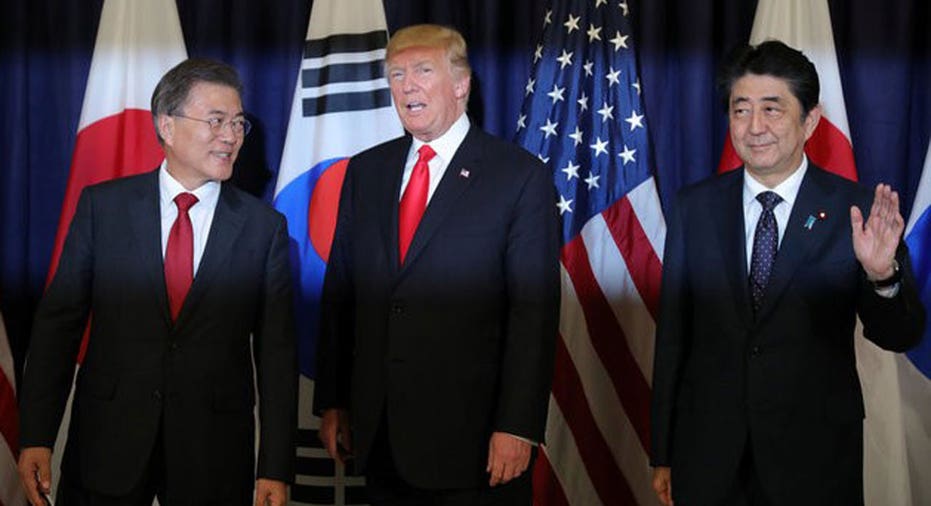 Leaders of the world's top economic powers reaffirmed their support Saturday for free trade but tempered their statement by acknowledging countries could defend their home companies and markets against unfair practices.
The Group of 20 summit came up with compromise language on trade, although officials struggled to find common ground on another contentious issue, fighting climate change. In the wake of President Donald Trump's decision to leave the Paris climate agreement, the group agreed in a draft statement to "take note" of the U.S. withdrawal while the other 19 reaffirmed support of the Paris deal to limit emissions of greenhouse gases scientist say are behind global warming, leaving the U.S. as the sole outlier.
Officials at the summit, who briefed reporters on condition of anonymity because they weren't authorized to discuss the final statement before its release, said that the language had been generally agreed on except for part of the climate section. The draft could still change before its final release later Saturday.
The talks at the two-day summit in Hamburg competed for attention with violent clashes between anti-globalization activists and police.
Climate and trade were two of the most contentious issues, in part due to the assertive stance taken on both by Trump. He has said trade must be fair as well as open and must benefit American companies and workers. He has focused on trade relationships where other countries run large surpluses with the U.S., meaning they sell more to U.S. consumers than they buy from American companies.
The G-20 typically denounces protectionism, or the use of unfair means to keep out foreign competitors and protect domestic workers and companies. That stance has been kept, but it has been expanded to include references to the use of "legitimate trade defense instruments" when a country is faced with subsidized or otherwise unfair competition from a trade partner. Defensive measures are sometimes allowed under the current global trade rules supervised by the World Trade Organization.
The host, German Chancellor Angela Merkel, said after the first day of meetings Friday that discussions on trade were very difficult and that differences on climate change were clear.
The G-20 comprises Argentina, Australia, Brazil, China, Germany, France, Britain, India, Indonesia, Italy, Japan, Canada, South Korea, Mexico, Russia, Saudi Arabia, South Africa, Turkey, the U.S. and the European Union. The Netherlands, Norway, Spain, Guinea, Senegal, Singapore and Vietnam are also attending.
Saturday's sessions come after a second night of trouble elsewhere in Hamburg, as rioters set up street barricades, looting supermarkets and attacking police with slingshots and firebombs. Hundreds of officers went into buildings in the Schanzenviertel neighborhood to arrest troublemakers.