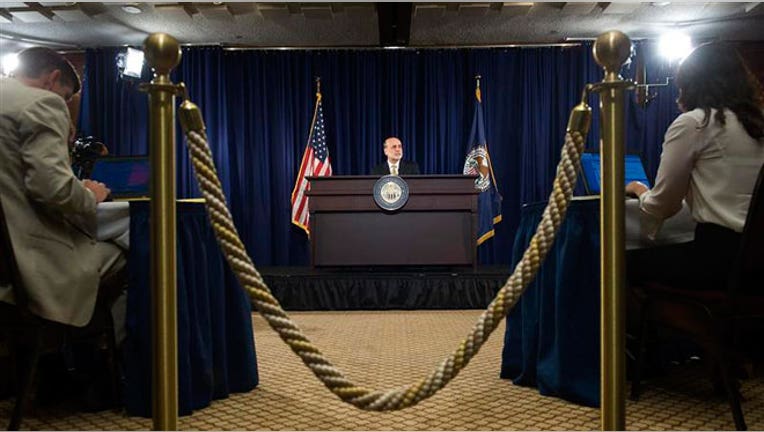 Ben Bernanke revealed plans on Monday to join the Brookings Institution after an eight-year stint running the world's most powerful central bank.
The announcement ends speculation over the future of Bernanke, who was a professor at Princeton University before entering the public sector.
Bookings said Bernanke will join the Washington-based think tank's economic studies program as a distinguished fellow in residence on Monday. His final day as chairman of the Federal Reserve was Friday and his replacement, Janet Yellen, is set to be sworn in on Monday.
"We are proud to welcome Chairman Bernanke into the Brookings family," Brookings President Strobe Talbott said in a statement. "His firm, steady hand at the Fed's tiller came at a crucial time in our nation's history, including during the worst financial and economic crisis since the Great Depression."
While Bernanke has been criticized for not seeing the financial crisis coming, his innovative and aggressive handling of the situation has been praised by Fed watchers, who believe he ranks as one of the most effective Fed chiefs in history.
In his final days as Fed chief, Bernanke held an event at Brookings, fueling speculation that he could end up landing there after his tenure.
"Brookings scholars have a well established reputation for contributing innovative ideas and trenchant analysis to economic and other public policy debates," Bernanke said. "I welcome the opportunity to engage in that vibrant community through research and writing."
Bernanke is not the first Fed official to join Brookings. Original Fed governors Frederic Delano and Paul Warburg served on the Brookings board of trustees, while longtime Fed chief William McChesney Martin, Jr. worked at the think tank between 1970 and 1997.
Alice Rivlin and Donald Kohn, who both served as vice chairs of the Fed, are currently senior fellows at Brookings, and Fed governor nominee Lael Brainard was a Brookings vice president.
Given his background in the academic world and the controversial 2008 bank bailout, Bernanke wasn't expected to immediately join a Wall Street firm.
"He never struck me as someone who is overly motivated by money -- other than studying it," Tony Fratto, who worked with Bernanke during his tenure in the Bush White House and Treasury Department, recently told FOX Business.
Yellen took the oath of office on Monday, which was administered by Fed governor Daniel Tarullo in the central bank's board room. Yellen, the first female Fed chief and instantly one of the most powerful women in the world, was nominated by President Obama in October and confirmed by the Senate in early January.
Before being nominated, Yellen served as vice chair under Bernanke as well as president of the San Francisco Fed.