Fox News Poll: President Trump's First 100 Days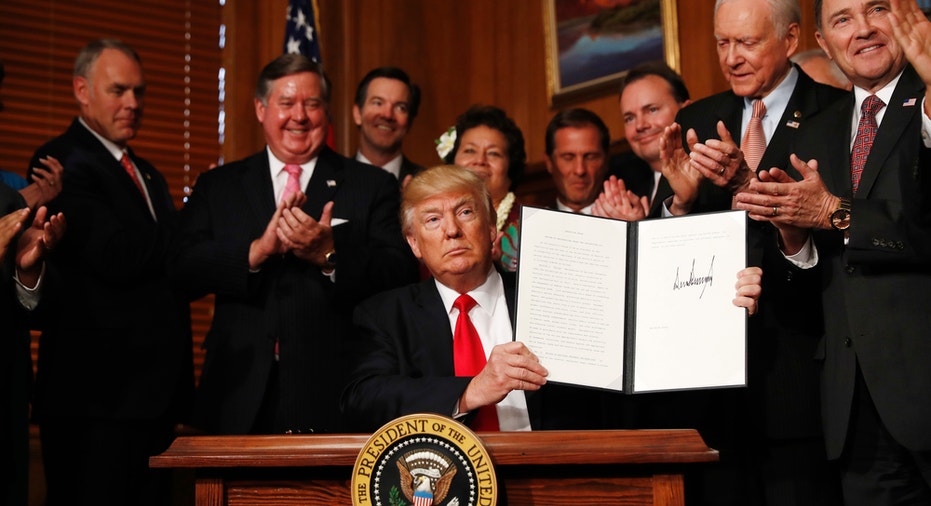 A Fox News Poll taken as the Trump administration nears its 100-day milestone gives mixed messages to the president.
President Trump's job ratings are underwater by three percentage points.  Currently 45 percent approve of the job he's doing.  That's down slightly from the 48 percent approval he received when he first took office -- and far below Barack Obama's 62 percent approval and George W. Bush's 63 percent approval at this same point in their presidencies.
Trump's victory came from voters' desire for change -- a big part of which was "draining the swamp."  Yet only 43 percent think the president is succeeding in bringing real change to Washington.  More, 50 percent, say he's failing.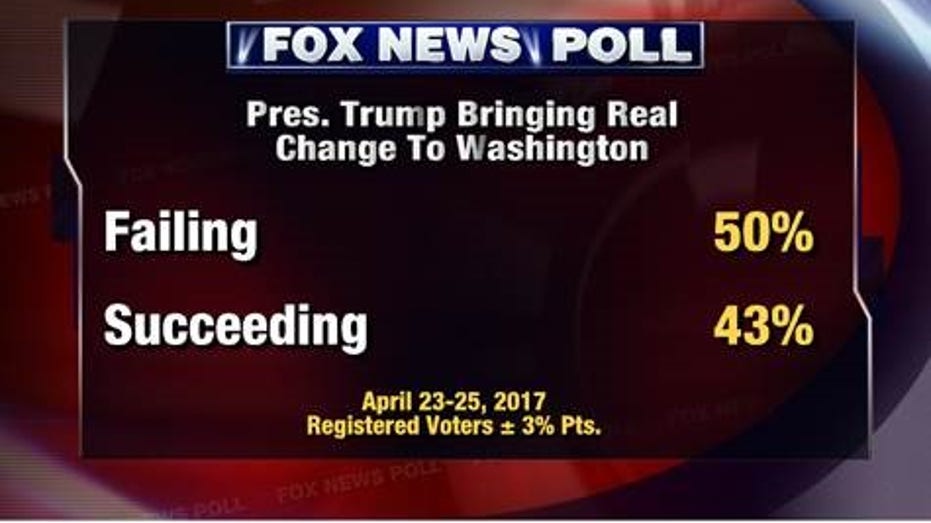 Some 46 percent think Trump is keeping his campaign promises in general, while 44 percent disagree.
By a 23-point margin, voters say the United States is less respected rather than more respected compared to one year ago (52 percent less vs. 29 percent more).
That all leads to over half feeling "discouraged" (51 percent) rather than "encouraged" (45 percent) about the next four years.
It also leads some to tune out.  During the first few weeks of the new administration, 52 percent said they were paying more attention to politics (February 2017).  That's 33 percent now.
Vice President Mike Pence outperforms his boss:  50 percent of voters approve of the job he's doing, while 33 percent disapprove.  Sixteen percent are unable to rate him.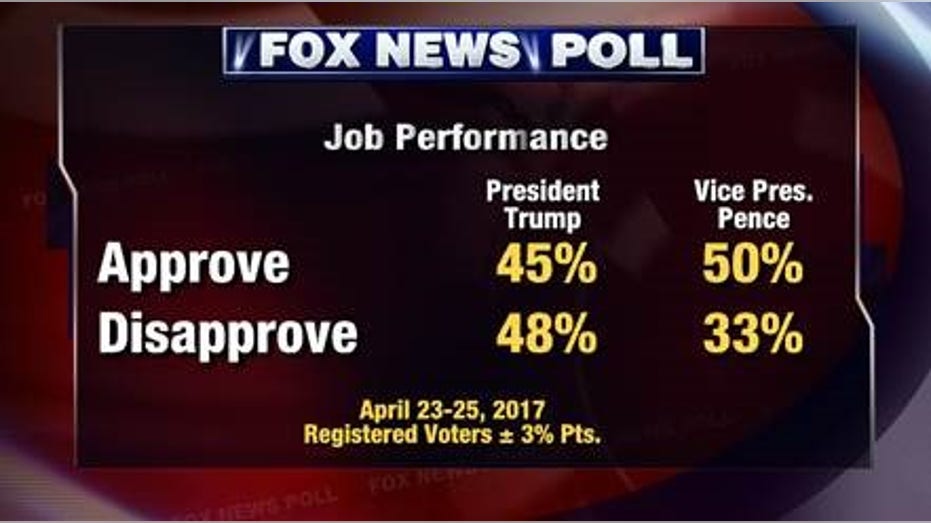 Roughly equal numbers of Republicans approve of Pence (85 percent) and Trump (86 percent).
The new poll has positive news for the White House, too.
Two-thirds of voters approve of Trump using airstrikes to punish Syria for chemical weapons (67 percent).
The number saying the economy is in "poor" shape is lower than it's been in more than a decade.
By an 18-point margin, 52-34 percent, voters see the nation's job situation improving -- the first time since 2004 that more than half say so.
By a 5-point margin they say it feels like the economy is getting better rather than worse for their family (42-37 percent), and more voters think Trump's policies are helping the economy rather than hurting it (37 percent vs. 25 percent).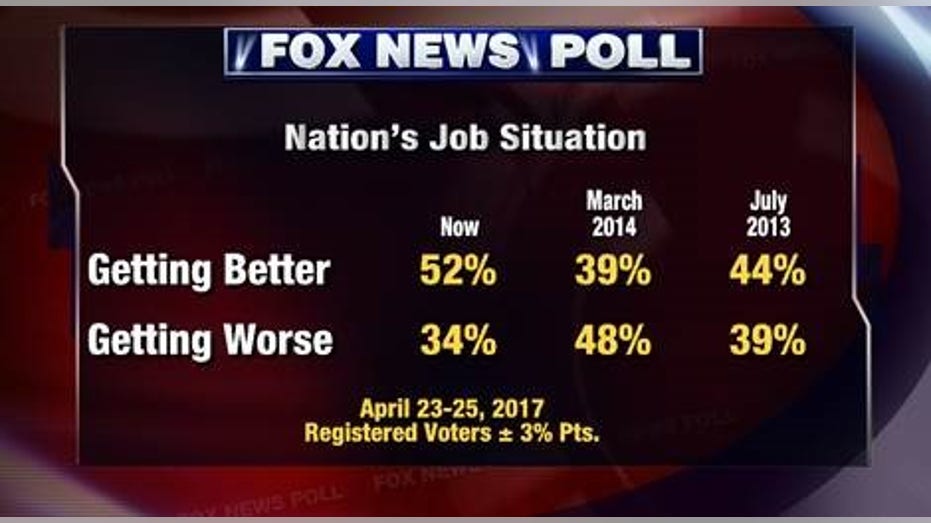 On terrorism, 38 percent think the president's actions are making the country safer, while 34 percent say less safe.
Although 53 percent of voters are dissatisfied with the country's direction, 45 percent are happy with the way things are going -- the highest satisfaction rating since October 2012.
Satisfaction dropped 46 points among Democrats since the White House changed parties in November -- and jumped 58 points among Republicans.
Most Republicans also feel encouraged by what they've seen to date (84 percent), think Trump is keeping his promises (80 percent), and that he's succeeding at bringing real change (76 percent).
The president's best job ratings are on handling ISIS (54-37 percent), terrorism (51-43 percent), and the economy (48-44 percent).  He gets lower ratings for his handling of taxes (40-44 percent), foreign policy (43-49 percent), and immigration (44-54 percent).
His worst ratings come on health care, where he's underwater by 21 points (35-56 percent).
Folks want Washington to work on health care.  When asked to pick between reforming the tax system and fixing the health care system, 71 percent prioritize health care.  Just 26 percent say taxes.  Among Trump voters, nearly twice as many say health care tops taxes (64-33 percent).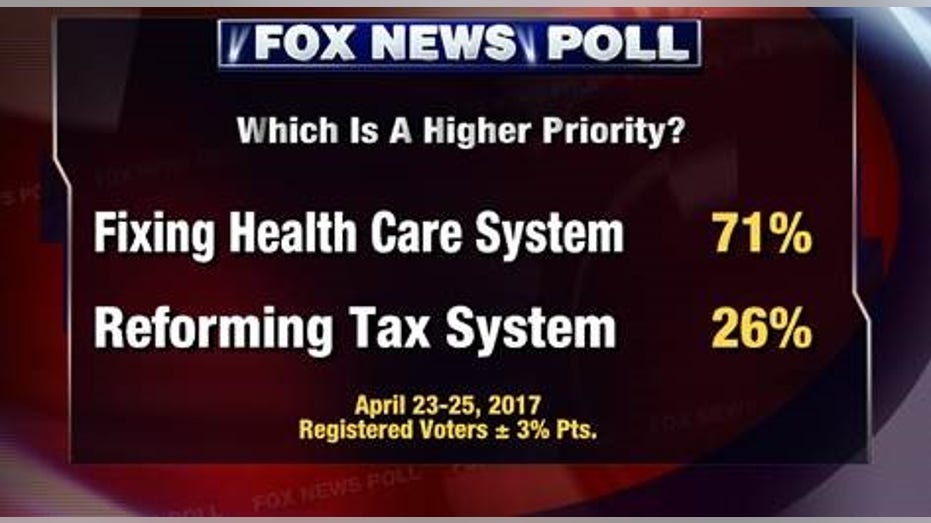 What do voters want to do with Obamacare?  Over half want all or at least part of the law repealed, while a sizable minority wants the law kept in place or expanded.
The economy remains the most important issue facing the country.  Twenty-two percent feel that way.  After that, there's a group of four issues prioritized by about 1-in-10 voters:  health care (13 percent), terrorism (12 percent), climate change (8 percent), and foreign policy (8 percent).
Of the ten issues on the list, "taxes" comes in last at three percent.
Fully 80 percent of voters want Trump to succeed -- even if they didn't vote for him in November.  That nearly matches the 84 percent who felt that way about Obama in his first year.  (The numbers are about the same even among the opposing party:  63 percent of Democrats want Trump to succeed, while it was 67 percent of Republicans for Obama in 2009.)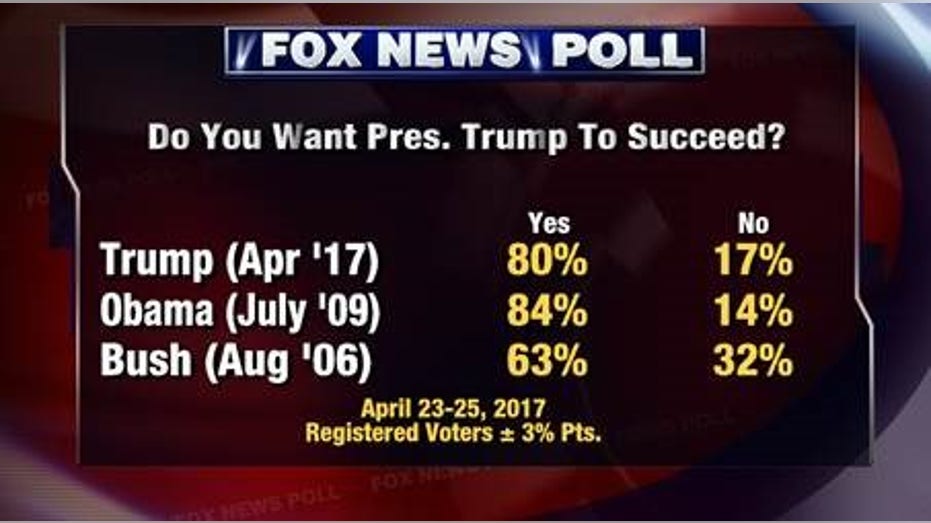 An overwhelming majority remains happy with their 2016 vote for president, whether they backed Hillary Clinton (95 percent satisfied) or Trump (97 percent satisfied).
Some 36 percent of voters would vote to re-elect Trump.  Fifty-five percent wouldn't, including 47 percent who say they'd "definitely" vote for someone else.
Among Trump voters, 49 percent would definitely re-elect him.
For comparison, 64 percent of Obama voters said they'd definitely re-elect him in 2009, and his overall re-elect number was 52 percent at this stage.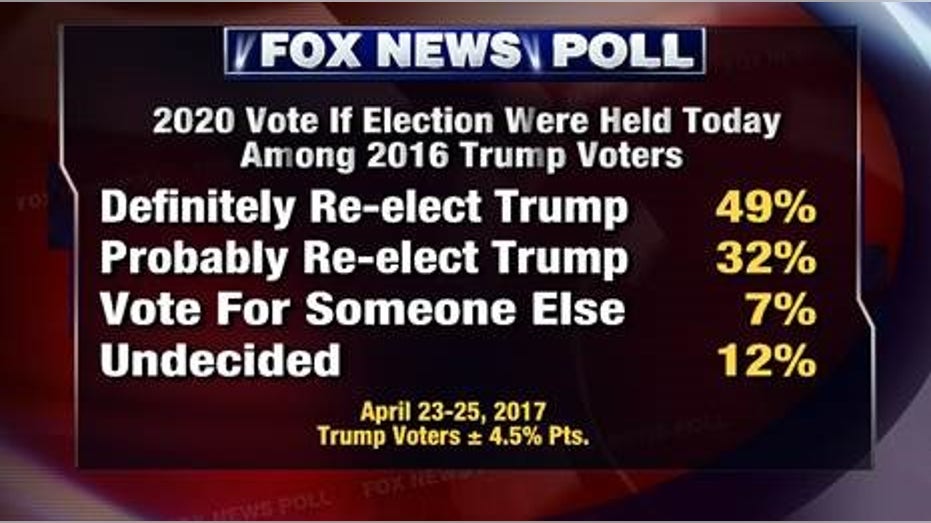 But Congressional elections happen first, and Democrats hold the advantage there.  The poll finds that by a 47-42 percent margin, voters back the Democratic candidate in their House district over the Republican candidate.
Among Trump voters, five percent would switch to the Democratic Party in the midterms, while 87 percent would vote for the GOP candidate.
Meanwhile, 42 percent of voters say Congress should keep investigating Russian meddling in the 2016 election, but over half, 57 percent, say it's time to move on.
The Fox News poll is based on landline and cellphone interviews with 1,009 randomly chosen registered voters nationwide and was conducted under the joint direction of Anderson Robbins Research (D) and Shaw & Company Research (R) from April 23-25, 2017.  The poll has a margin of sampling error of plus or minus three percentage points for all registered voters.