Fox News Poll: Clinton Moves to 4-Point Edge Over Trump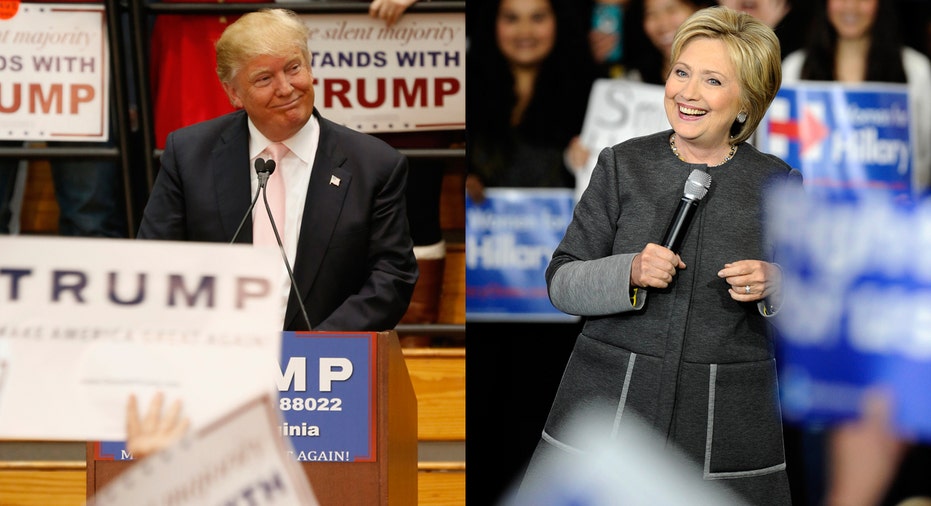 With one day before Election Day, Hillary Clinton has a four percentage-point lead over Donald Trump, according to the final Fox News national pre-election poll of likely voters.
She's ahead by 48-44 percent, while Gary Johnson receives 3 percent and Jill Stein 2 percent.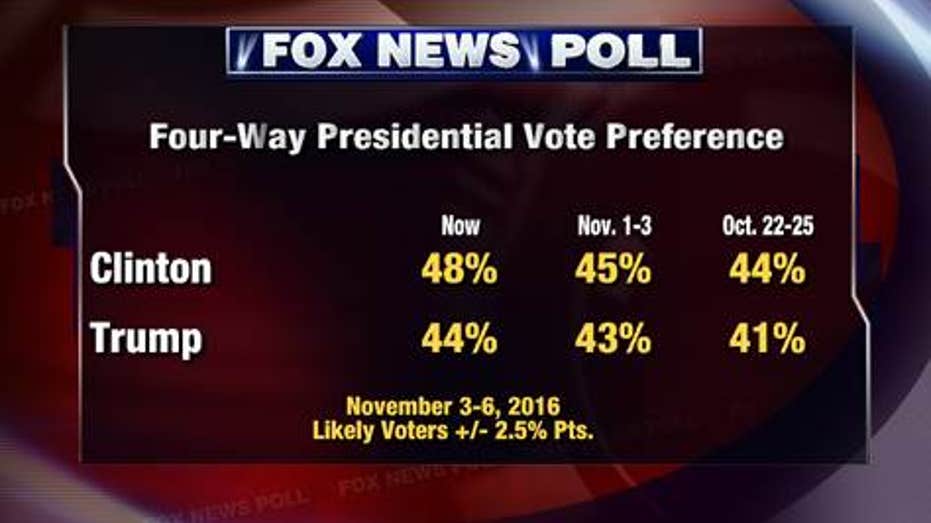 In the two-way race, it's also Clinton over Trump by 48-44 percent.
Clinton's advantage is within the poll's margin of error in both the two-way and four-way races.
The last Fox News Poll, released Friday, had Clinton ahead by two points in the four-way race and one point in the head-to-head matchup.
Clinton is now winning among women by 12 points (52-40 percent), blacks by 85 (89-4 percent), Hispanics by 33 (63-30 percent), and voters under 30 by 16 (51-35 percent).
That level of support is close to that of Barack Obama's winning coalition against Mitt Romney in 2012, when he won among women by 11 points (55-44 percent), blacks by 87 (93-6 percent), Hispanics by 44 (71-27 percent), and young voters by 23 (60-37 percent).
Trump is favored among men by 5 points (48-43 percent), whites by 17 (54-37 percent), white evangelical Christians by 63 (78-15 percent), and whites without a college degree by 31 (61-30 percent).
That nearly matches Romney's performance.  He won men by 7 points (52-45 percent), whites by 20 (59-39 percent), white evangelicals by 57 (78-21 percent), and whites without a degree by 26 (62-36 percent).
Trump is ahead of Clinton among veterans by 56-38 percent.  She leads with first-time voters, by 48-42 percent.
Nine percent of Republicans support Clinton.  That's more than twice the number of Democrats backing Trump (four percent).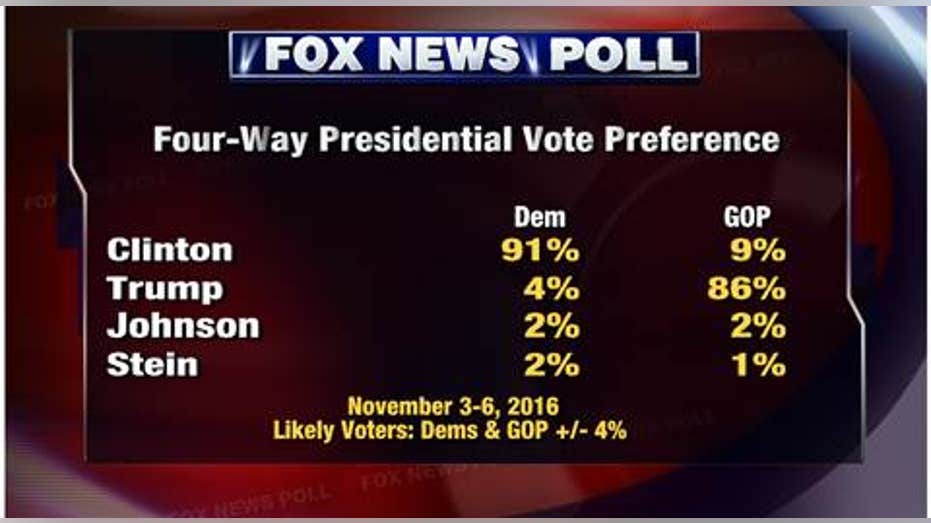 And while Clinton garners more support among Democrats (91 percent) than Trump does among Republicans (86 percent), she trails among independents.  They go for Trump by 42-36 percent, and 14 percent back Johnson or Stein.  Independents went for Romney by 50-45 percent.
"Republican partisans have mostly come home, but it looks to be too little, too late for Trump," says Republican pollster Daron Shaw, who conducts the Fox News Poll along with Democratic counterpart Chris Anderson.  "Unless his voters are really shy, it seems his upwards trend has stalled just short of the goal line."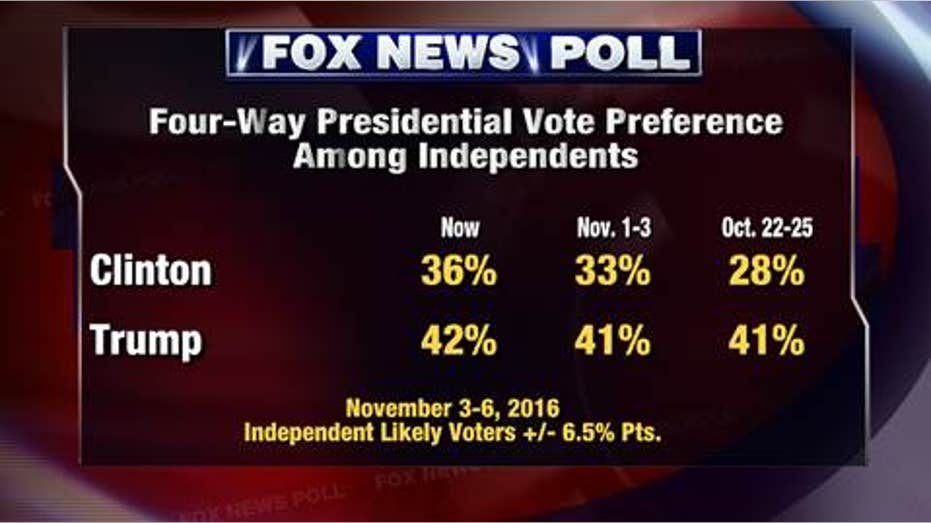 Clinton's backers (61 percent) remain less likely than Trump's (68 percent) to "strongly" support their candidate.
Trump continues to best Clinton narrowly on being seen as honest and trustworthy (+4 points).  At the same time, she significantly outperforms him on having the right temperament to serve as president (+23) and being qualified for the job (+18) -- plus, she has an advantage on personal favorability (+4).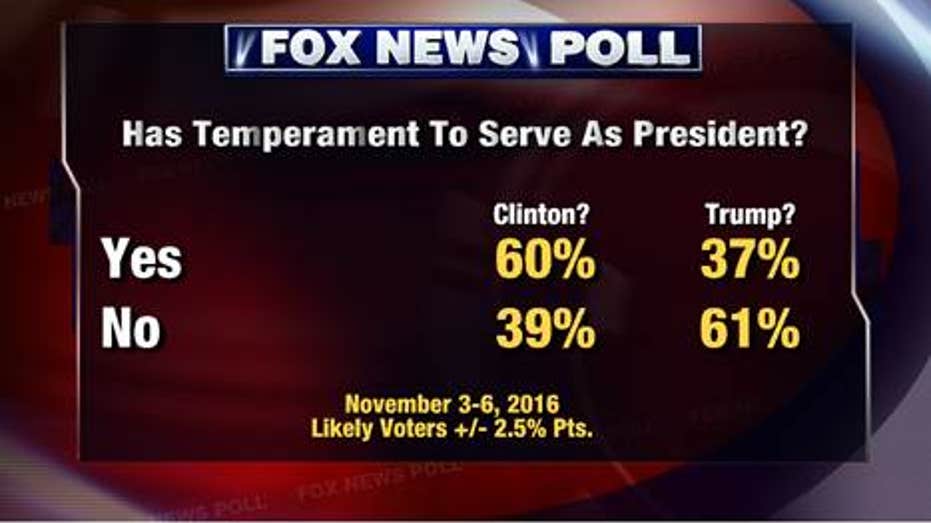 "The over 1-in-10 voters who don't like either candidate tend to think Clinton has the temperament and qualifications to be president, but Trump doesn't," says Anderson.  "And that looks to be the difference in the election."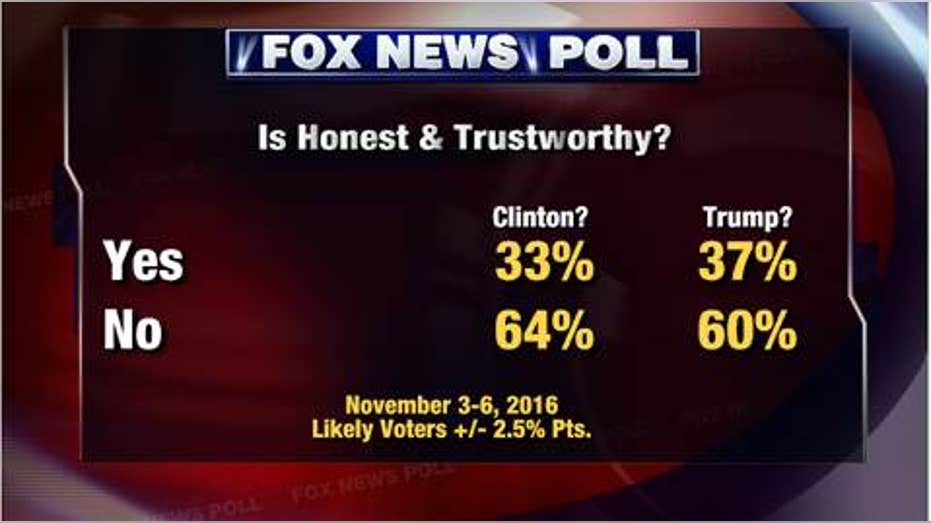 The Fox News Poll is based on landline and cellphone interviews with 1,410 randomly chosen registered voters nationwide and was conducted under the joint direction of Anderson Robbins Research (D) and Shaw & Company Research (R) from November 3-6, 2016.  The survey includes results among 1,295 likely voters.  The margin of sampling error is plus or minus 2.5 percentage points for results among both registered voters and likely voters.