Fox News Poll: Clinton Has Knowledge and Temperament to Serve, Not Trump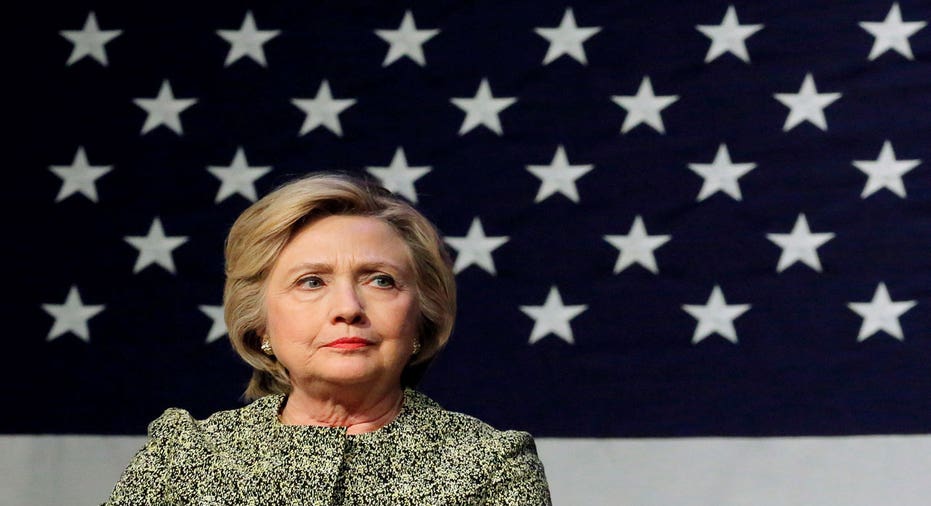 Majorities of American voters think Republican front-runner Donald Trump lacks the knowledge, temperament, and the likeability to be an effective president.
On the other hand, majorities feel Hillary Clinton, Bernie Sanders, and Ted Cruz do possess those traits.
Most voters believe Clinton (63 percent), Sanders (58 percent), and Cruz (55 percent) have the "knowledge" to serve effectively, according to a new Fox News national poll.  In contrast, 60 percent say Trump doesn't.
In addition, most feel Sanders (68 percent), Clinton (62 percent), and Cruz (61 percent) have the "temperament" to serve, while most think Trump does not (65 percent).
"Clinton's advantages over Trump on knowledge and temperament are striking," comments Democratic pollster Chris Anderson, who conducts the Fox News Poll with Republican pollster Daron Shaw.  "That could provide a very good foundation for a general election campaign."
In the 2008 Democratic primary, then-candidate Barack Obama famously told Clinton, "You're likeable enough, Hillary."  Voters agree:  52 percent say she is "likeable" enough, while 47 percent say she isn't.  Cruz does a bit better on this measure:  52-45 percent.
Sanders wins the congeniality award: 71 percent feel he's likeable enough to serve effectively.  Trump is in negative territory, as 41 percent say he is likeable enough, but over half -- 57 percent -- disagree.
Meanwhile, majorities say Sanders (70 percent) and Cruz (56 percent) have the "integrity" to serve effectively.  It's the opposite for Trump, as 58 percent think he lacks the integrity to serve.  Voters split over whether Clinton does: 48 percent say yes vs. 51 percent no.
The biggest question mark for all four is whether they can be an effective chief executive.  When asked if the candidate could "get things done as president to solve the country's problems," slightly more voters disagree than agree for each.
"If you simply look at these trait evaluations, you'd think that Sanders is the run-away top choice," says Shaw. "The front-runners, on the other hand, garner scores ranging from mediocre to abysmal."
The new poll also asked voters how proud they would be to have the top 2016 contenders as president.
About 3 in 10 would be proud (14 percent extremely and 17 percent very) to have the Vermont senator in the White House.  That's more than feel the same about Clinton (28 percent), Trump (24 percent), and Cruz (22 percent).
The two front-runners, Trump (56 percent) and Clinton (48 percent), have the largest numbers saying they would not be proud to have them as president.
Views Among Partisans
Among Democrats, Clinton gets her best score on knowledge (88 percent) and her worst on "can get things done" (76 percent).  Democrats rate Sanders highest on likeability (85 percent) and integrity (85 percent) and lowest on effectiveness (66 percent).
Trump does best among Republicans on effectiveness as president (73 percent) and his worst on temperament (58 percent).  It's the reverse for Cruz: Republicans give him his highest marks on temperament (76 percent) and integrity (76 percent) and his lowest on getting things done (62 percent).
Pollpourri
Who would voters put across the table from Russian President Vladimir Putin? They trust Clinton more than Trump (53-40 percent) or Cruz (48-44 percent) to negotiate with Putin.
Also, more voters trust Sanders than Trump (53-39 percent) or Cruz (48-45 percent). Men are more likely to pick Cruz and Trump over Clinton.  Most women would put the former Secretary of State across the table with Putin in both instances.
One in five Republicans trusts Clinton more than Trump against Putin (20 percent).
The Fox News poll is based on landline and cellphone interviews with 1,021 randomly chosen registered voters nationwide and was conducted under the joint direction of Anderson Robbins Research (D) and Shaw & Company Research (R) from April 11-13, 2016.  The poll has a margin of sampling error of plus or minus three percentage points for all registered voters.