Fox Business Poll: Trump has commanding lead in South Carolina GOP primary
Former South Carolina Gov. Nikki Haley is in second, just ahead Florida Gov. Ron DeSantis
Former President Donald Trump won the 2016 South Carolina Republican primary by 10 points and could be primed to crush those results in 2024. 
A new Fox Business poll on the GOP nomination race shows Trump with a 34-point lead in the Palmetto State, as over half believe he's the candidate most likely to defeat President Biden.
The new poll, released Sunday, finds almost half of South Carolina likely Republican primary voters backing Trump in the 2024 primary contest (48%).  That number is slightly larger (51%) among those who say they will definitely vote in the February 24 primary.  
Lagging far behind is former South Carolina Gov. Nikki Haley at 14%, Florida Gov. Ron DeSantis at 13%, and South Carolina Sen. Tim Scott at 10%.  No other candidate reaches double-digit support.
DESANTIS ASKS STATE TO INVESTIGATE AB INBEV FOR FAILING SHAREHOLDERS BY PUSHING 'RADICAL SOCIAL IDEOLOGIES'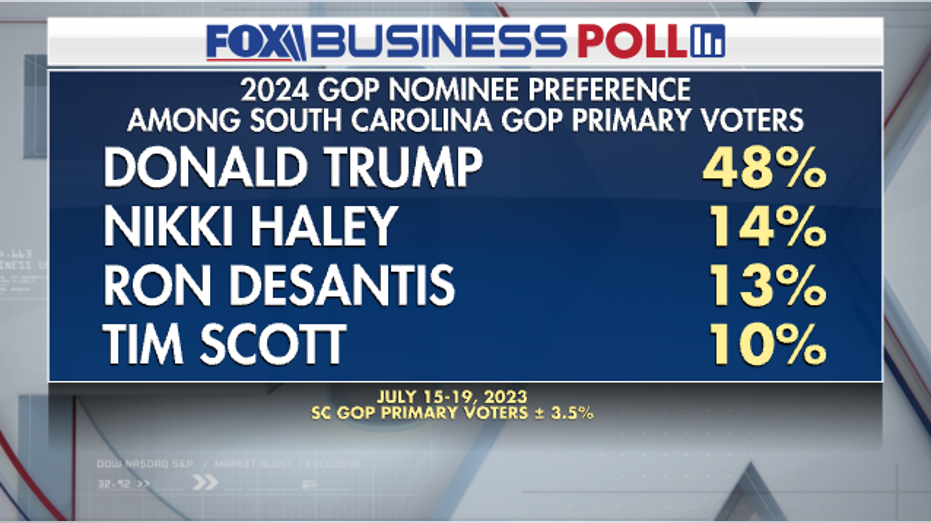 "Even though it's still early, Trump is the proverbial 800-pound gorilla in this race," says Republican pollster Daron Shaw, who conducted the Fox Business poll along with Democrat Chris Anderson. "The initial challenge is to see who can become the non-Trump candidate, and in South Carolina that's currently a three-way race among DeSantis, Haley, and Scott."
Trump sees his strongest support among those identifying as very conservative (57%), voters under age 45 (55%), voters without a college degree (53%), rural voters (52%), and White evangelicals (51%).
WHO'S IN AND WHO'S ON THE SIDELINES — YOUR GUIDE TO THE 2024 GOP PRESIDENTIAL NOMINATION RACE
Like Trump, DeSantis' strongest support comes from those who are very conservative, while for Haley and Scott it comes from moderates. 
When asked their second choice, Trump supporters go for DeSantis (33%), Scott (17%) and Haley (15%). DeSantis backers pick Trump (38%), Scott (29%), and Haley (19%). Scott (38%) is the top second choice among Haley supporters.  
Seventy-two percent of GOP primary voters say it is extremely important the candidate they support can defeat Biden while 62% say it is extremely important their candidate shares their views.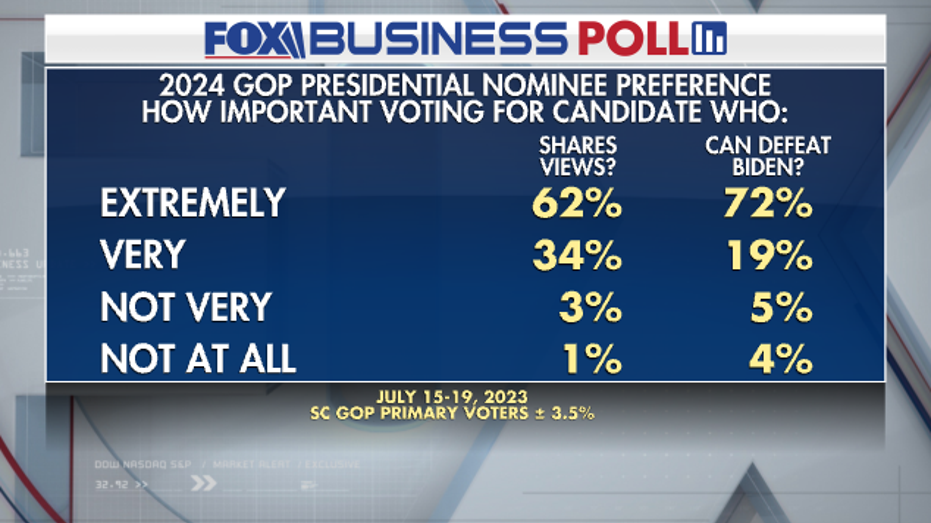 Still, Trump leads among both groups (electability vs. shares views) by more than 40 points.
Overall, and regardless of how they plan to vote, 51% of SC GOP primary voters believe Trump is the one who can defeat Biden next November. DeSantis is next at 17%, with no others reaching double-digits.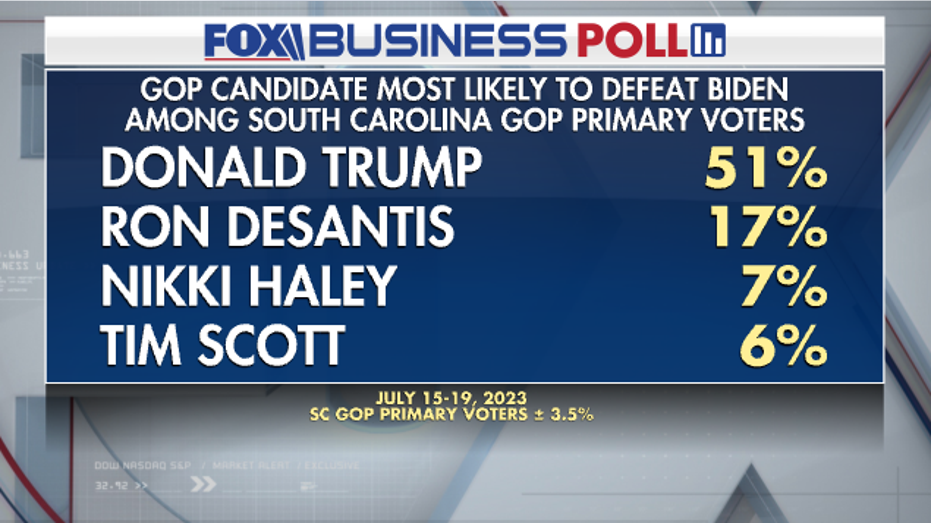 When asked how they feel about voting for certain candidates, almost 6 in 10 say they would "definitely" support Trump (57%), while 3 in 10 say the same for Haley (28%), Scott (28%), and DeSantis (27%).  
Former Vice President Mike Pence (38%) wins the dubious distinction of having the highest share saying they would "never" vote for him.  Another 2 in 10 say the same about businessman Vivek Ramaswamy (22%), Trump (21%), DeSantis and Haley (20% each).
Just over half of primary voters say economic issues such as inflation, jobs, and taxes will be most important in deciding their vote for the nomination (51%).  Foreign policy/defense issues, immigration issues such as border security, and social issues like abortion, religion, and gender tie for second at 12% each. Populist issues such as corruption and elite power rank at the bottom with 7%.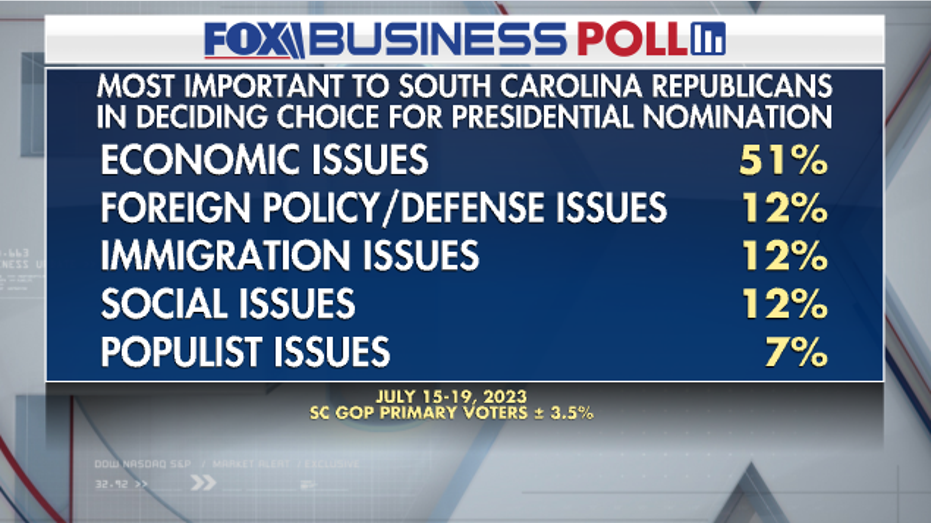 The first 2024 Republican presidential primary debate will be hosted by Fox News and is set for August 23 in Milwaukee, Wisconsin, but in a July 16 interview on Fox News' "Sunday Morning Futures," Trump said he hadn't "really made up his mind" on whether he was attending.
CLICK HERE TO READ MORE ON FOX BUSINESS
By an almost 2-to-1 margin, GOP primary voters think a candidate choosing to skip the debate shows weakness (57%) as opposed to strength (29%).  Majorities of Haley (73%) and DeSantis (71%) supporters feel it shows weakness, as do a plurality of Trump backers (46% weakness vs. 40% strength).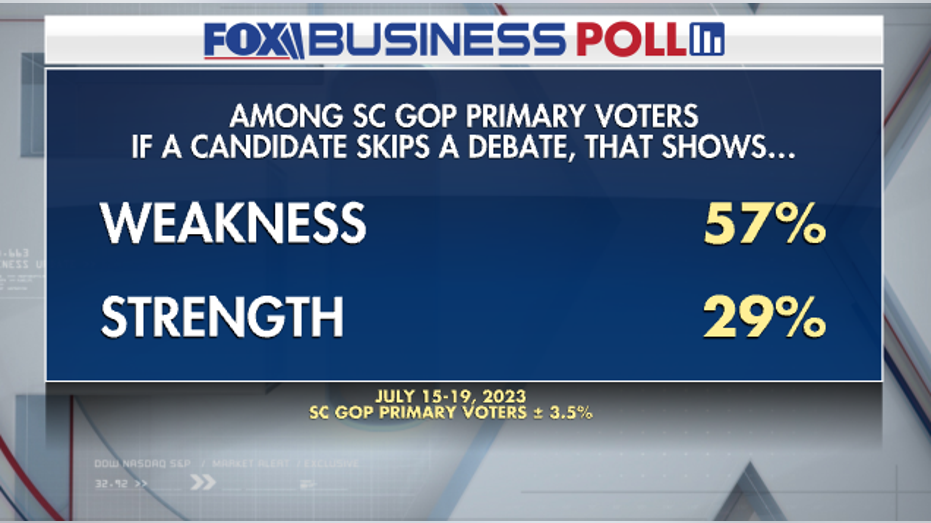 CLICK HERE FOR TOPLINE AND CROSSTABS
Conducted July 15-19, 2023, under the joint direction of Beacon Research (D) and Shaw & Company Research (R), this Fox Business Poll includes interviews with South Carolina registered voters randomly selected from a statewide voter file and spoke with live interviewers on landlines and cellphones. Respondents were screened to identify 808 likely participants in the 2024 South Carolina Republican primary. The poll has a margin of sampling error of plus or minus 3.5 percentage.