Fox Business Poll: Support for Haley doubles in Iowa, putting her in top three
Trump still dominates nomination race
Donald Trump holds his lead in the Hawkeye State, as a growing share of Iowa Republican caucus-goers prioritize nominating a candidate who can defeat President Joe Biden – and they think he has the best chance of doing so.
The former president leads the nomination race by 31 points, according to a new Fox Business survey. He led the pack by 30 points in July.
The survey, released Wednesday, shows the biggest movement in Iowa comes from Nikki Haley. Since July, her support doubled in the ballot test, and nearly twice as many now say they would "definitely" back her for the nomination. And while Tim Scott has lost ground on the vote preference, he's gained ground in the number who would "definitely" support him.
But first, on the candidate preference question: Trump takes 46% support among Iowa Republican caucus-goers (unchanged since July). Far behind, it's Ron DeSantis with 15% (-1 point) and Haley with 11% (+6). 
Scott receives 7%, down from 11%, while Vivek Ramaswamy (7%), Mike Pence (3%), Chris Christie (3%), and Doug Burgum (2%) mostly held steady.  All others receive 1% or less.
FOX NEWS POLL: VOTERS SPLIT OVER BIDEN IMPEACHMENT INQUIRY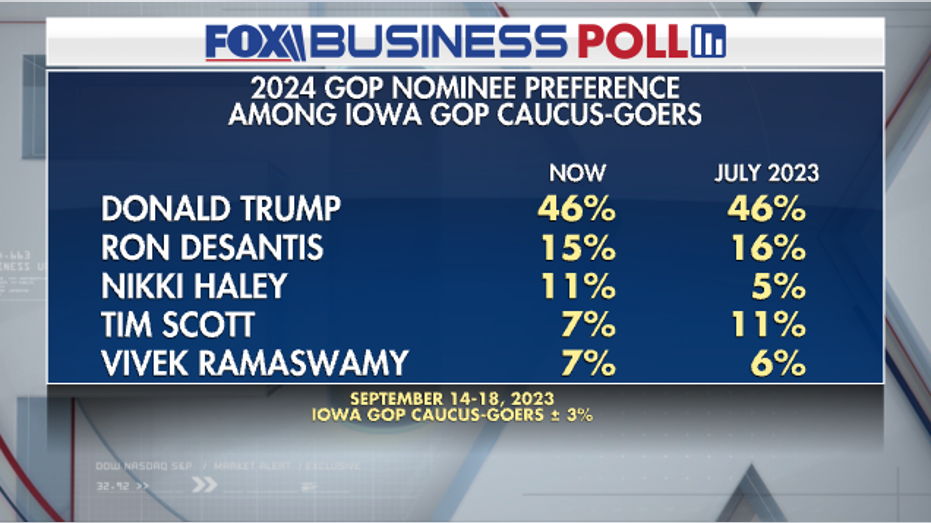 The combination of a large Trump lead and DeSantis and Haley a distant second and third is consistent among men and women, those who regularly attend religious services and those who don't, White evangelical Christians and those who aren't, and those who say they'll "definitely" attend a caucus and those who "probably" will.
Trump receives greater than 50% among very conservatives (54%), those without a college degree (54%), and urban voters (52%). DeSantis performs well among suburban men (25%), very conservatives (21%), and voters with a graduate degree (20%). Haley's best groups include moderates (18%), White women with a college degree (17%), and suburban women (16%).
"Aside from Trump's vote dwarfing all the other candidates, the other troubling finding for those chasing him is no one is the clear second choice," says Republican pollster Daron Shaw, who works with Democrat Chris Anderson on Fox surveys. "DeSantis, Scott, Ramaswamy, and Haley are tightly grouped as second-choice, such that it isn't clear who emerges should Trump falter."
Fully 91% of Trump's backers support him "strongly" and 60% of Iowa GOP caucus-goers say they would "definitely" back him as the GOP nominee, up from 55% in July. While that's far more than say the same about other candidates, others also made gains on this front.
DESANTIS ON CEO CRITICISM OVER DISNEY FIGHT: 'WAS THE RIGHT THING TO DO'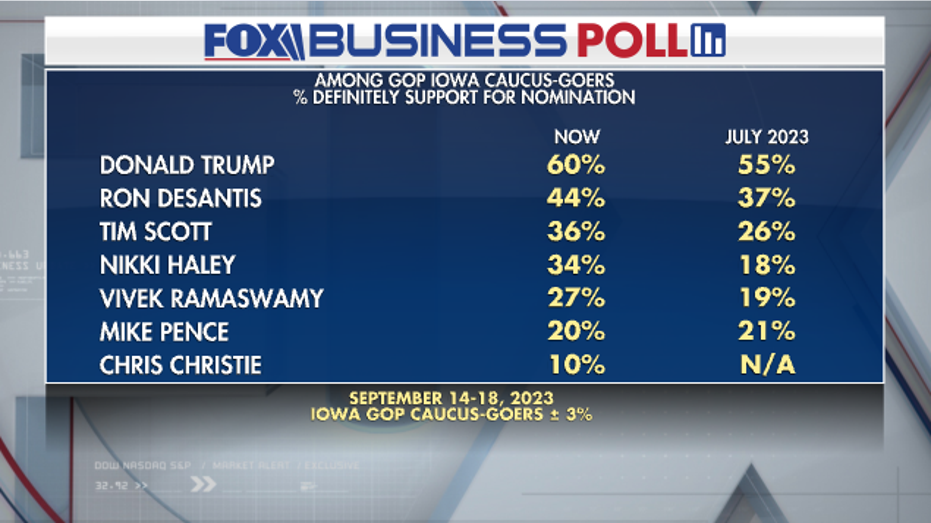 The share who would "definitely" support DeSantis stands at 44%, up 7 points since July. For Scott it's 36%, up 10 points and Haley 34%, up 16 points.
At the same time, nearly one quarter of Iowa Republican caucus-goers say they would never support Trump to be their nominee (23%). That's twice as many as reject him nationally (11%).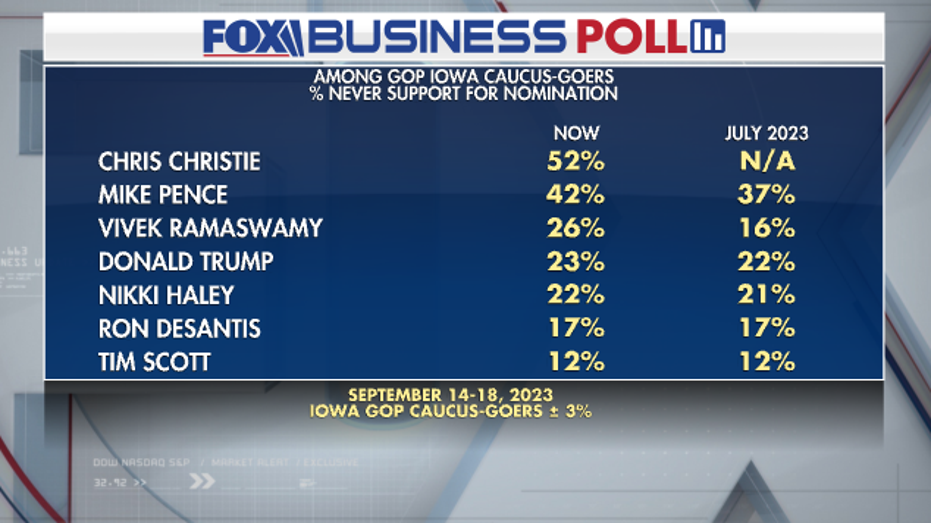 Scott gets the best "never" support number with a low 12%. DeSantis also does well with a 17% "never" rating. Next, it's Haley at 22%, Trump at 23%, Ramaswamy at 26% (up 10 points since July), and Pence at 42% (up 5 points). Christie does the worst at 52 percent. 
"Haley still has a long way to climb to make this a truly competitive primary, but she's putting herself into consideration should more voters look for an alternative to Trump," says Anderson. "If there is any solace for the rest of the field it's that Trump hasn't grown, nor does he have majority support."
Seventy-four percent of GOP caucus-goers say it's extremely important to back a candidate who can defeat Biden, up from 66% who felt that way in July. By comparison, 63% say it's extremely important for the nominee to share their views.
STUART VARNEY: DEMOCRATS ARE PLOTTING TO REPLACE KAMALA HARRIS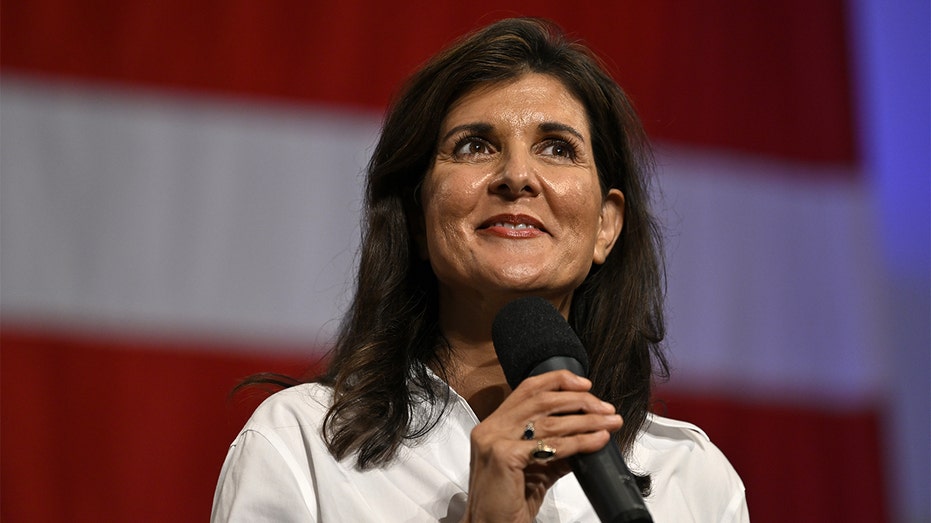 Trump dominates among both groups, those wanting a candidate who agrees with them on the issues (+36) and those prioritizing defeating Biden (+37 points).
Only 16% believe it's likely Christie would beat Biden, 30% say the same of Pence, 45% Ramaswamy, 50% Haley, and 53% Scott.
Two-thirds think Trump (67%) and DeSantis (65%) can win. The difference is 48% say it's "extremely" likely Trump can win vs. 27% for DeSantis.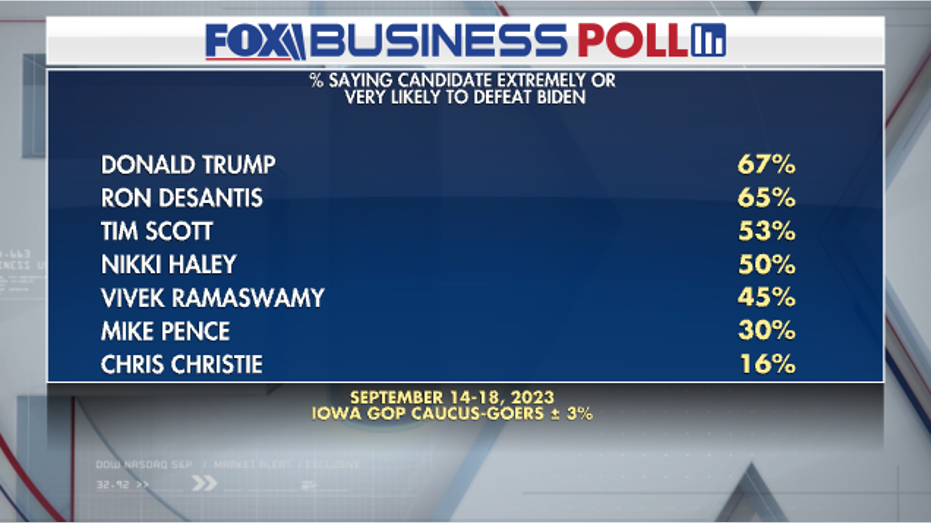 FOX NEWS POLL: VOTERS SAY WHITE HOUSE DOING MORE HARM THAN GOOD ON INFLATION
Maybe the most surprising finding is that as many as one-third believe it's unlikely Trump can win against Biden. That could come from his legal issues. 
By a 9-point margin, Iowa GOP caucus-goers think Trump's legal issues will hurt rather than help his chances in the general election. Most Trump backers say they will either help (43%) or not make a difference (47%), while non-Trump supporters believes they will hurt (59%).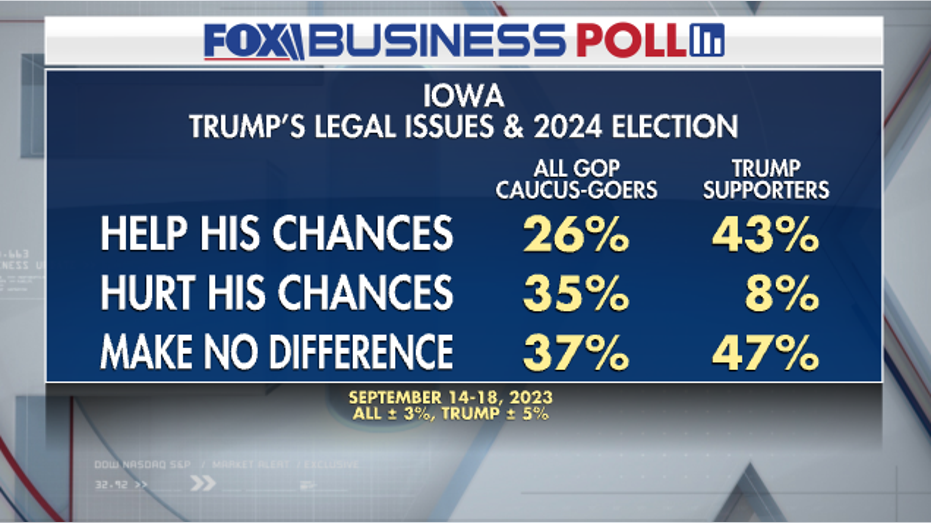 Caucus-goers say the economy is driving their vote, with 46% saying it is the most important issue, up from 41% in July. Fifteen percent prioritize immigration, 13% social issues (religion, abortion), 12% foreign policy, and 10% populist issues (corruption, elite power). Regardless of their top issue, Trump is their top pick.
CLICK HERE TO READ MORE ON FOX BUSINESS
The Iowa GOP caucuses are January 15, 2023. In 2016, Trump received 24.3%, placing him second to Ted Cruz by about 3 percentage points and ahead of Marco Rubio by about 1 point.
Fox Business will host the second GOP presidential primary debate September 27 at the Ronald Reagan Presidential Foundation and Institute in Simi Valley, California.
CLICK HERE FOR TOPLINE AND CROSSTABS
Conducted September 14-18, 2023, under the joint direction of Beacon Research (D) and Shaw & Company Research (R), this Fox Business Poll includes interviews with Iowa registered voters randomly selected from a statewide voter file and who spoke with live interviewers on landlines and cellphones. Respondents were screened to identify 813 likely participants in the 2024 Iowa Republican caucuses. The poll has a margin of sampling error of plus or minus 3 percentage points.
Fox News' Victoria Balara contributed to this report.