George H.W. Bush, 41st president of the United States, dead at 94
Former President George H.W. Bush, who spent a lifetime in public service and as the nation's leader scored a decisive victory over Saddam Hussein but battled a faltering economy, died Friday at age 94.
Family spokesman Jim McGrath said Bush died shortly after 10 p.m. Friday, about eight months after the death of his wife, Barbara Bush.
Gain investment exposure to the rapidly evolving robotics & AI landscape through a thoughtfully constructed portfolio with ROBO Global.
He is survived by five children, including former President George W. Bush and former Florida Gov. Jeb Bush. A sixth child died in early childhood. The late former president also is survived by 17 grandchildren.
Former President George W. Bush issued the following statement upon his father's death:
"Jeb, Neil, Marvin, Doro, and I are saddened to announce that after 94 remarkable years, our dear Dad has died. George H.W. Bush was a man of the highest character and the best dad a son or daughter could ask for. The entire Bush family is deeply grateful for 41's life and love, for the compassion of those who have cared and prayed for Dad, and for the condolences of our friends and fellow citizens."
Jeb Bush simply wrote on Twitter Saturday morning: "I already miss the greatest human being that I will ever know. Love you Dad!"
President Trump, who is in Argentina attending the G-20 summit, also issued a statement on behalf of himself and first lady Melania Trump. It read in part:
"Melania and I join with a grieving Nation to mourn the loss of former President George H.W. Bush, who passed away last night. "Through his essential authenticity, disarming wit, and unwavering commitment to faith, family, and country, President Bush inspired generations of his fellow Americans to public service — to be, in his words, "a thousand points of light" illuminating the greatness, hope, and opportunity of America to the world."
George H.W. Bush was known for his gentlemanly demeanor, dedication to traditional American values, willingness to take on foreign despots like Iraq's Hussein and Panama's Manuel Noriega, and presiding over the breakup of the Soviet Union.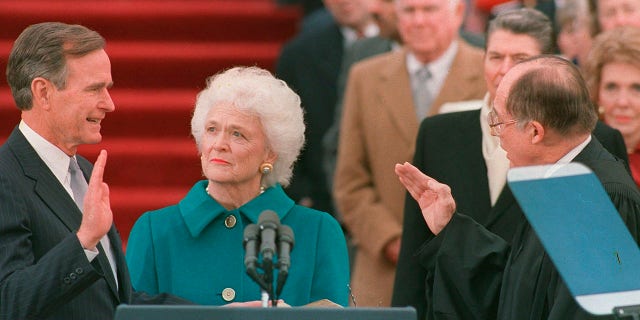 FILE - In this Jan. 20, 1989, file photo, President George H.W. Bush raises his right hand as he is sworn into office as the 41st president of the United States by Chief Justice William Rehnquist outside the west front of the Capitol as first lady Barbara Bush holds the Bible for her husband. Bush died at the age of 94 on Friday, Nov. 30, 2018, about eight months after the death of his wife, Barbara Bush. (AP Photo/Bob Daugherty, File)
In childhood, he was nicknamed "have half" for his generosity in offering other youngsters half of whatever he had. After leaving office, he was often referred to as "41" – shorthand for his status as America's 41st president and to distinguish him from his son and fellow president, George W., who was known as "43."
George Herbert Walker Bush was born June 12, 1924 in Milton, Mass., the son of Dorothy Walker Bush and Prescott Bush, a banker who later became a Republican senator from Connecticut. The family, which included four sons and one daughter, was wealthy and politically active. Bush attended Phillips Academy in Andover, Mass. and after graduating on his 18th birthday, he enlisted in the U.S. Navy. He was commissioned that same year, becoming the youngest pilot in the Navy, and flew 58 combat missions in the Pacific. In 1944, he was hit by anti-aircraft fire 600 miles south of Japan but managed to bail out, and was awarded the Distinguished Flying Cross and three Air Medals.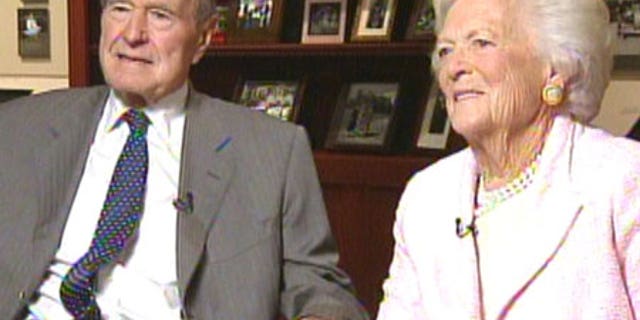 Former President George H.W. Bush and former first lady Barbara Bush, who died in April. (FNC)
On January 6, 1945, the 20-year-old Bush married 19-year-old Barbara Pierce of Rye, N.Y., whom he had met at a Christmas party three years earlier. They had four sons, George, Jeb, Neil and Marvin, and two daughters, Robin and Dorothy. Robin died of leukemia at age 3. Following World War II, he enrolled at Yale University, where his first son, George W., was born. Bush graduated Phi Beta Kappa with a degree in economics and was captain of the varsity baseball team.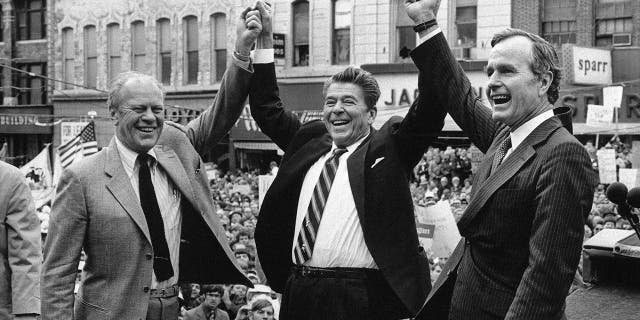 "This is America…a brilliant diversity spread like stars, like a thousand points of light in a broad and peaceful sky," he said in his convention acceptance speech and the "thousand points of light" phrase came to be associated with his administration.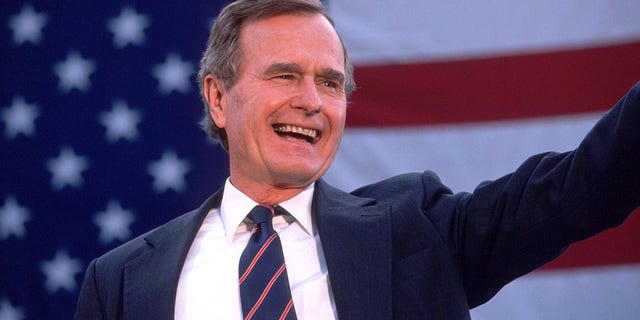 George Bush waves to a crowd of supporters Nov. 5, 1988. Bush and his running mate Dan Quayle defeat Michael Dukakis in the Presidential election. His efforts to reduce the deficit failed while creating the lowest growth period since the Great Depression. (Photo by Cynthia Johnson/Liaison)
At his Jan. 20, 1989 inauguration following his defeat of Democrat Michael Dukakis, Bush declared "a new breeze is blowing and a world refreshed by freedom seems reborn … the totalitarian era is passing." And, in fact, the world did dramatically change with the end of the Cold War, the breakup of the Soviet empire and the fall of the Berlin Wall. But Bush faced new international challenges, as well. In 1989 he sent American troops to Panama to depose that country's leader, Gen. Manuel Noriega, who was returned to the U.S. to stand trial as a drug trafficker. In 1990, he put together a 30-nation coalition to oppose Iraq's invasion of Kuwait and in early 1991 launched Operation Desert Storm, a 100-hour land battle that routed the Iraqi army.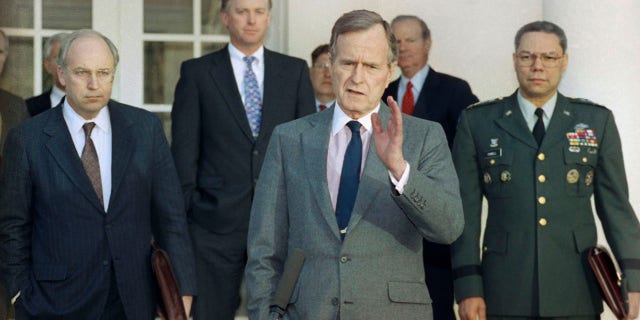 But Bush – who once famously said "Read my lips: no new taxes" -- was faced with economic discontent at home. Trying to reduce the deficit, he signed a bill to raise taxes and also had to deal with failing savings and loans. On the judicial front, he made two Supreme Court appointments – David Souter in 1990 and Clarence Thomas in 1991.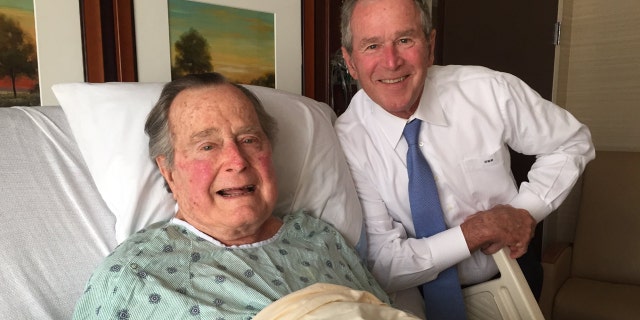 April 20, 2017: President George H.W. Bush received a visit at the hospital from his son George W. Bush.(@GeorgeHWBush/Twitter)
Although occasionally criticized for his lack of eloquence – such as referring to a focus on the larger picture as "the vision thing" – Bush's comments also could be endearingly frank. Referring to his dislike for a particular vegetable, he once said, "I do not like broccoli. And I haven't liked it since I was a little kid and my mother made me eat it. And I'm President of the United States and I'm not going to eat any more broccoli."
Following his defeat by Bill Clinton in the 1992 election, George and Barbara Bush moved to Houston, where he had long maintained a hotel room as his legal address. They also spent time in Kennebunkport, Maine, where the Bush family has long had a waterside home.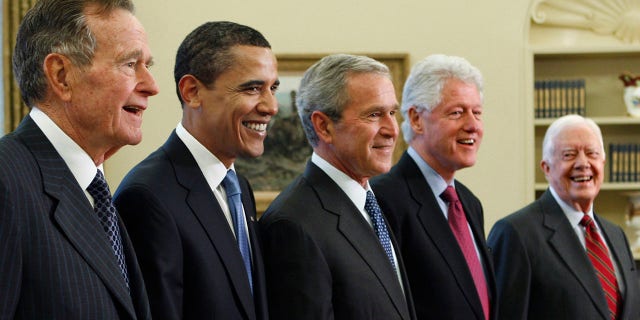 He made appearances on behalf of his son, George W., during his administration and in 2005 joined forces with Bill Clinton, the man who defeated him, to help those devastated by Hurricane Katrina and by the Asian tsunami.  ""Because you run against each other, that doesn't mean you're enemies," Bush said at the time, summing up his political philosophy. "Politics doesn't have to be uncivil and nasty."
Active until his last years, when his health confined him to a wheelchair, Bush celebrated his 90th birthday jumping out of a helicopter.
More recently, Bush joined the four other living ex-presidents in the fall of 2017 for a concert in Texas to benefit victims of hurricanes Harvey, Irma and Maria.
The Associated Press contributed to this report.