Finance Leaders Play Down Differences With Trump Over Trade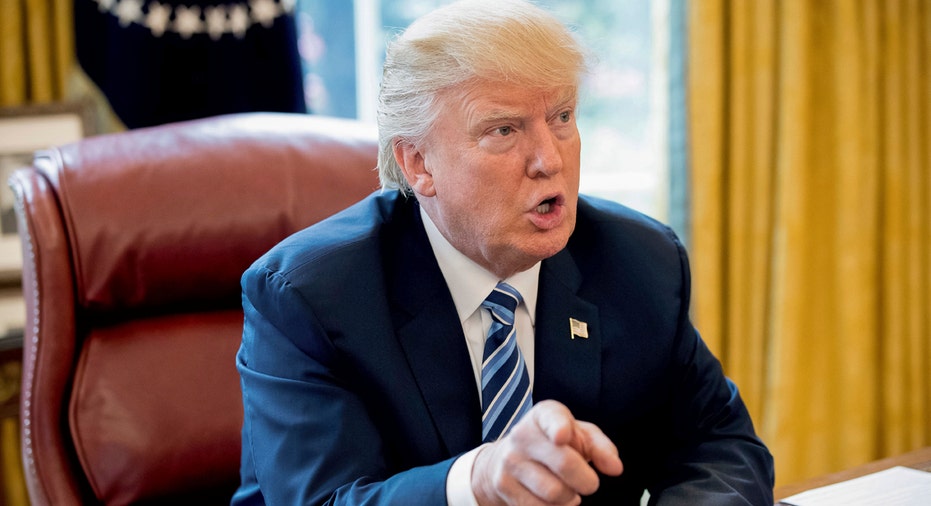 Global finance leaders are playing down differences over free trade with President Donald Trump, saying there is wide agreement that globalization delivers stronger economic growth.
But officials at the spring meetings of the World Bank and International Monetary Fund warned that too many people have been left behind at a time when low-wage competition and automation have reduced factory jobs in the world's wealthy economies.
If more isn't done, "we will see more protectionism and countries retreating from globalization," said Germany's finance minister, Wolfgang Schaeuble. He commented after a meeting of the finance ministers and central bankers of the Group of 20, which represents the biggest global economies. Germany is chairing the group this year.
At a news conference Friday, Schaeuble dodged questions about whether other G-20 officials expressed concerns about Trump's America First trade rhetoric.
Later Friday, Japanese Finance Minister Taro Aso told reporters that "the basic principle of free trade will always be upheld" because policymakers, even in the United States, realize it is in the national interest.
The comments came a day after Trump ordered his Commerce Department to investigate whether steel imports posed a threat to U.S. national security. The move could lead the United States to impose tariffs on steel.
Treasury Secretary Steven Mnuchin repeated a call for the IMF to police the currency markets and call out countries that undervalue their currencies to gain an unfair price advantage for their exporters.
The G-20, at a meeting last month in Germany, dropped a pledge to oppose trade protectionism amid pushback from the Trump administration, which says trade policy needs to more clearly benefit American companies and workers.
But in Washington this week, IMF chief Christine Lagarde and World Bank President Jim Yong Kim talked up the benefits of unfettered global trade. Lagarde described protectionist measures as "self-inflicted wounds" that hobble economic growth.
Japan's Aso praised Mnuchin as having a better grasp of free trade than his predecessor Jacob Lew, whom he described as more expert on budgetary matters. Aso noted that Mnuchin has a direct communication route to the president and "has a good understanding of what's needed."
Aso tried to make the case for a trade deal involving the U.S., Japan and 10 other Pacific Rim countries. It was negotiated by the Obama administration but rejected by Trump almost immediately after he took office in January. His administration has signaled that it prefers to negotiate with countries one on one rather than pursuing broader regional trade pacts.
Aso said there was no guarantee a bilateral trade deal with Japan would be better for the U.S. The more countries that are involved, he said, the easier it is find ways to "balance the gains and losses."
The G-20 finance officials generally agreed with the IMF's assessment in its latest economic outlook — that global growth should pick up this year, helped by improving conditions in the United States and China, the world's two biggest economies.
But there are risks to the sunny outlook. Schaeuble warned that economic policymakers needed "to prepare ourselves" for the end of easy money policy from the world's central banks.
In the U.S., the Federal Reserve has raised short-term interest rates twice since December, is on target for more increases this year and is weighing whether to begin selling part of its vast portfolio of bonds, a move that also could drive up rates.
Rising interest rates in the United States could drive up the dollar, hurt American exporters and squeeze foreign borrowers who took out loans they have to repay in the U.S. currency.