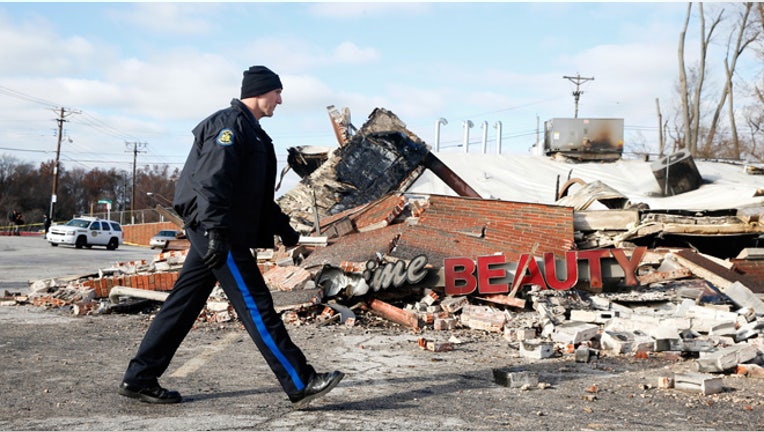 Months of sometimes violent protests following the police shooting of an unarmed teenager in Ferguson, Mo., in August has hit nearby homeowners particularly hard and, according to local real estate experts, there appears to be no let-up in sight, the FOX Business Network has learned.
Amid the unrest that began in the summer, home prices in Ferguson have declined more than 8%, realtors say. But Monday night's violence, sparked when a grand jury declined to indict police officer Darren Wilson for the shooting death of Michael Brown, is likely to lead to even larger declines, with housing prices plummeting another 15%, they estimate.
The economic impact of the riots that have swept Ferguson, a St. Louis suburb with a population of about 21,000 people, will likely depress an economy that's already hurting. Nearly 20% of families living in Ferguson have incomes that fall below the poverty level, well above the national average of 15%.
And the stagnant economy has hit homeowners hard. There are 15.3 homes foreclosed per 10,000, strikingly higher than the national value of 4.5, according to Zillow, an online real estate database. As much as 41% of Ferguson homeowners are "underwater" on their mortgage, meaning they owe more than the assessed value of the home.
Now homeowners are feeling the impact of the unrest as well. The protests, lootings and widespread arson of local businesses has translated into fewer home sales that will only get worse, realtors say.
From Aug. 9, the day Wilson killed Brown, to Monday, the day of the grand jury announcement, agents closed on 27 homes in Ferguson. That's down from 40 homes during the same period last year, according to an analysis by St. Louis-based MORE Realtors. And since the shooting, sales are down 32% in Ferguson, more than the 13% drop for all of St. Louis County.
"Prices are way down relatively and homes are not selling," one real estate agent said, "and we could see a 10% to 15% correction from here."
Not only are prices down, but homes are also taking much longer to sell. Logan Strain, a sales associate at Coldwell Banker Gundaker, said that while homes in St Louis take around four months to sell, those in Ferguson are taking as long as eight months to sell.
"At the very least, there will be some real short-term impacts" on housing prices, said Paul Eisley, chair of the Economics Department at Grand Valley State University. "The expectation would be that the impact is short term, unless there is a permanent impact on jobs in the area."