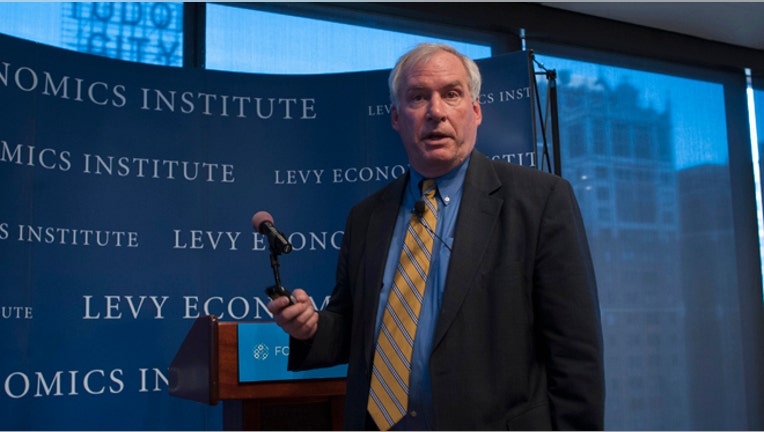 The lone dissenter this week on the Federal Reserve's landmark decision to begin to pare its massive bond-buying program said he would have preferred to wait until March to be sure the recovery is on firm footing.
But Eric Rosengren, president of the Federal Reserve Bank of Boston, who cast his first dissenting vote since 2007 on Wednesday, still believes the economy will improve and the Fed will end the bond buying sometime late in 2014.
"My hope and expectation was that by the March (Fed meeting) we would have accumulated enough data that we would have been pretty confident that we were going to get the 3 percent growth" needed to boost jobs and inflation, Rosengren told Reuters in a telephone interview on Friday.
"My hope is that we still get an outcome that is consistent with what I think our dual mandate is, which is to try to get to full employment and to our 2 percent inflation as quickly as possible."
The Fed on Wednesday began dialing down an unprecedented era of easy money, saying the U.S. economy was finally strong enough for it to start to trim the pace of its monthly asset purchases, by $10 billion to $75 billion, and to suggest the program could be wound down completely before then end of 2014.
"That seems like a reasonable expectation at this time," Rosengren said of Fed Chairman Ben Bernanke's timetable for the wind-down. "This really was a dissent over the timing of the decision" to start reducing the bond buys.
The program, begun 15 months ago and aimed at boosting hiring and growth, is the third such effort since the financial crisis. The bond-buying programs, known as quantitative easing, have cumulatively swollen the Fed's balance sheet to nearly $4 trillion.
Nearly all economists polled by Reuters now expect the Fed to continue to pare its bond-buying throughout 2014, until it is completely wound down before the start of 2015.
But Rosengren, long one of the Fed's most dovish officials, expressed discomfort with what he called a "premature" start to scaling back the assets purchases. Fed officials have been overly optimistic about growth and inflation throughout the recovery, he said, and there is a risk that current forecasts will also fall short.
The Commerce Department on Friday revised up its estimate on third-quarter growth to a 4.1 percent annual rate, the fastest pace since the fourth quarter of 2011. It had previously reported growth in gross domestic product at 3.6 percent.
The Fed's next policy meeting will be at the end of January, the last to be headed by Bernanke before his term expires on Jan. 31.
Janet Yellen, the current vice chair and a lead advocate of the Fed's aggressive steps to boost the U.S. economy, clinched a key procedural vote in the Senate on Friday that clears the way for her to take the reins from Bernanke.
"I have a high degree of confidence that Janet will try to do what's appropriate," Rosengren said.
In language that Yellen helped craft, the Fed this week tempered its decision to reduce bond-buying with assurances that borrowing costs would stay low even longer than previously promised.
The Fed has held overnight interest rates near zero since late 2008, and on Wednesday policymakers said they would keep rates there "well past the time" that the jobless rate falls below 6.5 percent, especially if inflation expectations remain below the Fed's 2 percent target.
Rosengren said Friday he strongly supports the new forward guidance on low rates.
Rosengren last dissented in 2007, arguing at the Fed's final meeting of that year that the central bank should cut rates more aggressively than the quarter of a percentage point reduction ultimately undertaken.
The U.S. economy entered its worst recession in decades in December 2007, from which it is still struggling to recover.
U.S. unemployment registered 7 percent in November, down from the 10 percent high in the recession, but still above the 5.2 percent to 6 percent that Fed officials see as a level the economy can sustain without sparking inflation.
Inflation, which is considered important because it influences spending decisions by both businesses and consumers, has lingered well below target for much of the recovery.
Though stronger growth should move inflation back up next year, Rosengren said Friday, the turnaround is not yet evident in the data.
"Given the remaining shortfalls from our targets, I think patience remains appropriate at this time," he said in a statement earlier Friday.
Rosengren would not discuss whether he was alone in arguing against the taper, but said that as it turned out, he was the one who felt most strongly.
"You never dissent casually," he said. "I was the one who felt strongly enough that it was worth a dissent."
(Reporting by Ann Saphir; Editing by Leslie Adler)