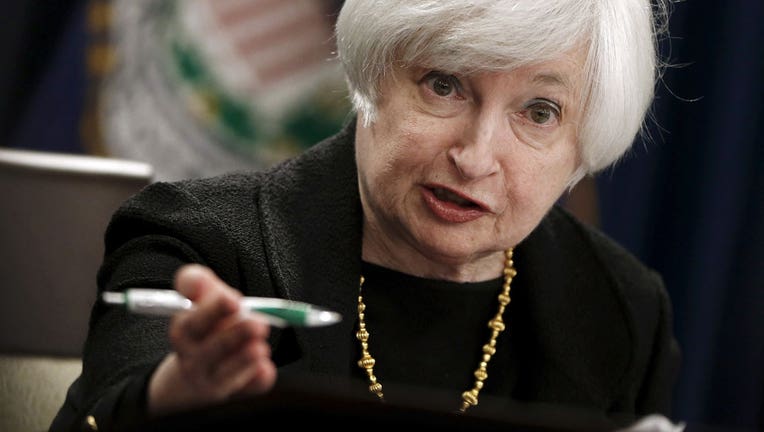 The Federal Reserve on Wednesday in a move widely-expected voted to keep interest rates at their current near-zero level, delaying for at least another six weeks a vigorously-debated decision on raising borrowing costs for the first time in nearly a decade.
The policy-setting Federal Open Market Committee, citing a weak month of job creation in September, said it "remains appropriate" to keep the short-term federal funds rate at 0%-0.25%, where it's been held since December 2008.
The statement give no obvious clues as to whether the Fed is strongly considering raising rates at its December meeting. A handful of influential FOMC members, including Fed Chair Janet Yellen, Vice Chair Stanley Fischer and New York Fed President William Dudley, have maintained in recent public statements that the Fed still hopes to raise rates in 2015.
But more and more voices have come forward in favor of delaying a rate hike until 2016 as overseas economies have shown weakness and a handful of domestic indicators have also softened, notably the September jobs report which revealed a paltry 142,000 new jobs were created last month.
Perhaps more importantly, the September jobs report showed that U.S. wages remain essentially stagnant -- average hourly wages for workers last month fell by a penny. With wages held down inflation has remained well below the Fed's 2% target range.
The FOMC statement released Wednesday reiterated the Fed's position that inflation will remain low for the near-term, but should "rise gradually toward 2 percent over the medium term as the labor market improves further and the transitory effects of declines in energy in import prices dissipate."
That's essentially the same language the Fed has used throughout 2015 as the FOMC has mulled the timing and trajectory of a rate hike.
Inflation has posed a vexing problem for the Fed. Slack in the work force created by part-time and temporary workers who would prefer full time jobs has created a surplus of workers. As long as that surplus exists employers don't have to raise wages to find qualified workers.
The October statement said labor market indicators "on balance, show that underutilization of labor resources has diminished since early this year." Still, enough slack clearly exists to keep wages from rising significantly.
Fed officials -- those who support raising rates sooner and those who support raising them later -- all agree that rates will move higher gradually once liftoff is announced, almost certainly at intervals of 0.25% as the economic data warrants further increases.
The vote to maintain rates at their current level was 9-1 with Richmond Fed Chair Jeffrey Lacker casting the one dissenting vote. Lacker was the lone dissenter in September as well.