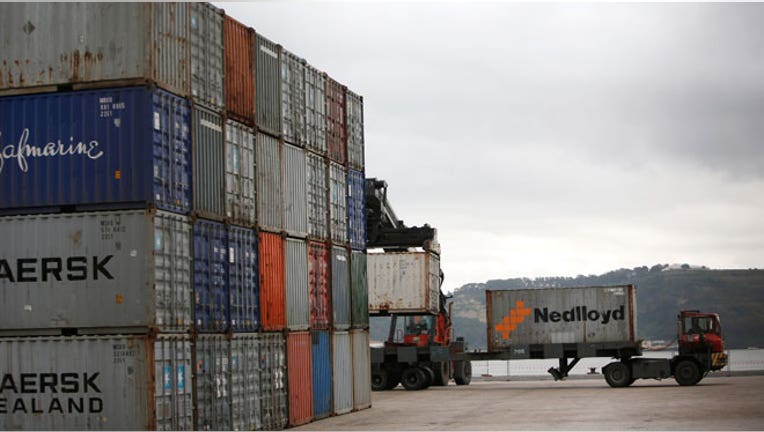 A sharply lower fourth quarter GDP reading isn't great news but it isn't enough to alter the Federal Reserve's projected timing for raising interest rates.
The Fed is widely expected to start raising rates for the first time in over six years in mid-2015, perhaps after an announcement at their June meeting.
The news Friday that fourth quarter economic growth in the U.S. as defined by gross domestic product -- or the total value of everything produced in America -- had been revised downward to 2.2% from an original reading of 2.6% won't change that.
"The slowdown is unlikely to worry Fed policymakers, however, who are likely to 'keep calm and carry on' with contemplating an initial rate hike in the summer, possibly as early as June," said Chris Williamson, chief economist at London-based research firm Markit.
U.S. stock markets shrugged off the downward revision.
Analysts attributed the downward GDP revision to a much smaller than previously estimated inventory buildup, which could, in turn, bode well for the first quarter of 2015 as companies seek to replenish their inventories.
Beyond the lower headline number, however, the rest of Friday's report was pretty strong, strengthening the belief that the economic recovery is gaining sustained momentum.
For instance, real consumer spending jumped to a 4.2% annual rate in the fourth quarter, lifted primarily by lower gasoline prices, high levels of consumer confidence and solid income growth.
Meanwhile, U.S. consumer sentiment dipped slightly in a reading released Friday, but remained close to an 11-year high.
Rate Hike Timing Dependent on Economic Data
The University of Michigan's final February reading on the overall index on consumer sentiment was 95.4, higher than the initial reading of 93.6 and the market forecast for a reading of 94.0. But February's final sentiment index was lower than January's final reading of 98.1.
Analysts also shrugged off the temporary dip in consumer sentiment.
"This report does nothing to change our consumer spending outlook for 2015. The index is now standing at its second-highest level since January of 2007, so consumers are still feeling better than they have in eight years. A more confident consumer is likely to spend more on big ticket items and other discretionary items, and looking ahead, we expect 2015 real consumer spending and real disposable income to outpace 2014," IHS Global Insight analyst Kristin Reynolds said in a note.
The Fed has been preparing markets for a mid-2015 rate hike for months without tying itself to a deadline or specific timeframe.
Fed Chair Janet Yellen in testimony before Congress this week reiterated the Fed's long-held position that the timing of a rate liftoff will be dependent on economic data. The Fed has said it won't raise rates until the economy reaches the Fed's dual mandate of full employment and price stability, which defines as unemployment in a range of 5.2%-5.6% and an inflation rate of 2%. Unemployment is almost there and Fed economists believe inflation is turning around.
Consequently, with the U.S. jobs market showing sustained momentum and no sign of slowing down, and Fed economists -- including Yellen -- predicting that inflation will reach the Fed's target rate later this year or early next year, it will take a lot more than a widely-expected downward GDP revision and a slight dip in consumer sentiment to shift the Fed's plans on interest rates.